Exercise and diet are key components of a healthy lifestyle throughout life, and our needs change as we get older. A rising body of data shows how vital regular exercise is for older individuals, and how more older people are opting for a more active lifestyle than a sedentary one.
---
The Health Benefits of Exercise in Older Adults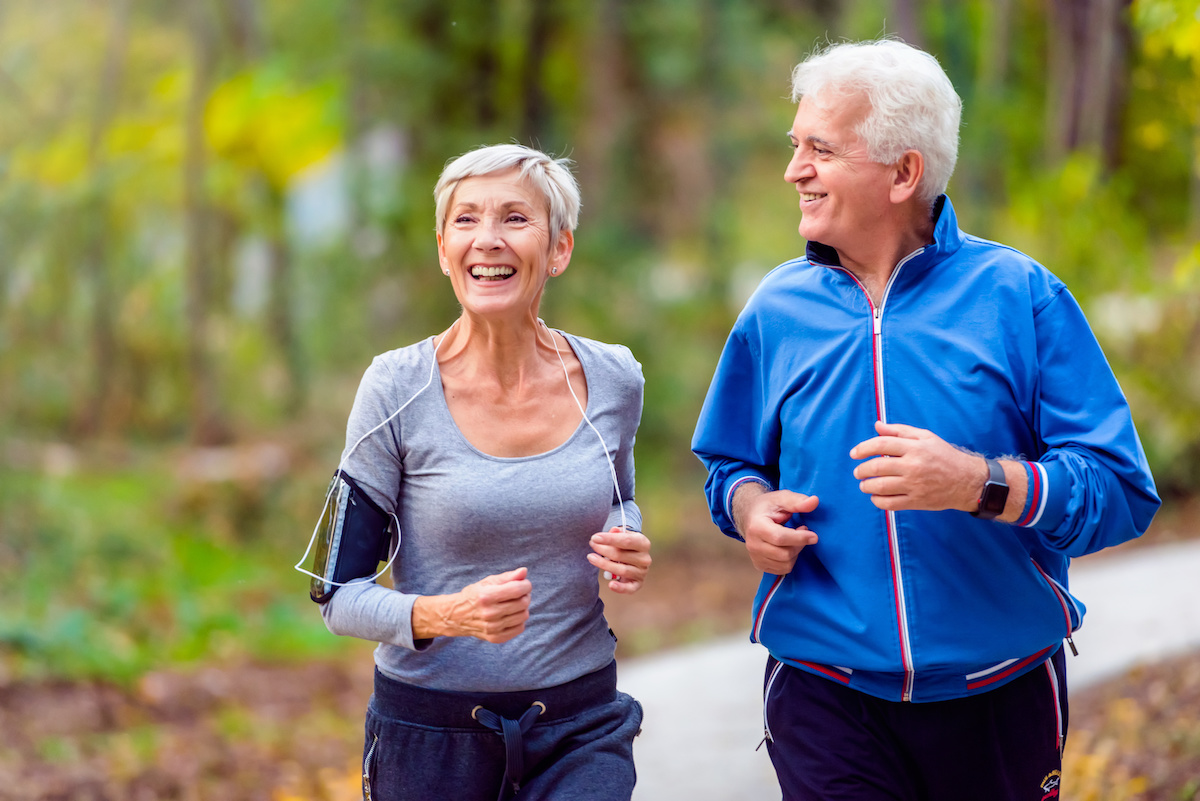 As we grow older, our biology changes, giving older individuals different reasons to keep in shape than younger generations. While physical training offers health advantages at any age, the benefits to physically fit older individuals are even greater.
According to doctors and experts, older adults should keep as active as possible without exerting too much effort. Exercise can help you live a longer, healthier, and happier life as you become older.
The following are some of the advantages of exercising later in life:
More Exercise Means More Independence for Seniors:
Older adults who exercise on a regular basis are less reliant on others. Regular exercise improves older individuals' capacity to drive, wash, cook, eat, dress, and use the restroom, according to Harvard Medical School. Exercise is one of the simplest methods to care for older persons' independence if self-reliance is a priority.
---
Exercise Improves Balance for Older Adults:
Falling is a far more significant issue for elderly people than it is for younger people. According to the National Council on Aging, an older adult is admitted to an emergency department for a fall-related injury every 11 seconds, and an older adult dies from a fall every 19 minutes. Despite the fact that no two falls are the same and that avoiding falls is exceedingly difficult, regular exercise decreases the risk of falling by 23%.
Regular Exercise Means More Energy:
Although it seems counterintuitive, being inactive makes you tired, and being active gives you more energy. Any amount of exercise promotes the release of endorphins, which are essential neurotransmitters linked to pain relief and a form of well-being. Endorphins fight stress hormones, promote healthy sleep, and generally make you feel more upbeat and energetic.
Exercise Helps Prevent and Counteract Disease:
Heart disease, osteoporosis, depression, and diabetes are common among older adults and are often fatal. Fortunately, adopting a more active lifestyle can help prevent these diseases, or reduce the unpleasant symptoms of those diseases if you already have them. If you're at risk for disease, exercise could also be the key to avoiding an unpleasant condition.
---
Regular Exercise Improves Brain Function: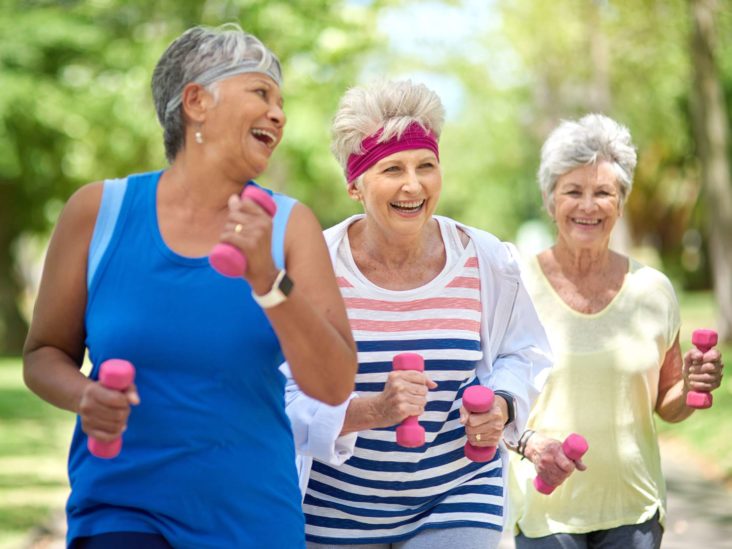 One of the most remarkable advances in health science is the revelation that the mind and therefore the body are much more closely linked. A healthy body probably means a healthy mind, and older people who exercise daily have improved their cognitive health, according to NCBI research.
More recently, a study from the Alzheimer's Prevention and Research Foundation has shown that regular exercise reduces the risk of developing Alzheimer's disease or dementia by almost 50%.
The Best Exercises for Seniors
Exercise is essential for older adults, but it is often difficult to know where to start. If you haven't noticed for a short time, re-entry into the active world is often overwhelming. There is also the possibility that exercises you were once familiar with are not ideal for older adults.
Before beginning an exercise regimen, it is important to consult with a doctor to ensure that you are healthy enough to exercise and to determine which exercises are ideal for your current fitness level.
---
Water Aerobics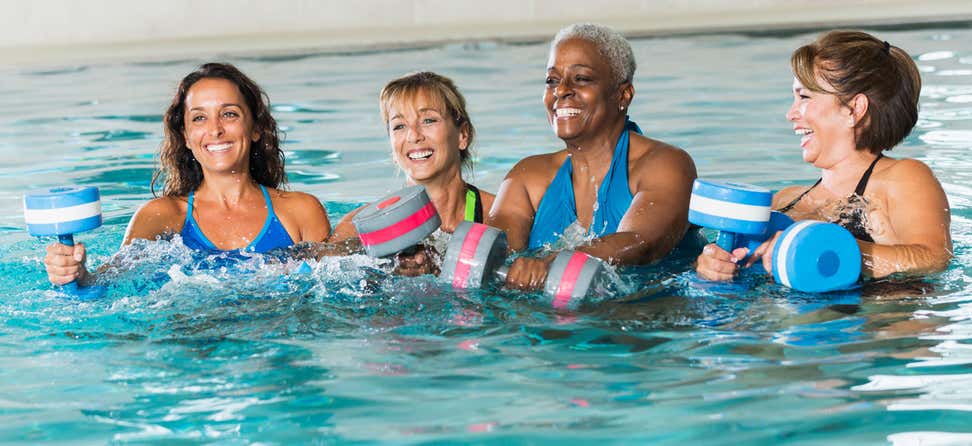 In recent years, water aerobics became a particularly popular type of exercise with all ages, but especially older people. Exercising in the water is suitable for those with arthritis and other types of joint pain because the buoyancy of the water puts less pressure on the joints.
In addition, water provides natural resistance, eliminating the need for weights in strength training. Water aerobics improve your strength, flexibility, and balance with minimal stress on your body.
Excellent water aerobics exercises for seniors include:
Water jogging

Flapping kicking

Leg raises

Standing water push-ups

Pushups.
---
Chair Yoga
Chair yoga, like water aerobics, is a low-impact exercise that increases muscle strength, suppleness, balance, and flexibility, all of which are important for older people's health. Chair yoga is a simple kind of yoga that puts less strain on the muscles, joints, and bones than other forms of yoga.
As another bonus, chair yoga has been shown to improve psychological status in older adults. Regular chair yoga participants have better quality sleep, fewer cases of depression, and report an overall sense of well-being.
Excellent chair yoga exercises for seniors include:
Overhead stretch

Seated cow stretch

Sitting cat stretch

Seated mountain pose

Seated turn
---
Resistance Band Workouts
Resistance bands are elastic rubber bands that add resistance to workouts with reduced stress on your body. Resistance band workouts are easy to use and accessible for beginners.
This type of exercise is becoming more popular with older people due to the relatively inexpensive up-front costs of materials, making resistance band workouts ideal for exercising at home. Additionally, these exercises are great for strengthening your core, improving posture, mobility, and balance.
Resistance band workouts for seniors include:
Leg press

Triceps press

Lateral raise

Bicep curl

The band breaks up
---
Pilates
Pilates is a popular low-impact workout that originated over a century ago. Exercises emphasize breathing, alignment, focus, and core strength, and use inflated mats, Pilates balls, and other accessories to help build strength without the strain of higher-impact exercises. Pilates has been found to help elderly individuals improve their balance, core strength, and flexibility.
Some good Pilates exercises for older adults include:
Siren movement

Side circles

Food slides

Step-ups

Leg circle
---
Walking
One of the most stressful and accessible types of exercise is walking. For some older people, walking can be more of a challenge than others, so distance and step goals differ from person to person. For the general population, 10,000 steps per day are suggested for a healthy lifestyle, but those with difficulty walking or joint pain may accept a lower number as a goal.
A PLOS One study found that walking 10,000 steps lowered the 10-year mortality prognosis by 46%. Walking promotes a healthy lifestyle while strengthening muscles, reducing the risk of heart problems, strokes, diabetes, and carcinoma.
Walking Exercise Ideas for Seniors:
Find a moderate trail through a park.

Find a walking race to train

Walk the perimeter of a familiar building

Find an audiobook or playlist to stimulate you on your hike
---
Body Weight Workouts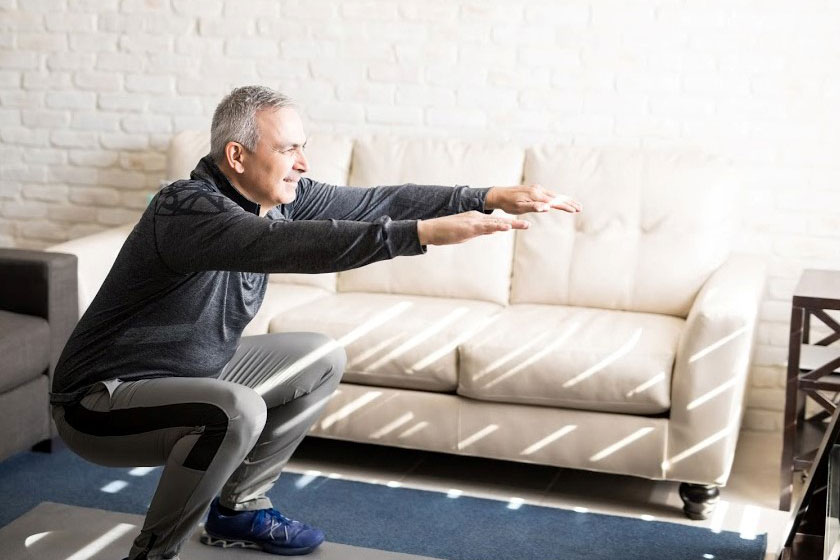 Losing muscle mass is often devastating and debilitating for older adults. About a third of older people accept severe muscle loss, which can cause hormonal problems, a decrease in the ability to metabolize protein, and other problems.
Weight training is one of the easiest ways to counteract the consequences of muscle atrophy in older adults. One of the key benefits of weight training is affordability. The materials needed for weight training are minimal; Most weight training requires sports clothing and a mat to melt the impact with the ground.
Some good exercises with weights for older people include:
Squats on the chair

Increase

Bird bird

Lying hip bridges

Side-lying circles
---
Dumbbell Strength Training
Strength training has been shown to relieve symptoms of diabetes, osteoporosis, back pain, and depression while helping you control your weight. Strength training also contributes to better metabolism and better glucose control.
Dumbbell exercises are one of the easiest ways for older people to do strength training if done with the proper precautions. Dumbbells allow older people to isolate muscle groups for strength while improving balance and adaptability.
Some ideal dumbbell workouts for seniors include:
Slanted row

Triceps extension

Bicep curl

Shoulder press

Front elevation
---
Exercises Seniors Should Avoid
A good percentage of conventional workouts are not ideal for older adults. These popular workouts are suitable for younger adults looking to gain weight or lose weight during a rush but will put unhealthy pressure on older adults with joint pain, atrophied muscles, posture problems, or balance issues.
However, The following exercises should probably be avoided if you are over 65:
Squats with dumbbells or weights

Bench press

Leg press

Long-distance running

ABS

Vertical row

Deadweight

High-intensity interval training

Rock climbing

Cleaning power
---
To read more similar articles click here
Also, visit our site for exclusive deals & coupons over here
---
Thanks for visiting our Website. If you appreciate our work, kindly show us some support in our comments section 🙂