When it comes to curating your wardrobe, making smart choices that will stand the test of time is crucial. The key is to invest in timeless pieces that exude class and elegance. Opt for classic colors and styles that will never fade away from the fashion scene. If you're ready to discover the ultimate wardrobe essentials, keep reading because I've got you covered with the absolute must-haves you cannot afford to live without.
Table of Contents
5 Wardrobe essentials you can't live without
---
White t-shirt.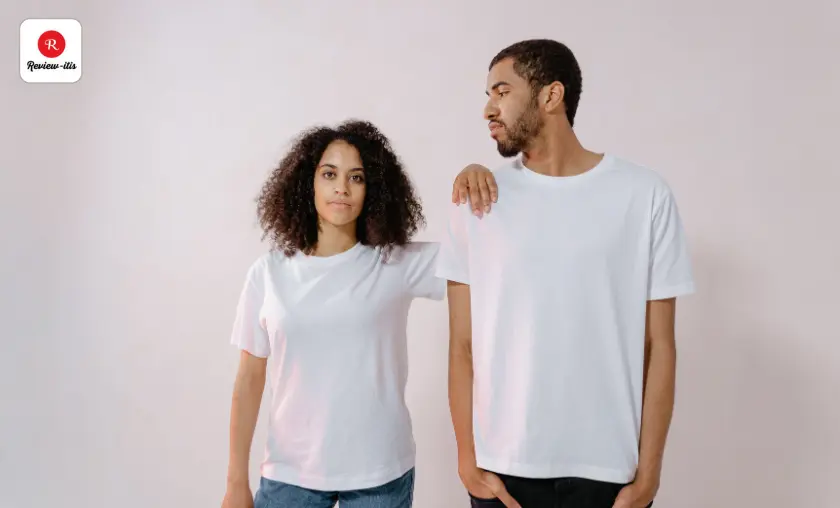 The white T-shirt should find a place in every woman's wardrobe. These lightweight wonders are incredibly versatile and effortless to slip into, making them a go-to choice for layering or wearing alone. The best part? They effortlessly match anything in your closet, allowing you to add layers without sacrificing your sleek look. And guess what? They won't break the bank!
A white tee has the power to transform a plain ensemble into a head-turning masterpiece. Just team it up with an oversized cardigan or a vibrant blazer featuring a playful pattern or color, and voila! You've got yourself a fabulous outfit. Want to take it up a notch? Don't hesitate to pair your beloved white tee with a statement necklace or eye-catching earrings. Trust me; the result will be an extra dose of style that you won't be able to resist!
---
Denim.
When it comes to casual ensembles, dark or light-wash denim reigns supreme as a timeless essential. The beauty of denim jeans lies in their unparalleled versatility—you can effortlessly match them with anything, be it a simple t-shirt or an elegant blazer. Denim jeans are your ultimate go-to if you're seeking to infuse a touch of edginess into your style. The best part? They effortlessly complement both heels and sneakers, making them suitable for any season.
A pair of dark jeans bring a dose of captivating allure that sets your outfit apart from the ordinary. Even on warmer days, consider sporting dark jeans with a neatly tucked-in white t-shirt for a laid-back yet polished look that easily transitions from casual outings to workplace chic. Trust me; this combination will have you exuding effortless confidence wherever you go!
---
The tailored blazer.
Introducing the marvelous blazer—a style essential that effortlessly elevates any casual ensemble, especially when paired with dark jeans. It works like magic, instantly bestowing your look with a touch of sophistication while ensuring maximum comfort and ease. But here's a little secret: blazers aren't just limited to pants! They seamlessly blend with skirts and dresses, making unexpected yet fabulous pairings. Trust me, they make excellent underpinnings that add an extra layer of flair.
But that's not all. Blazers have another superpower—they inject a vibrant splash of color into an otherwise monochromatic outfit. Imagine the possibilities! Whether you're seeking a pop of red, a dash of blue, or a hint of any hue, a blazer is your ticket to sartorial brilliance. So, go ahead and let your fashion creativity soar with a blazer—it's the perfect way to strike a balance between elegance and comfort while showcasing your personal style.
---
Designer white sneakers.
White sneakers are an absolute game-changer when it comes to injecting a vibrant burst of color into a predominantly neutral outfit. These versatile gems blend effortlessly with any style, making them a no-brainer choice for everyday fashion endeavors. From casual ensembles to slightly more dressed-up looks, white sneakers are the ultimate go-to footwear option. And if you've never experienced the sheer joy of wearing these crisp, clean kicks before, trust me, it's high time you did! Prepare to unlock a whole new level of fashion versatility and comfort.
---
A casual bag.
Irrespective of your style, a casual bag is a must-have for your daily adventures. This trusty companion will gracefully accommodate all your essentials while ensuring comfort, making it a perfect everyday purse or, dare I say, a man's purse. The ideal casual bag should tick a few essential boxes—it needs to be lightweight for easy carry, a breeze to clean for hygiene purposes, and, of course, effortlessly portable.
Opting for a lightweight bag is key, as it ensures that your workouts won't be needlessly burdened. After all, who wants extra weight when breaking a sweat? Moreover, easy cleaning is necessary to ward off unwanted germs from encroaching on your belongings, especially those accompanying your meals. Besides, nobody wants their bag to become a breeding ground for unwelcome microbes. So, choose wisely to safeguard your shoes from going on an unplanned sabbatical due to unfortunate circumstances. With the perfect casual bag in tow, you'll be ready to conquer the world while staying effortlessly organized and stylish.
---
All of these basics are versatile and classic and will last a lifetime if chosen wisely.
White t-shirt
White sneakers
Dark denim jeans
Blazer
Casual bag (for guys) or purse (for girls)
With these stylish and versatile pieces at your disposal, you'll be ready to conquer any fashion challenge with ease and flair.
---
Conclusion
We sincerely hope this article has provided valuable insights to curate your wardrobe. Always remember, the key lies in understanding what suits you best and making the most of your existing collection. We never want you to feel compelled to purchase anything solely based on our suggestions. Our ultimate aim is for every woman to embrace her unique style and radiate confidence, looking and feeling her absolute best. So go ahead, explore your fashion choices with enthusiasm, and let your inner fashionista shine!
To read more similar articles, click here
Thanks for visiting our Website. If you appreciate our work, kindly show us some support in our comments section 🙂