As we enter the new year, it's that time again to ponder how to make this Valentine's Day special. There are countless ways to spend the 14th of February, but one thing is for certain – you deserve to exude style and confidence. If you're in need of some fabulous Valentine's Day outfit ideas, you've come to the right place. Keep reading as we unveil a selection of our favorite trends just for you!
Are you prepared to embrace the holiday spirit, enjoy the delightful company, and indulge in some mouthwatering cuisine to the fullest? Let me show you how to achieve that fabulous look effortlessly.
Table of Contents
Cute Valentine's Day Dresses
Alright, folks, let's talk Valentine's Day fashion. When it comes to finding the ideal outfit, why not strike a balance between the super-sexy, romantic ensemble and your beloved everyday style? That's where a cute casual or stylish cocktail dress comes into play. Picture this: a dark burgundy hue or a pristine, innocent white shade radiating a simple yet sweet vibe. But don't shy away from patterns either; they can add a touch of sophistication to the mix.
Here's the fun part: get experimental with lacy, frilly clothing pieces. Combine them with your go-to pair of heels and a sprinkle of accessories, and voila! You've got an adorable, romantic look perfect for Valentine's Day and beyond. Trust me, you'll turn heads wherever you go!
---
Sexy Valentine's Day Dresses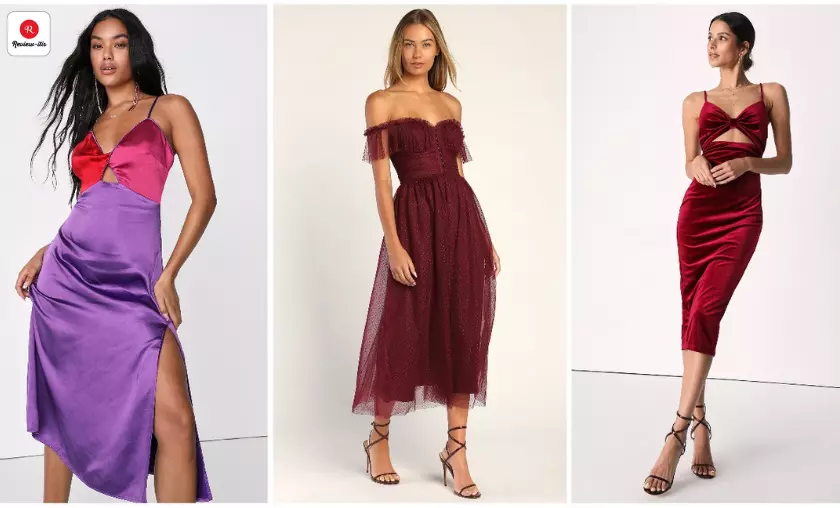 My friends, you need a classy Valentine's Day outfit for a classy Valentine's Day date. And let me tell you, it all starts with a stunning night-out dress that oozes sex appeal. But here's the secret sauce: add a few subtle accessories to elevate the look. Now, let's talk colors. Pinks and purples are your go-to shades if you're in the mood for playfulness and flirtation. However, if you want to exude a seductive aura, deep burgundies, and ravishing reds will do the trick.
Now, let's talk materials, shall we? The choice is yours, my friends, so don't be afraid to get a little experimental! I'm a fan of sensual fabrics like satin or velvet. But hey, here's a twist you'll appreciate – consider a dress with mesh frills for that added touch of elegance. Trust me, whatever you decide on, you'll step into that date looking drop-dead gorgeous. Prepare to make heads turn, and hearts skip a beat.
---
Valentine's Tops
If dresses don't quite tickle your fancy, why not experiment with various styles of tops? The latest trend is all about sexy, bustier tops, adding a practical and edgy element to any ensemble. Styling a top is a breeze (you can always go right with jeans), but feel free to add as much intricacy as you desire.
A personal favorite is pairing a bustier top with fabulous denim, but you can take this look to the next level by incorporating a chic leather belt and understated earrings. We're absolutely smitten with the relaxed yet sophisticated vibe that the perfect Valentine's top can create, making it a top contender as an alternative to the traditional Valentine's dress.
---
Sexy Sweaters
If you happen to reside in a region blessed with cooler temperatures, it's only natural to desire snug attire. Sweaters are ideal for fashioning a lovely and romantic Valentine's Day ensemble that also provides comfort. The beauty of sweaters lies in their versatility, effortlessly complementing any combination you can imagine.
Pairing them with jeans grants you that quintessential casual winter appearance, while faux leather pants inject an edgy and seductive allure. Opting for a skirt infuses a playful and flirty vibe into your outfit. Sweaters serve as a dependable foundation for a remarkable ensemble, allowing you to focus on the bigger picture without fretting over minute details.
---
Pretty Pumps
No Valentine's Day ensemble can truly be considered complete without the addition of a pair of impeccably stylish heels. The choice of the perfect heels hinges primarily on the overall composition of your Valentine's Day attire, so feel empowered to unleash your creativity when making your selection. If you're aiming for a luxurious look, rhinestone-accented shoes can effortlessly elevate your ensemble. For a bold and seductive style, striking red heels make the perfect companion.
Nevertheless, what truly matters is allowing your uniqueness to radiate through your outfit. This ensemble represents your authentic self, and on the most romantic day of the year, it's essential to demonstrate and receive genuine love. Rather than obsessing over minute details, embrace the process and enjoy it to the fullest. Let your creativity soar and revel in the delight of crafting an ensemble that truly embodies your individuality.
---
Pretty Accessories
And now, it's time to add the final flourish: accessories! These extras, such as jewelry, hair accessories, and handbags, present effortless opportunities to infuse a dash of personality into your carefully curated ensemble. Whether you desire the delicate charm of a layered necklace, the allure of a bejeweled hair clip, or the sparkle of an embellished clutch, relish the process of selecting your Valentine's Day accessories. After all, the intricate details truly make a difference and allow your outfit to shine. So go ahead, have fun, and let your creativity soar as you put together the perfect finishing touches.
---
Flirty Pajamas
Certainly, only some people plan to venture out on Valentine's Day. Perhaps you have your heart set on a simple, intimate evening at home with your loved one, a delightful girls' night, or a Galentine's party. In such cases, there's no need to fuss over heels and fancy dresses, but rest assured, and you still have an array of outfit options at your disposal!
In recent times, as people embrace the cozy confines of their own abodes, adorable and stylish pajamas have gained tremendous popularity. Among our favorites are beautiful and charming rompers, but you may be drawn to relaxed and comfy two-piece sets. Whichever you prefer, these flirty pajamas take the cute and comfortable look to new heights, ensuring that your Valentine's Day evening becomes an unforgettable affair. So, go ahead and revel in the delight of adorable sleepwear that perfectly captures the spirit of the occasion.
---
Conclusion
In conclusion, deciding what to wear on Valentine's Day is an exciting opportunity to express your personal style while capturing the essence of romance. The key to a successful outfit lies in striking a balance between comfort, confidence, and the desired level of formality. Whether you opt for a classic ensemble of a little black dress and statement accessories or prefer a more casual yet chic look with tailored separates, the most important aspect is to select clothing that makes you feel beautiful and at ease.
Remember to consider the venue and activity planned for the day and the weather conditions to ensure both practicality and fashion-forwardness. Ultimately, Valentine's Day is about celebrating love, and your outfit should reflect the joy and warmth of the occasion. So, embrace your individuality, experiment with colors and textures, and let your clothing choice speak volumes about your affection and charm.
---
To read more similar articles, click here.
Thanks for visiting our Website. If you appreciate our work, kindly show us some support in our comments section 🙂