Welcome, Comfort Seekers, to a realm of casual fashion and comfortable footwear! Today, we embark on an exciting journey through the world of Slip-on Sneakers for Women—the ultimate blend of style and ease. When it comes to those laid-back days and on-the-go moments, slip-on sneakers are the go-to choice for fashion-conscious individuals. In this comprehensive guide, we've curated a collection of the 10 best slip-on sneakers that offer unparalleled comfort, versatility, and effortless style.
Table of Contents
From classic designs to modern interpretations, these sneakers are the perfect companions for your everyday casual use. So, get ready to slip into a world of fashion-forward comfort and discover the best slip-on sneakers that will elevate your casual outfits to the next level.
---
The 10 Best Slip-on Sneakers for Women
Olukai Pehuea Li Women's Slip-On Sneakers
Special Features
Lightweight
Stylish
Long-lasting
Fine stitching
Breathable mesh design
These sneakers boast a dual-tone mesh and synthetic suede design, complemented by stylish leather accents. With their unique drip-in-heel design, you can effortlessly switch between slide wear and a more traditional shoe style. The added convenience of foldable heels allows for easy conversion into convenient slip-on shoes. Plus, the PU footbeds ensure optimal comfort, and the removable mesh footbed covers are both washable and practical. Rubber outsoles provide support and comfort, so these shoes are perfect for any occasion.
Whether you're heading out for a casual outing or want a versatile footwear option, the Olukai Pehuea Li shoes have got you covered. Combining style and comfort, these sneakers offer a contemporary look with their dual-tone design and thoughtful features. These shoes are designed to meet your needs, from the convenient slip-on functionality to the comfort-enhancing PU footbeds and washable mesh footbed covers.
---
Roxy Women's Sheilahh Slip-On Platform Sneaker Shoe
Special Features
Platform heels
Breathable
Durable
Easy to wear
Elevate your style with these trendy slip-on platform sneakers from Roxy. Crafted with faux leather, these shoes look unique and stylish and pair effortlessly with skirts, dresses, and jeans. The mesh eyelets add a touch of design and ensure breathability, keeping your feet cool.
With padded collars for added comfort and heel pull tabs for easy wearing, these slip-on sneakers are both fashionable and convenient. The platform rubber outsoles provide flexibility in movement, while the cushioned insoles and moisture-wicking terry cloth lining keep your feet fresh and supported throughout the day.
---
Puma Women's Bari Slip-On Sneaker
Special Features
Lightweight
Cushioned footbed
Flexible collar
Comfortable
Prepare for a comfortable adventure with the Puma Women's Bari Slip-on Sneakers. These sneakers are specifically designed to provide a cushioned ride, ensuring every step of your day is a breeze. The combination of an upper canvas and vulcanized midsole design makes these shoes lightweight, enhancing flexibility, allowing your feet to move naturally.
You'll experience a cloud-like sensation with the sock liners that feature soft foam, providing maximum comfort and support to your feet. Additionally, the rubber outsoles deliver both firm grip and flexibility, ensuring stability and ease of movement. These white sneakers perfectly marry style and comfort, making them an ideal choice for any occasion.
---
Soda Hike Slip-On Fashion Sneakers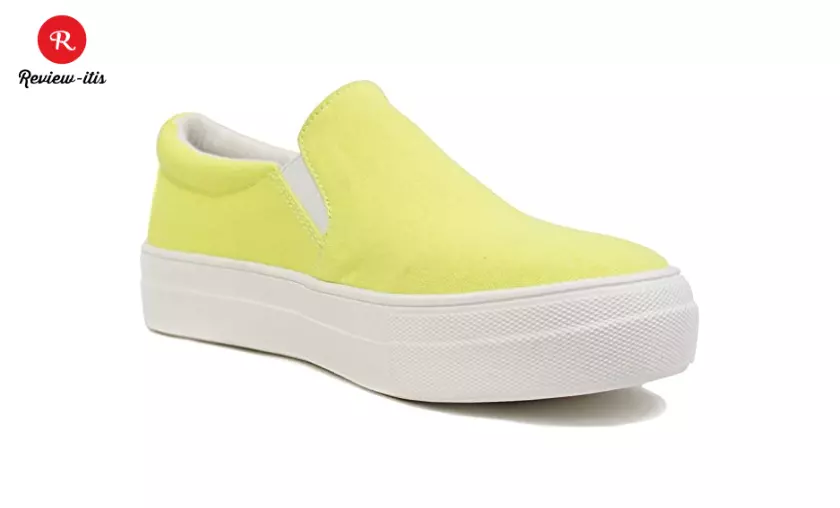 Special Features
Platform heels
Flexible
Rubber outsole
Double-cushioned support
Snug fit
Embark on a fashionable and functional journey with these versatile platform sneakers, available in a range of vibrant colors that effortlessly complement any outfit. Crafted with 100% manmade synthetic fabric, these sneakers offer both durability and style. Prepare to experience ultimate comfort as the padded collars provide a blissful cushioning effect, preventing any unwanted blisters or discomfort during your walks.
The rubber outsoles excel in traction, ensuring stability even on uneven terrains, so you can confidently stride along any path. With a platform height measuring 1.25 inches, these sneakers add a touch of elevation to your look while the double-cushioned insoles guarantee maximum comfort and support, making every step a joyous one.
---
Frye Women's Melanie Slip-On Sneaker
Special Features
Stylish
Padded sole
Fine stitching
Sleek design
Prepare to turn heads and make a stylish statement with these extraordinary slip-on sneakers from Frye, meticulously crafted from exquisite leather that exudes an air of timeless sophistication. With their ballet-flat design and low-profile soles, these sneakers enhance your look and provide stability for all-day comfort. The impeccable attention to detail is evident in the flawless stitching showcasing the brand's commitment to quality.
Thanks to the padded leather footbeds, each step you take will be cushioned with luxurious comfort, ensuring a pleasant walking experience. The elastic gore trim adds a touch of practicality, offering a snug fit that adapts to your foot shape. These sneakers effortlessly capture the essence of American style, and with a range of chic colors to choose from, you can truly express your individuality and embrace your unique fashion sense.
---
Staragon Women's Slip-On Sneakers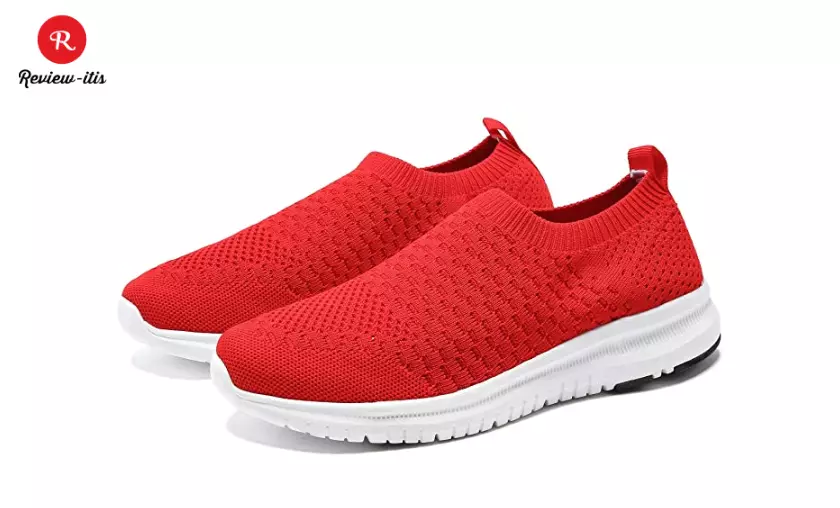 Special Features
Ideal for sports
Lightweight
Durable
Non-slip sole
Snug fit
Soft insole
Breathable mesh design
Step confidently with the Staragon Women's Sneakers, equipped with non-slip MD outsoles that provide exceptional traction, support, and durability. These sneakers are scratch-resistant and boast impressive anti-slip and anti-twist properties, ensuring stability and preventing unwanted slips or twists.
The unique S-shaped design on the soles creates friction, adding an extra layer of protection against injuries. With the convenient pull-on tabs at the ankles, you can easily slip these sneakers on and off, saving you time and hassle. Upgrade your footwear game and embrace comfort, traction, and style with the Staragon Women's Sneakers.
---
Lamincoa Women's Walking Shoes
Special Features
Lightweight
Breathable
Good traction
Anti-skid sole
Absorbs sweat
Shock-absorbing
Stretchable
Prepare to step into the world of ultimate comfort and style with the Lamincoa Women's Walking Shoes, designed to enhance your walking, running, sports, traveling, and workout experiences. These remarkable shoes boast a lightweight and breathable mesh-knit design that not only wraps your feet in a gentle embrace but also elevates your style to new heights.
With each stride, you'll feel the comfort and support these shoes provide, allowing you to easily conquer any activity. The extended pull tab feature allows for quick and effortless wearing and removal, ensuring convenience on the go. Thanks to the memory foam insoles, your feet will experience unparalleled comfort, as they cushion your every step and wick away moisture, keeping your feet fresh and odorless throughout the day.
The MD outsoles offer full traction, enabling you to confidently perform various activities without compromising stability. To top it all off, the anti-collision toe-tabs are there to protect your toes from potential injuries, allowing you to focus on your movements and enjoy every moment.
---
STQ Loafers For Women
Special Features
Soft padded collar
Non-slip rubber sole
Unique quilt design
Easy to clean
Flexible
Get ready to step up your style game with the casual and cute-looking loafers from STQ. Crafted with a combination of polyester and synthetic material, these versatile loafers are the perfect complement to any outfit. The memory foam insoles provide a soft, cushiony, and comfortable experience, ensuring that each step you take is cozy. Whether you're running errands or going for a leisurely stroll, these slip-on loafers have got you covered.
Designed with functionality in mind, these loafers feature outer rubber soles with a non-slip design, providing excellent traction and stability with every step. Say goodbye to worrying about slippery surfaces or uneven terrain. These slip-on sneakers come in four classic colors – white, black, gray, and olive – allowing you to choose the one that best matches your style and preference. With their quilted design, these shoes exude a premium and classy look, adding a touch of elegance to your ensemble.
---
Soda Canvas Slip-On Sneakers Lace Up Style
Special Features
Soft insoles
Lightweight
Flexible movement
Easy to wash
Comfortable
These slip-on sneakers are perfect for running errands or simply adding a laid-back touch to your everyday look. The insole of these sneakers is crafted with memory foam gel, ensuring that your feet are cradled in comfort and allowing for a comfortable stretch with every step you take. Say goodbye to foot fatigue and hello to maximum comfort as you go about your day.
The laces on these sneakers may seem like a design add-on, but they add a charming touch to the overall aesthetic. However, remember that these sneakers are slip-on style, so the laces are not functional in adjusting the fit. Rest assured, though, that once you slip your feet into these durable sneakers, you'll be ready to take on the day with confidence. With their reliable traction and versatile design, these sneakers effortlessly complement a wide range of outfits, making them a versatile addition to your footwear collection.
---
Jenn Ardor Slip-On Flats
Special Features
Non-skid sole
Easy to clean
Comfortable
Breathable
Flexible
Soft sole
These sneakers feature high platform heels that add a stylish touch and a little extra height to your overall look. Whether you're rocking jeans, shorts, dresses, or casual wear, these versatile sneakers are the perfect choice to complete your outfit.
Comfort is key, and these sneakers deliver. Designed with extreme breathability in mind, they ensure your feet stay cool and comfortable throughout the day. The supportive insoles offer a cushioned feel, keeping your feet at ease with every step you take. The flexible rubber soles also provide excellent traction, helping you maintain stability and avoid any unwanted slips or slides.
What sets these sneakers apart is their convenient design. The stretchable elastic panels on the sides eliminate the need for fastening, making them effortless to slip on and off. No more struggling with laces or buckles—slide your feet into these stylish sneakers and you're good to go. Embrace fashion, comfort, and convenience all in one with these fashionable sneakers from Jenn Ardor.
---
Conclusion
It's time to say goodbye, my friends, but the impact of these slip-on sneakers will continue to be felt with every step you take in your everyday life. Each pair we've unveiled in this guide represents the pinnacle of comfort and style—the perfect combination of convenience and fashion-forward design that makes for exceptional slip-on sneakers for everyday casual use.
These sneakers are more than just shoes—they're a statement of your style and a testament to your desire for comfort and trendiness. So, slip into fashion greatness, embrace the laid-back vibe, and let these extraordinary slip-on sneakers guide you toward a world of effortless style and unmatched comfort.
---
To read more similar articles, click here.
Thanks for visiting our Website. If you appreciate our work, kindly show us some support in our comments section 🙂