When we talk about fashion staples, there's an iconic combination that stands head and shoulders above the rest: the white shirt and jeans. These two pieces possess an unmatched versatility that opens the door to endless possibilities for stylish and chic outfits. Today, we embark on a journey of sartorial exploration as we dive into 11 innovative ways to elevate your white shirt and jeans ensemble.
From timeless classics that have stood the test of time to bold avant-garde styles that push the boundaries, we're here to revolutionize your wardrobe. Get ready to make a memorable statement wherever you go as we guide you through these fashion-forward pairings that will leave a lasting impression.
Table of Contents
11 Ways to Style a White Shirt and Jeans
---
1. Classic and Effortless:
To achieve a look that transcends time and exudes ease, embrace the art of tucking your crisp white shirt into a pair of impeccably fitted blue jeans. Elevate the ensemble with a striking statement belt and your go-to sneakers or ballet flats. This effortlessly chic combination is ideal for casual outings or when tackling your daily errands, ensuring you maintain a polished appearance that effortlessly turns heads.
---
2. Layered Chic:
Unleash your inner fashion maven by crafting a layered and utterly chic look. Begin by combining your white shirt with a sleeveless vest or a meticulously tailored blazer. Leave the shirt untucked and gently roll up the sleeves for a relaxed yet sophisticated vibe. Bring it all together with your beloved jeans and a pair of sleek ankle boots.
This ensemble effortlessly transitions from day to night, allowing you to navigate any occasion with unwavering style and grace. Prepare to leave a lasting impression wherever your ventures take you.
---
3. Denim on Denim:
Embrace the undeniable allure of the double denim trend by seamlessly integrating your white shirt with a denim jacket or a charming chambray shirt. Opt for jeans in a distinct wash to create a visually striking contrast.
It's time to refine the look with carefully chosen neutral-toned accessories, ensuring the spotlight remains on the captivating denim pairing. Prepare to captivate onlookers with a contemporary and effortlessly cool ensemble that effortlessly merges timeless style with a modern twist.
---
4. Boho Vibes:
Infuse your wardrobe with a delightful touch of bohemian flair by adorning yourself in a flowy white shirt adorned with intricate embroidered details. Elevate the ensemble by pairing it with high-waisted flared jeans, channeling a retro-inspired aesthetic that effortlessly accentuates your silhouette. Complete the look by layering necklaces and adorning your head with a wide-brimmed hat, allowing your personal style to shine.
This enchanting ensemble radiates a carefree and whimsical vibe, making it the perfect choice for outdoor events, music festivals, or any occasion where you wish to embody an air of effortless charm. Prepare to turn heads and evoke a sense of wanderlust with this captivating bohemian-inspired ensemble.
---
5. Sophisticated Monochrome: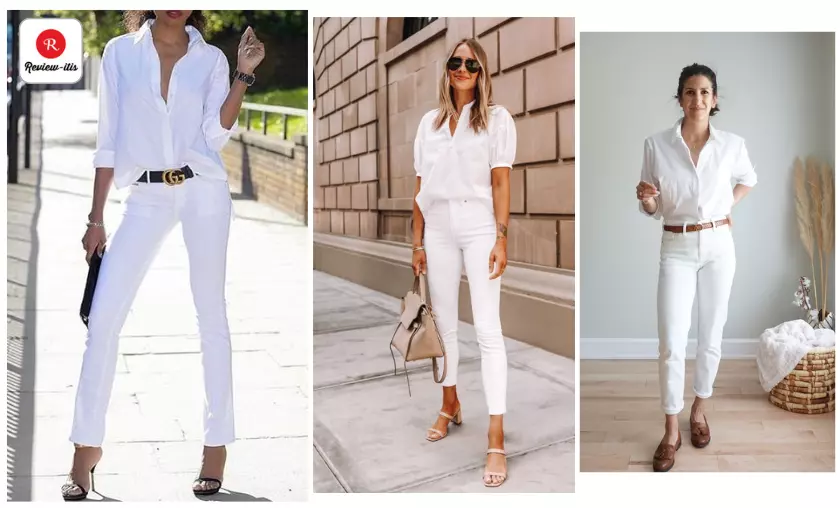 Elevate your style with a touch of sophistication and refinement by opting for white jeans instead of the conventional blue. Embrace the sleek allure of this choice by pairing them with a crisp white shirt, creating a clean and minimalist foundation. Introduce a tailored blazer in a contrasting color, such as sleek black or deep navy, to truly make a statement.
This monochromatic ensemble effortlessly exudes elegance and polish, making it suitable for a range of occasions, from formal gatherings to semi-formal events. Prepare to command attention and exude an air of refined confidence with this effortlessly chic and timeless combination.
---
6. Edgy Rocker:
Unleash your inner rock star and radiate an aura of effortless cool by styling your white shirt and jeans with a leather or faux leather jacket. Embrace the rebellious spirit and amplify the edgy vibes with a pair of ankle boots adorned with metallic accents. Elevate the ensemble further by accessorizing with statement jewelry that demands attention.
This bold and audacious look exudes confidence, allowing you to make a powerful statement wherever you go. Prepare to turn heads and channel your inner rock star with a combination that epitomizes the perfect blend of fearless style and undeniable swagger.
---
7. Feminine and Flirty:
Inject a delightful touch of femininity into your white shirt and jeans ensemble by selecting a shirt adorned with charming ruffled details or delicate lace embellishments. Combine this lovely top with slim-fit jeans to create a sleek and flattering silhouette. To complete the look, choose delicate heels or graceful ballet flats that exude refined elegance.
This harmonious combination strikes the perfect balance between casual and chic, making it ideal for a variety of occasions, whether it's a leisurely brunch date or a delightful afternoon stroll. Prepare to radiate a charming and effortlessly chic aura with this enchanting ensemble that celebrates femininity in its purest form.
---
8. Sporty Casual:
To effortlessly embody a laid-back and sporty vibe, slip into your favorite white shirt and pair it with distressed jeans and comfortable sneakers. Roll up the sleeves and tie a knot at the front for a casually cropped effect that adds an extra touch of relaxed style.
This effortlessly cool ensemble is perfect for those carefree weekends, running errands, or enjoying casual gatherings with friends. Embrace the effortless charm of this look and exude an aura of relaxed confidence wherever your adventures take you.
---
9. Office Chic:
Elevate your white shirt and jeans combination to create a sophisticated office outfit that seamlessly blends professionalism with comfort. Enhance the ensemble by layering it with a well-fitted tailored blazer or a structured cardigan, instantly adding a touch of refined elegance. Neatly tuck your shirt into high-waisted jeans for a polished look that accentuates your silhouette.
Complete the ensemble with pointed-toe pumps or sleek loafers, exuding a sense of refined style. This carefully curated outfit ensures you maintain a poised and stylish appearance throughout work hours, effortlessly combining comfort with a professional aesthetic. Prepare to make a lasting impression with a look that exudes confidence and professionalism in equal measure.
---
10. Effortlessly Bohemian:
Embrace the essence of a laid-back bohemian aesthetic by selecting a loose-fitting white linen or cotton shirt and pairing it effortlessly with wide-leg jeans. To perfect this breezy look, opt for earth-toned accessories that complement the relaxed vibe, such as a woven belt and comfortable leather sandals.
This captivating ensemble encapsulates the spirit of carefree summer days and beachside getaways, exuding an air of effortless style and relaxation. Prepare to radiate an aura of effortless bohemian charm, immersing yourself in the beauty of sun-kissed adventures and seaside tranquility.
---
11. Statement Accessories:
Take your white shirt and jeans outfit to new heights by incorporating captivating statement accessories. Elevate your look with a vibrant scarf, a chunky belt, or a bold statement necklace, infusing it with your own unique personality and flair. Embrace the opportunity to experiment with a variety of textures, colors, and patterns, allowing your creativity to shine through in a truly eye-catching ensemble.
With each accessory choice, you have the power to transform a simple combination into a captivating and unforgettable fashion statement. Prepare to turn heads and express your individuality with a myriad of stylish possibilities awaiting your exploration.
---
Conclusion
The combination of a white shirt and jeans presents an infinite canvas for expressing your individual style. Throughout this piece, we have delved into eleven distinct and inspiring methods to elevate this timeless duo into a fashion statement suitable for any occasion. Whether you opt for a classic and effortless look by tucking your white shirt into well-fitted blue jeans or embracing the bohemian spirit with flowy shirts adorned with embroidered details, each styling choice infuses your outfit with personality and panache. You can effortlessly exude a casual-cool vibe with double denim or create a sophisticated office ensemble with tailored blazers or structured cardigans.
The possibilities are truly endless, ranging from the laid-back and sporty appeal of distressed jeans and sneakers to the captivating allure of a leather jacket. Remember to experiment with accessories as well, such as statement jewelry, scarves, and belts, to add that final touch of finesse. Incorporating these eleven remarkable ways to style a white shirt and jeans into your fashion repertoire ensures that you are always ready to make a statement and look effortlessly chic.
So, let your creativity soar, embrace your unique style, and transform this timeless combination into a versatile wardrobe staple that reflects your personality and captures your attention wherever you go.
---
To read more similar articles, click here.
Thanks for visiting our Website. If you appreciate our work, kindly show us some support in our comments section 🙂