Hey there, outdoor enthusiasts! When you're out in nature, whether embarking on an epic hike or tackling a challenging trail, having the right footwear is crucial. And let me tell you, one thing that can either make or break your adventure is the quality of your hiking boots, especially when it's pouring rain outside. Keeping your precious feet dry and shielded from the elements is key to ensuring a comfortable and enjoyable hiking experience. That's why we've gone ahead and put together a comprehensive list of the 9 best waterproof hiking boots you can get your hands on. These bad boys are built to withstand the wettest conditions, providing unparalleled reliability on all outdoor excursions.
Hold on tight as we dive deep into the world of the best waterproof hiking boots. We'll be closely examining their standout features, performance capabilities, and overall durability to ensure that your feet remain dry, comfortable, and ready to conquer any trail that comes your way. Our selection spans across a range of top-notch brands, each offering their own unique blend of innovative technologies, superior craftsmanship, and exceptional comfort. So get ready to strap on these amazing kicks and say goodbye to soggy socks and uncomfortable hikes once and for all. We're here to ensure you're equipped with the knowledge and insights needed to decide on the best waterproof hiking boots on the market.
Table of Contents
---
The 9 Best Waterproof Hiking Boots:
Merrell Moab 2 Mid Waterproof Hiking Boots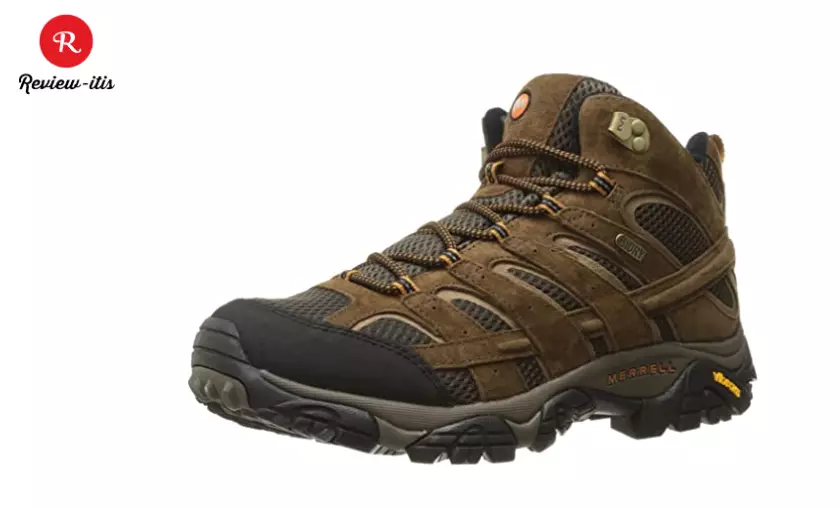 Bit of Info:  5-11 (medium and wide widths), Suede and mesh upper, rubber sole, 2 pounds.
The legendary Merrell Moab 2 Mid Waterproof Hiking Boots! It's no wonder these bad boys have earned such widespread popularity. Clocking in at a mere 2 pounds, they strike the perfect balance as a midweight style that can easily handle most seasons. But comfort? Oh, they've got that covered too! With a contoured footbed and zonal arch, slipping into these boots feels like a dream. Plus, the cushiony interior ensures that you'll experience minimal to no break-in time. And get this, folks: if you're craving that direct connection to the ground, you can even remove the contoured footbed. Talk about customization!
But wait, there's more! The Merrell Moab 2 Mid isn't just a one-size-fits-all deal. It comes in a variety of sizes, including both medium and wide widths, so there's a fit for everyone. Oh, and did I mention that it's made with some recycled materials? Not only does it provide ample protection from the elements, but it also keeps your feet from overheating. And let's not forget about the substantial ankle support it offers, which has garnered praise far and wide.
---
The North Face Vectiv Exploris Mid Futurelight
Bit of Info: 5-11, Nubuck leather, rubber sole, 1.5 pounds.
Behold The North Face's Vectiv Exploris Mid FutureLight Leather Boot, sporting the sleek style of a basketball sneaker. But that's not all – this bad boy is packed with The North Face's top-notch proprietary technology. What sets it apart? Well, for starters, it's a lightweight sneaker boot that's highly breathable, perfect for those summer hikes when you want to keep things light and breezy. Designed with trail runners in mind, this shoe boasts impressive shock absorption capabilities, ensuring a smooth ride as you conquer the outdoors. And let's talk about that sole, shaped like a cradle, to propel you forward with every step. It's like your feet are on a mission!
But wait, there's more! The internal cushioning and OrthoLite footbed offer a heavenly walking experience as if you're strolling on clouds. And let's not forget about those 4-millimeter soles and super grippy traction. These boots provide the stability you need on various terrains, keeping you on your feet and ready for whatever challenges lie ahead. Oh, and fear not, gentlemen! Men's sizes are also available, so everyone can experience the awesomeness of The North Face's Vectiv Exploris Mid-FutureLight Leather Boot.
---
HOKA Anacapa Mid GORE-TEX Hiking Boots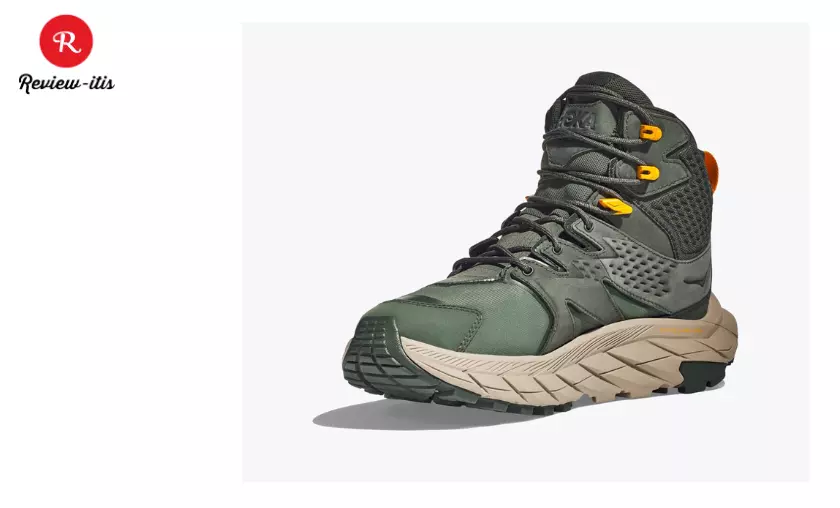 Bit of Info: 5-11, Nubuck leather/Gore-tex upper, molded PU (50 percent soybean oil), Vibram Megagrip rubber, 1.7 pounds.
In recent years, Hoka has revolutionized the athletic realm with their mind-bogglingly cushioned shoes that perfectly balance lightweight design and breathability. And now, they're bringing that same magic to the trails with the Hoka Anacapa Mid GTX Hiking Boot. Prepare for a wild ride because this boot features Hoka's iconic Meta-rocker technology, that cradle effect that propels you forward with every step, making you feel like you're gliding through the trails. But that's not all! Hoka has gone above and beyond to ensure maximum comfort and convenience. The Anacapa's achilles-cradling pull tabs make slipping these boots on and off a breeze, saving you precious time and effort for more important things – like embarking on epic outdoor adventures!
So gear up, my friends, and get ready to experience the extraordinary. The Hoka Anacapa Mid GTX Hiking Boot is here to take your trail game to new heights with its unbeatable combination of comfort, convenience, and cutting-edge technology. Say goodbye to sore feet and hello to the exhilarating feeling of being propelled forward.
---
Salomon Women's Toundra Pro CSWP Boot
Bit of Info: 5-11, Leather, textile, Aerogel insulation, rubber sole, 1.7 pounds.
This beauty strikes the perfect balance between style and functionality, making it our top pick for conquering winter trails. The winter Contragrip technology delivers unparalleled traction on treacherous ice and snow, ensuring you stay steady on your feet during winter hikes and even snowshoeing adventures. But that's not all! This boot is built to withstand below-zero temperatures, keeping your feet cozy and warm.
Cold-weather comfort has reached new heights thanks to its faux-fur lining and the incredible Aerotherm Aerogel. So go ahead, brave the cold and slushy conditions this winter with the Toundra Pro CSWP. Oh, and gentlemen, fear not, because it's available for you too! With its high shaft design, this boot keeps you toasty and dry, ready to tackle any winter expedition that comes your way.
Prepare to be amazed, my friends, as the Salomon Toundra Pro CSWP Boot takes the crown as our ultimate winter hiking boot. Its winning combination of style and functionality will have you turning heads on the trails while providing the utmost protection and performance. With its winter Contragrip traction, you'll easily conquer icy and snowy terrains. And let's not forget about the luxurious comfort it offers in freezing temperatures, thanks to that cozy faux-fur lining and the remarkable Aerotherm Aerogel.
---
Danner Women's Mountain Light Boot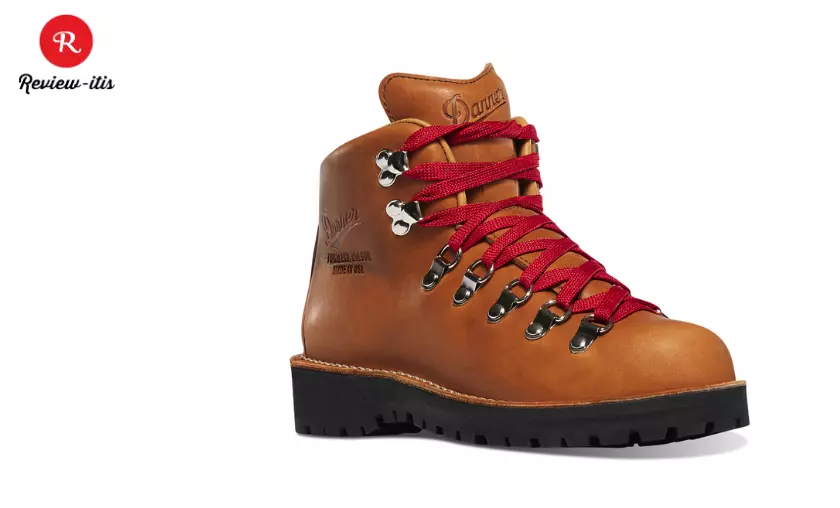 Bit of Info: 5.5-10, Full grain leather upper, Gore-tex liner, Vibram Kletterlift outsole, 3 pounds.
Crafted with full-grain leather, equipped with Vibram Kletterlift outsoles, and boasting a proud origin in the hands of skilled artisans in Portland, these boots are the stuff dreams are made of. They have become an industry standard and a true statement piece, capturing the hearts of adventurers and fashion enthusiasts alike.
Sporting vibrant red laces that demand attention, these boots are as likely to be seen on a fearless trekker in the wilds of the Yukon as they are on a fashion editor strutting the urban streets. They have earned their place in history as one of the greatest backpacking boots ever created. You might even recognize them from their appearance in the film adaptation of Cheryl Strayed's gripping memoir, "Wild."
So brace yourself for the pinnacle of style and durability, my friends, as you slip into the world of the Danner Mountain Light Boots. These masterpieces are a testament to the fusion of fashion and functionality. With their impeccable craftsmanship and undeniable allure, they are ready to accompany you on the most daring of adventures or add a touch of rugged sophistication to your everyday style.
---
Adidas Terrex Trailmaker Mid Gore-tex Shoes
Bit of Info: 5-11, Gore-tex upper, rubber outsole, 1.7 pounds.
This hiking boot features a rip-stop upper that adds a touch of durability and provides excellent ankle support with its high-top feel. But here's the best part – it's lightweight and offers high-grip traction, making it the ultimate travel companion. Whether you're conquering rugged trails or embarking on urban trekking adventures, this boot doubles as a sneaker, ensuring you stay comfortable and stylish throughout your journey. Say goodbye to the need for separate hiking shoes and grippy sneakers because the Terrex Trailmaker Mid gives you the best of both worlds. With its high ankle cushion and lace-up design, you'll experience maximum support and protection, allowing you to confidently tackle any terrain.
So lace up, my friends, and get ready to unleash the power of Adidas's Terrex Trailmaker Mid. It's time to embrace the versatility of this incredible hiking boot, effortlessly blending fashion and functionality. Whether exploring the great outdoors or navigating the concrete jungle, this boot has your back. With its impeccable design and unbeatable support, you'll be ready to conquer new heights while looking your absolute best.
---
Mishansha Unisex Warm Hiking Boots
Bit of Info: 5.5-15, Artificial leather, rubber sole, 1.52 pounds.
These lightweight wonders offer the perfect starting point for beginner hikers venturing into cooler climates. Designed to keep you warm and toasty, these boots are a budget-friendly option that doesn't compromise on quality.
The non-slip, abrasion-proof tread ensures stability, especially in snowier weather, making them the ideal companion for those adventurous weekend hikes with your energetic furry friend. Plus, the wider front provides ample room to insert an orthopedic insole for added comfort. But here's the catch – the boot's soft, fleece-like lining is so cozy, it might just rival the comfort of any additional insole. Thanks to its exceptional design, prepare to feel snug and secure as the heat is retained within the boot.
Say hello to your new hiking companions, my friends – Mishansha's lightweight and wallet-friendly boots. These boots are perfect for those seeking warmth and functionality without breaking the bank. Their reliable non-slip tread ensures stability in snowier conditions, giving you the confidence to tackle any terrain. And let's not forget about the extra comfort options. With a spacious front, you have the freedom to insert an orthopedic insole for personalized support.
---
Ariat Moresby Waterproof Boot
Bit of Info: 5.5-11, 100 percent leather upper, 30 percent recycled rubber outsole, 2 pounds.
Crafted from durable full-grain leather, these boots are built to withstand the test of time and miles of adventures. They are highly resistant to abrasion and boast impressive water resistance, making them the ideal companion for any hiking expedition. With their sturdy construction, the Moresby can easily handle heavy loads, providing stability and reliability on the trail.
But that's not all – these alpine-style boots offer cushioned ankle support and protection from potential snake bites, ensuring your safety and comfort throughout your journey. Thanks to the waterproof PRO construction, your feet will stay dry even on rainy hikes and wet grasslands. And with the all-day cushion insole's exceptional shock-absorbing properties, you can hike all day without feeling the strain. While not insulated, these boots are fantastic for winter adventures when paired with a thick sock, as their grippy traction allows you to confidently navigate snowy paths.
Prepare to embark on a hiking experience like no other, my friends, as you step into the realm of the Moresby leather hiking boots. These boots are the epitome of durability, functionality, and protection. With their full-grain leather construction, they are the go-to choice for backpackers seeking a long-lasting companion. Embrace the alpine-style design that provides cushioned ankle support and shields you from potential snake encounters on the trail. No more worries about rainy hikes or wet grasslands, as the waterproof PRO construction keeps your feet dry and comfortable.
---
Oboz Bridger Mid Waterproof Hiking Boots
Bit of Info: 5-12, Nubuck leather, nylon mesh, rubber sole, 2.2 pounds.
This robust and durable boot is designed to tackle challenging hikes and is the perfect choice for those getting back to the trails after a long hiatus. With its exceptional traction and ankle protection, the Oboz Bridger ensures you stay secure and confident every step of the way.
But that's not all – these boots are here to provide unparalleled support, thanks to their premium insoles. Considered one of the most supportive hikers on the market, the Oboz Bridger caters to a wide range of sizes, from 6 to 11, in both medium and wide-width options. And yes, my friends, the men are not left behind, as this style is also available in men's sizes.
Prepare to experience unmatched stability and comfort with the Oboz Bridger hiking boot. Its deluxe footbeds feature a well-defined arch, offering the support your feet crave. The midsole is equipped with the standard yet incredibly supportive EVA, ensuring maximum comfort throughout your hike. But it doesn't stop there – nylon shanks and thermoplastic urethane forefoot plates provide torsional stability, boosting your sure-footedness on any terrain you encounter.
And let's not forget about the rubber outsoles with their deep multidirectional lugs that extend over the sides, guaranteeing exceptional grip from any angle.
---
Conclusion
In the end, my fellow adventurers, the right pair of waterproof hiking boots can be your ultimate weapon in conquering the challenges of the rainy season. Throughout our epic quest to find the 9 best options out there, we've discovered a selection that truly shines with its unmatched water resistance, rock-solid durability, and overall mind-blowing performance. These boots aren't just about keeping your feet dry and cozy; they go above and beyond, offering next-level comfort and support that will have you striding with confidence every step of the way.
So, remember, investing in top-tier waterproof hiking boots is like investing in the key to unlocking unforgettable outdoor experiences. Whether you're a seasoned pro or just starting your hiking journey, it's absolutely worth considering one of these epic options to gear up for your upcoming rainy season explorations. With their ingenious technologies and impeccable craftsmanship, these boots are engineered to tackle the toughest conditions and keep you comfortable on any trail you dare to conquer. Happy hiking, my friends!
---
To read more similar articles, click here.
Thanks for visiting our Website. If you appreciate our work, kindly show us some support in our comments section 🙂