Pack your bags and get ready for an adventure! Going on a trip isn't just a luxury, it's a necessity when life starts feeling mundane. And if you've got a trip planned, then this article is tailor-made for you. Get ready to uncover the Essential Items You Need To Pack. So sit tight and let me guide you on what to pack for your epic journey.
Trust me; you don't want your dreams of that perfect outfit or fabulous hairdo to be dashed due to a lack of essentials. But fear not, my friends, because this article is here to save the day. So without further ado, let's dive in and make sure you're prepared for whatever awaits you on your grand adventure. It's time to unlock the secrets of efficient packing, so grab a snack, settle in, and let's get this show on the road!
Table of Contents
---
Obviously, the Most Essential Items You Need to Pack First Are:
List of Essential Clothing
Prioritize thorough research on the weather conditions of your travel destination. Let this be your starting point for a well-prepared journey.
For those engaging in outdoor activities, make sure to pack a combination of track pants, shorts, and comfortable T-shirts to keep you at ease.
Begin your packing process with essential items such as bold T-shirts, intimates, trousers, jeans, and shorts. Conduct a trial packing session with your everyday clothes to ensure you have everything you need and gradually expand from there.
Embrace the concept of a capsule wardrobe for ultimate versatility. Opt for mix-and-match pieces that allow you to create various outfits with just a few items. Smart packing leads to endless possibilities.
During winter holidays, be sure to pack enough innerwear and outerwear for effective layering. Take advantage of the opportunity to experiment with different combinations that suit your needs.
If you're a first-time backpacker, consider the practicality of your clothing choices. Select garments that are easy to wash, dry quickly, and require minimal maintenance. This will make your journey more convenient and hassle-free.
Comfort should be your top priority when embarking on month-long trips across Europe or exploring North America. Once again, align your packing choices with the anticipated weather conditions.
Opt for one-piece dresses as a fantastic option for summer vacations. They occupy minimal space in your bag and require minimal styling and additional garments.
Don't overlook the importance of packing the right amount of innerwear. Strike a balance by packing just enough – not too many or too few, focusing on the most comfortable options available.
---
Shoes for Any Terrain
Avoid going overboard in this aspect, as many of us tend to do. Remember to keep it simple and practical. Include a single pair of exceptionally comfortable shoes that can be worn while traveling, walking around, and for any occasion.
If you have special plans for a fancy dinner or expect a lot of partying, it's wise to bring a pair of functional and comfortable party shoes, such as black pumps or just Flip-flops.
When heading to a beach vacation, it's a no-brainer to pack flip-flops or beach sandals. However, ensure that you've worn them beforehand to avoid any discomfort caused by new footwear.
Depending on your destination, consider packing appropriate shoes for hiking, running, or general walking purposes. Select the footwear that suits the activities you plan to engage in during your trip.
Including closed-toe shoes in your packing list is always a great idea. They provide added protection and versatility for various situations and environments.
---
Accessories & Make-Up Supplies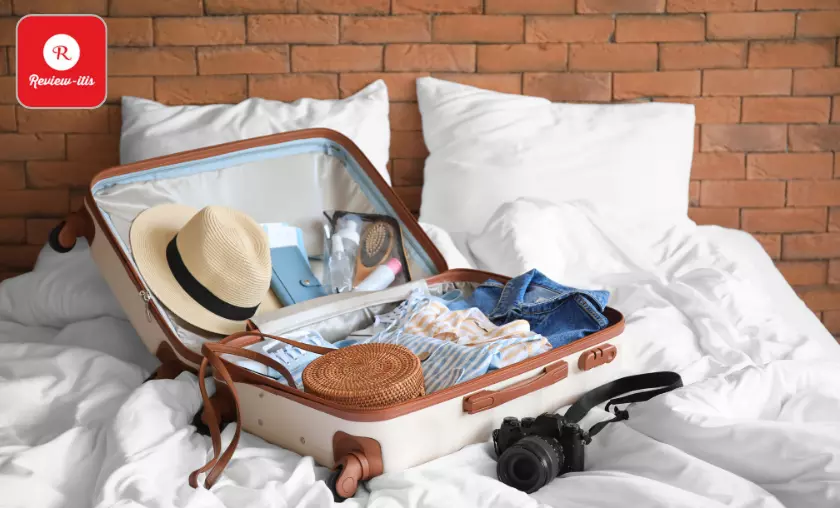 Unlock the power of smart dressing by leveraging the transformative capabilities of accessories and makeup. It's incredible how they can elevate any outfit!
Just like the concept of a capsule wardrobe, remember that makeup and accessories play a vital role in completing the puzzle of your overall look.
Enhance your outfit with versatile layers such as scarves, shrugs, half-jackets, sweaters, or any other garments that can be added or removed as needed.
When it comes to accessories, consider incorporating earrings, statement necklaces, finger rings, a stylish side body bag, shades, or any other items that add a pop of flair and elevate your ensemble.
Don't forget to pack essential hair accessories like hair ties, tweezers, clips, and bobby pins to keep your hair well-groomed and styled throughout your journey.
---
Don't Forget Your Toiletries
Mastering this aspect of your travel preparations will set you up for success. Say goodbye to bulky bottles of products and opt for convenient travel sizes instead.
Start by packing your must-have essentials such as facewash, shampoo, conditioner, toothbrush, toothpaste, razor, lotion, sunblock, deodorant, and perfume in sizes of 8 oz or less. These items should take priority in your packing process.
Keep in mind that hotels often provide certain toiletries like shampoo and soap, so you can save space by skipping those items unless you have specific preferences.
Items like hair styling tools, toilet paper, and wet wipes are optional and depend on your personal needs and preferences. Consider whether you truly need them for your trip before including them in your luggage.
---
Essential Electronic Items
Let me share with you the latest travel mantra: Simplify! Focus on carrying the essentials like your phone, charger, wallet, and the necessary electronic devices. Trust me, everything else can be managed.
For international travelers, a universal adapter will be your best friend. It allows you to conveniently plug in your devices no matter where you go. Additionally, if the voltage capacity differs in your destination, don't forget to bring a voltage converter for your chargers and heat-styling tools.
Remember to include a memory card in your packing list. It's an invaluable asset for capturing and storing your precious travel memories.
Don't overlook the importance of a power bank. It ensures that you have a reliable source of portable power to keep your devices charged while you're on the go.
Lastly, having USB sticks handy can prove to be incredibly useful for storing and transferring data during your travels. They are compact and efficient tools for managing your electronic files.
---
If You Have Any Medications, Pack Them
When it comes to medications, it's crucial not to overlook anything. Remember to pack all your prescribed medications, including those you take occasionally. Prioritize your health and well-being throughout your journey.
Don't forget to include general medicines in your travel kit. Items like paracetamol, diarrhea medicine, painkillers, motion sickness pills, and allergy medication can come in handy during unexpected situations.
Ensure you have basic first aid supplies such as band-aids and bandages. They are essential for addressing minor injuries or cuts that may occur during your travels.
Don't underestimate the importance of good hygiene. Carry a sanitizer to keep your hands clean and protect against germs. Additionally, include mosquito and insect repellents to shield yourself from unwanted bites and discomfort. Your well-being is worth the extra precautionary measures.
---
Documents & Identifications
Having your travel documents in order is crucial when traveling, particularly if you're heading abroad. Take the necessary steps to ensure everything is in place.
Don't overlook the importance of carrying your medical and travel insurance documents. They provide peace of mind and protect you in case of any unforeseen circumstances.
Remember to bring along your identity proof, such as a passport or ID card. These documents are essential for identification purposes and may be required at various checkpoints.
It's wise to have your immunization records on hand, especially when traveling to certain destinations that may require proof of vaccinations. Stay prepared and organized.
Take the initiative to create emergency contact information sheets. These sheets should include important contacts such as family members, friends, and local authorities. It's always better to be prepared for any unexpected situations.
If there are any specific documents that need to be declared at the port of entry, ensure you have them ready and easily accessible. Familiarize yourself with the regulations and requirements of your destination.
Carry a language guide and maps to aid you during your travels. They can be invaluable resources, helping you navigate new places and communicate effectively with locals. Stay informed and empowered.
---
Travel Equipment
If you're headed to the beach, make sure to pack a beach bag, shades, flip-flops, sunglasses, and an ample amount of sunblock. Stay informed about the weather conditions and plan your gear accordingly for a fantastic beach experience.
For a convenient and comfortable trip, consider including camera bags, a spacious backpack, a practical side body bag, suitable shoes, water bottles, and any other items that enhance your travel experience.
When visiting a cold destination, don't forget to pack essentials such as rain jackets, winter parkas, gloves, socks, and leg warmers. These items will keep you warm and protected from the elements.
If you plan to go skiing, renting extra-thick track pants, jackets, or shoes is a smart move to ensure you stay comfortable and well-prepared for your adventure on the slopes.
Opt for a backpack that accommodates all your travel gear efficiently. Consider renting a heavy-duty bag if needed, as it can easily handle the demands of your journey.
Having a detailed itinerary of all the activities you'll be participating in can help you determine the necessary items to bring. Some items you may choose to bring from home, while others can be acquired at your destination to streamline your packing process and reduce unnecessary weight.
---
Itineraries Are Incredibly Helpful
Take the time to create a detailed itinerary that outlines the specific parts of the city you plan to explore. This will help you stay organized and make the most of your trip.
Maintain an Excel sheet with all the necessary information and print it out before your journey. Include details such as the nearest train or bus stations and important phone numbers, and pin it to your map for easy reference.
Keep in mind that it's impossible to cover everything in a single trip. Narrow down your interests and make a note of the specific attractions, landmarks, or activities that align with your preferences.
Develop a loose daily plan that outlines the key highlights and allows for flexibility. This way, you can adjust based on unexpected discoveries or local recommendations.
Make reservations in advance and consider paying online to avoid long queues and save valuable time during your trip. Pack any necessary items that might help you save money, such as reusable water bottles or snacks.
Finalize your checklists with the names and contact information of hotels, important phone numbers, and any other details that may come in handy during your journey. Being well-prepared and organized ensures a smoother travel experience.
Conclusion
And that concludes our quest for the perfect packing strategy. Remember, the key to a successful journey lies in thoughtful preparation and consideration of the essential items you need to bring along. Whether it's selecting the right clothing for the weather or curating a collection of versatile accessories, every choice matters.
Take the time to delve into the weather conditions of your destination, ensuring that your wardrobe is ready to tackle any climate. Don't underestimate the power of comfortable and functional footwear, and let your personality shine with carefully chosen accessories and makeup.
When it comes to toiletries and medications, be mindful of travel sizes and any specific requirements. Keep your important travel documents close at hand, safeguarding your passage to exciting new horizons. And, of course, don't forget to craft a well-structured itinerary, providing you with a roadmap to easily navigate your journey.
So as you embark on your next adventure, embrace the art of packing smartly and efficiently. With the confidence that you have all the essential items at your side, get ready to create unforgettable memories. Your journey awaits, so go forth and conquer the world with your well-prepared pack. Safe travels!
---
To read more similar articles, click here.
Thanks for visiting our Website. If you appreciate our work, kindly show us some support in our comments section 🙂