In the world of Gucci's last show, Alessandro Michele likened himself to a director, recognizing the common ground between filmmakers and fashion designers – both bring their visions to life, one through film and the other through couture. Fashion and film have always shared a symbiotic relationship. Think of Audrey Hepburn's iconic little black dress by Hubert de Givenchy in the cinematic classic Breakfast at Tiffany's.
Fashion luminaries have created memorable costumes for the silver screen while drawing inspiration from the world of cinema for their own collections. From Raf Simons' admiration for David Lynch to Alexander McQueen's homage to Hitchcock in his theatrical runway shows, designers have found inspiration in movies. Silvia Venturini Fendi even based her last Fendi collection on a powerful woman from a banned BDSM film.
With the current trend of staying at home, it's the perfect time to discover the movies that designers adore. Here are some of fashion's favorite films to add to your watchlist.
Table of Contents
Films That Influenced Fashion Designers
---
Charade (1963)
Hedi Slimane, the enigmatic designer behind Celine, has emerged from the shadows to curate a selection of his beloved films for the streaming platform MUBI. This is as close as we'll get to an interview with the elusive creature. Film enthusiasts will recognize cult classics like Jean-Luc Godard's Pierrot Le Fou and Ingmar Bergman's Persona among his choices while also noting the ironic inclusion of Francis Ford Coppola's Apocalypse Now.
However, Slimane's most captivating selection is the 1963 romantic comedy Charade, which emerged during Hollywood's Golden Age and starred the iconic duo of Audrey Hepburn and Cary Grant. Who would have guessed that fashion's Prince of Darkness possesses a sense of humor? This is not to undermine the film's merits, as it is often hailed as the "best Hitchcock movie Hitchcock didn't make."
In addition to the captivating cat-and-mouse storyline of Charade, fashion enthusiasts will delight in the stylish '60s outfits worn by Hepburn, meticulously designed by none other than Givenchy.
---
The Virgin Suicides (1999)
Sofia Coppola, not just her father, Francis Ford, has also captivated the world of fashion. It has been precisely 20 years since her directorial debut with The Virgin Suicides, a fact duly noted by the Rodarte sisters. The influence of Coppola's film on Kate and Laura Mulleavy's feminine designs is evident. Based on Jeffrey Eugenides' haunting story of girlhood in American suburbia, the movie has left its mark on the Mulleavy sisters' creative vision.
Additionally, the ethereal nature of the film served as inspiration for Marc Jacobs Daisy's fragrance campaigns, with the designer himself being a close friend of Sofia Coppola. Even Raf Simons, at his debut for Calvin Klein, paid homage to The Virgin Suicides, showcasing his admiration for the film.
Apart from its connections to the fashion world, The Virgin Suicides is a compelling watch for multiple reasons. Its excellent soundtrack, a trademark of Sofia's filmography, sets the mood perfectly. The mesmerizing performance by a young Kirsten Dunst, who was just 17 years old at the time, adds to the film's allure. Moreover, the movie adeptly portrays the theme of isolation from the outside world, offering a poignant exploration of the human experience.
---
Blue Velvet (1986)
David Lynch, the maestro of the American uncanny, has garnered inspiration and name-drops from artists and musicians alike. However, in the realm of fashion, his most devoted admirer would undoubtedly be Raf Simons, who has dedicated numerous collections to the visionary filmmaker. A striking example is Simons' Fall/Winter 2019 menswear collection, where garments were adorned with stills from Lynch's neo-noir masterpiece, Blue Velvet, creating an intriguing fusion of fashion and film.
Furthermore, Comme des Garçons referenced this surrealist gem in their Spring/Summer 2016 show. The runway featured designs crafted from actual blue velvet fabric, perfectly complemented by the film's haunting score. Like the rest of Lynch's oeuvre, Blue Velvet delves into the depths of America's dark underbelly, leaving an indelible impression on viewers. The film's stars, Isabella Rossellini and Kyle MacLachlan, added to its enduring allure. This is the film to plunge into if you seek an immersive nightmare.
---
Belle de Jour (1967)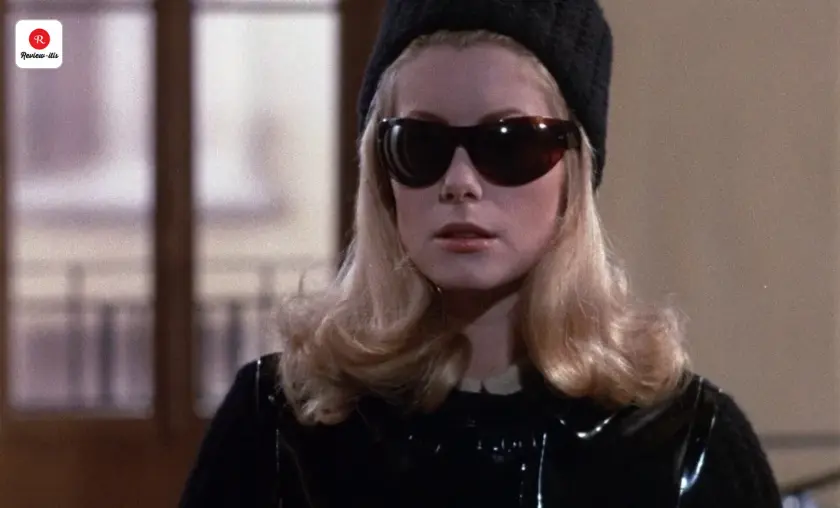 Luis Buñuel, a master of surrealism, deserves recognition for his satirical portrayal of the bourgeoisie in his films. One notable example is his 1967 cult classic, Belle de Jour. This mesmerizing film follows the journey of Catherine Deneuve's character, Séverine, a Parisian housewife who transforms into a clandestine prostitute. Séverine's outwardly prim and proper demeanor, coupled with her secret world of sadomasochism, embodies a striking contradiction that often serves as inspiration for Miuccia Prada's collections. Unsurprisingly, Belle de Jour holds a special place among Prada's favorite films.
Prada's admiration for the film likely extends to Séverine's impeccable wardrobe, masterfully designed by Prada's own idol, Yves Saint Laurent. Through his elegant creations, Saint Laurent left an indelible mark on cinema and revitalized the allure of haute couture during the ascent of ready-to-wear fashion. Even today, traces of Séverine's subversive schoolgirl aesthetic can be found in Prada's collections and in past offerings by renowned brands like Valentino and Calvin Klein.
---
Maîtresse (1975)
Similar to Belle de Jour, Maîtresse caused quite a stir upon its release due to its exploration of BDSM. However, much like Buñuel's masterpiece, this French film offered more than just controversy. It benefited from the creative costume designs of none other than Karl Lagerfeld, who elevated the provocative style of the protagonist with high-fashion ensembles featuring corsets, gloves, and leather pieces.
Interestingly, these very garments resurfaced at the Fendi Fall/Winter 2020 show. When designing the collection, Silvia Venturini Fendi, Lagerfeld's successor, took inspiration from Maîtresse. To set the creative tone, she organized a screening of the film at the Fendi atelier for her team. Notably, some members of the team were taken aback and left during the screening. However, when the collection hit the runway, worn by models like Bella Hadid and Kaia Gerber, it was clear that the sartorial influence of Maîtresse had been skillfully incorporated into the designs, with none of its impact lost.
---
La Dolce Vita (1960)
Alessandro Michele, the Renaissance man that he is, draws inspiration not only from art, music, and literature but also from the world of cinema. At Gucci, he collaborates with filmmakers such as Harmony Korine and Yorgos Lanthimos while also paying tribute to other cinematic greats. A notable example is Gucci's Fall/Winter 2020 show, which took inspiration from the works of Federico Fellini.
Michele revealed his intention to create a "movie within a movie," much like Fellini, showcasing not just the fashion but also the behind-the-scenes aspects of Gucci's fashion show. Fellini's influence extends beyond Michele, as he has garnered admiration from notable names in the fashion industry, including Karl Lagerfeld, Miuccia Prada, and Tom Ford. The appeal of the Italian director can be attributed to his stylish films, many of which have received accolades for their captivating costumes. Among his most iconic works is La Dolce Vita, with the unforgettable scene of Anita Ekberg stepping into Rome's Trevi Fountain in a stunning black gown, leaving an indelible impact on both the realms of fashion and film.
---
The Birds (1963)
Delving into the depths of horror and drama, Alfred Hitchcock often explored the shadows lurking within the human psyche. Similarly, Alexander McQueen, captivated by Hitchcock's films since childhood, channeled this fascination into his couture designs. In his Fall/Winter 2005 collection, McQueen paid homage to Hitchcock with an abundance of references, from the Vertigo-inspired invitation to a set reminiscent of Rear Window's suspenseful atmosphere.
However, The Birds consumed McQueen's imagination the most, as evidenced by his Spring/Summer 1995 collection bearing its name. Feathers and bird prints adorned his designs, echoing the film's avian theme. Additionally, the collection showcased pencil skirts reminiscent of those worn by the film's protagonist. McQueen even went so far as to have his models wear milky white contact lenses, giving them an eerie resemblance to the victims of the menacing winged creatures in Hitchcock's thriller.
---
Conclusion
A captivating transformation takes place in the realm where the silver screen intertwines with the world of fashion. Through the lens of creativity, designers draw inspiration from the artistry, narratives, and iconic styles of films, weaving them into their own fashion masterpieces. The result is a mesmerizing fusion of storytelling, visual aesthetics, and sartorial ingenuity.
Designers pay homage to the silver screen's greatest auteurs, from the visionary Alessandro Michele, who channels Fellini's cinematic magic at Gucci, to Alexander McQueen's dark embrace of Hitchcock's psychological thrillers. They breathe life into their collections by capturing the essence of classic films through exquisite costumes, atmospheric sets, or the haunting moods they evoke.
As the runway becomes a stage for cinematic enchantment, iconic movie moments are reimagined through haute couture. One can witness the unforgettable elegance of Audrey Hepburn's little black dress from Breakfast at Tiffany's, courtesy of Hubert de Givenchy. Or step into the subversive world of Luis Buñuel's Belle de Jour, elevated by Karl Lagerfeld's bold and provocative designs.
These film-inspired looks transcend mere fashion statements. They encapsulate the transformative power of storytelling, allowing individuals to embody the essence of their beloved films and characters. They invite us to escape into a realm where fashion becomes a powerful tool to express our own narratives, desires, and dreams.
In the intricate tapestry of fashion and film, we find a dynamic exchange of creativity where designers and filmmakers influence and inspire each other. The silver screen serves as a timeless muse, igniting the imagination of designers who translate its magic into wearable art. And in turn, fashion breathes new life into beloved films, keeping their allure alive through the ever-evolving language of style.
As we embrace these film-inspired looks, we become characters in our own narratives, stepping into the realm of our favorite films and embracing the power of fashion to transform our lives. So, let us revel in the captivating synergy between cinema and couture, where the magic of film infuses our wardrobes with an undeniable cinematic allure.
---
To read more similar articles, click here.
Thanks for visiting our Website. If you appreciate our work, kindly show us some support in our comments section 🙂