Top 7 Accessories to Transform Any Outfit, With an abundance of fashion accessories, styles, and trends emerging, standing out from the crowd can feel overwhelming. Accessories offer an affordable means to elevate your lifestyle and enhance your appearance. Crafting a standout outfit for any occasion entails careful consideration of various elements. Consider incorporating custom accessories that complement any ensemble to infuse your style with a personal touch.
While many lean towards minimalistic accessories in their fashion choices, venturing into uncharted territory can completely transform your game. Mastering the art of pairing accessories with your outfits is crucial to draw attention to your unique style. This post showcases fashion accessories that strike the perfect balance between enhancing your look and avoiding excess.
Explore our compilation of essential fashion accessories, guaranteed to breathe new life into your style.
Table of Contents
Top 7 Accessories to Transform Any Outfit
---
What are Fashion Accessories? 
Fashion accessories are the extra touches that embellish your ensemble. They encompass a wide range of items such as jewelry, hats, belts, scarves, sunglasses, pins, bow ties, and suspenders. These accessories hold significance in reflecting your personal style, preferences, and individual taste.
Moreover, they provide endless possibilities for styling, ensuring you have the perfect piece to complete your look. With fashion accessories, there is a chance of monotony setting in with your outfits and wardrobe, leaving you feeling uninspired.
---
How to Choose the Best Fashion Accessory?
Selecting a fashion accessory involves considering various factors. One approach is to opt for something that aligns with the current trends and suits you perfectly. To help you make the best choice, here are a few tips for selecting the perfect fashion accessory:
Color:
Choose a color that complements your outfit rather than matching it exactly.
If you're wearing black, white, or red clothing, opt for accessories that enhance the overall look.
Style:
Transform a simple dress by pairing it with the right combination of jewelry, footwear, and clutch.
Ensure that your accessories align with the style of your outfit.
Consider a simple leather handbag from brands like Hidesign, Baggit, Lavie, or Nappa Dori for a classy look.
Quality:
Strike a balance by allowing one standout accessory to take the lead in terms of size and shape and then layer on more subtle accessories.
Consider choosing a signature accessory that adds a unique touch to your look and tells a story.
Remember the accessory's functional relevance, and select one that brings your overall look to life.
Remember, each of these factors contributes to creating a well-curated and personalized ensemble.
---
Top Fashion Accessories That Transform Any Outfit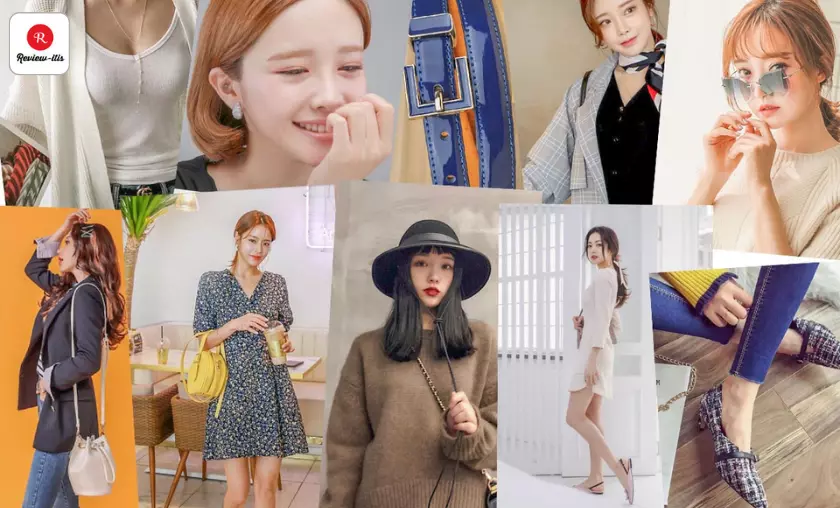 Fashion accessories come in various types, each serving a distinct functional purpose. Explore this curated list of top-notch fashion accessories that effortlessly complement any outfit.
---
Earrings and Danglers
When it comes to making a style statement, earrings play a crucial role. Paying attention to the earrings you choose can make or break your look. As a general guideline, opt for smaller Huggie or stud earrings when wearing Western outfits, including office wear. For ethnic wardrobes and traditional Indian festive attire, consider Chandelier, Dangler, Drop, and Cluster earrings to add an extra touch of allure.
Earrings have the power to instantly elevate your overall style, making you look more attractive and beautiful. We recommend selecting branded traditional earrings from esteemed names such as Sukkhi Fashion Jewellery and Zaveri & Co. These trusted brands ensure quality and style, allowing you to shine confidently.
---
Sunglasses
Consider incorporating a signature sunglass to add an extra touch of allure to your style statement when attending a significant event or ceremony. This versatile fashion accessory can be styled around your eyes or positioned on the neckline of your outfit, depending on your preference. The beauty of sunglasses lies in their flexibility, as they can be worn with any ensemble, be it office attire or ethnic garments. Embrace the fun of experimenting with sunglasses and enhance your overall look with a touch of glamour.
Discover an exquisite collection of India-branded sunglasses available at leading retailers such as Hidesign, Titan Eye Plus, and IDee Eye Wear. Upgrade your eyewear game with these trusted brands and enjoy the perfect blend of style and quality.
---
Footwear
Remember to consider the significance of stylish 'Jutti' or sandals when it comes to completing your outfit. The choice of footwear should be aligned with your overall ensemble.
Opting for well-crafted footwear with tasteful embellishments enhances your appearance and boosts your confidence when surrounded by others.
During winter, you can elevate your fashion game by pairing your office wear or Western outfits with matching shoes or boots. However, when adorning ethnic attire, it is advisable to choose from a range of sandals, chappals, or heels to perfectly complement your look.
Elevate your footwear game with a fashionable pair from renowned brands like Mochi Shoes and Accessories, Jaypore Shoes, and Khadims. These brands offer a wide range of options that perfectly blend style and comfort. Embrace the diverse choices in desi footwear, as they never fail to impress. From traditional to contemporary designs, these brands have you covered for all occasions. Step out with confidence and make a lasting impression with the right pair of footwear.
---
Handbags and Clutches
A handbag or clutch is an essential accessory that you should pay attention to wherever you go. For your casual style or office wear, consider opting for a retro-styled crossbody bag that adds a touch of sophistication. However, a clutch is ideal for attending festivals, parties, or traditional ceremonies.
Celebrities often opt for clutches to make a statement at various events, and you can do the same. Embrace the red-carpet style by confidently carrying your clutch, effortlessly enhancing your oomph factor.
To ensure versatility, a black or silver-colored clutch pairs well with most outfits, making it a reliable choice. Explore popular Indian handbag brands like The House of Tara, Baggit, and DaMilano Italia for an extensive collection of handbags and clutches. These brands offer a wide range of options to cater to your style preferences. Elevate your confidence and style by choosing the perfect handbag or clutch to accompany your ensemble.
---
Belts or Waistbands
The waistband or kamarband is a fashion accessory that adds an elegant touch to your look, particularly when wearing Lehenga Chunni and Sarees. Its attractive design exudes sheer sexiness and enhances your overall appearance.
For Western wear, a high-quality belt in black or brown can be a great choice. Similarly, when it comes to Indian ethnic wear, the kamarband serves as a viable alternative to a regular belt.
Confidently adorn your petticoat or lehenga skirt with a sparkling kamarband around your waist. Ideally, the waistband, also known as the belly chain, should have a silver or golden color.
One additional advantage of wearing a Kamar bandh is its ability to discreetly hide a part of your belly fat while keeping your attire perfectly fitted to your body.
Enhance your wardrobe with high-quality belts available at a compelling price range from Sreeleathers. For a touch of elegance and charm to your traditional attire, consider WomenSky and Hayagi to purchase a sparkling set of Kamarbandh (belly chain or waistband). These brands offer exquisite options that will beautifully revamp your princess look.
---
Wristwatch or Bracelets
A wristwatch not only enhances your smartness but also boosts your confidence. You can add extra charm by wearing bangles and bracelets alongside your wristwatch.
For a balanced style statement, consider wearing a bracelet on one hand and a wristwatch on the other, complementing your outfits perfectly.
When it comes to wristwatches, popular brands like Fast Track, Titan, and Maxima Attivo offer a wide range of options for women in India. We recommend choosing from renowned brands like Zaveri Pearls, Priyaasi, and Yellochimes for exquisite bracelets. These brands provide high-quality options to elevate your style.
---
Hair Styling Accessories
No matter the occasion, your hairstyle is crucial to your overall appearance. To achieve a perfect and well-styled look, you can enhance your hair with ribbons, scarves, or stoles, adding an extra touch of elegance.
However, if you are uncertain, choose fresh flowers instead. Adorn your hair gracefully with beautiful blooms. You can find a lovely collection of flowers at a nearby temple shop.
In addition to enhancing your ethnic beauty, these fresh flowers bring a delightful fragrance that captivates hearts and impresses guests.
Flowers impart a captivating charm to your face and overall fashion ensemble. Give it a try and witness the remarkable difference it can make.
---
Conclusion
By choosing the right accessories, you have the power to make a striking fashion statement, whether you opt for a traditional avatar or embrace a modern diva look. The versatility of these accessories allows you to wear and style them according to your personal taste and preferences, effortlessly complementing any outfit.
This article serves as your guide to selecting the perfect fashion accessory to elevate your look for that important event.
Don't wait any longer! It's time to ensure these must-have accessories are in your closet. Explore a wide range of choices and find your perfect accessory at a compelling price. Take advantage of the opportunity to enhance your style and make a lasting impression.
---
To read more similar articles, click here.
Thanks for visiting our Website. If you appreciate our work, kindly show us some support in our comments section 🙂