Hey there, fellow fashion enthusiasts! If you're captivated by the chic elegance of the French fashion house Louis Vuitton, then you've landed in just the right spot. Brace yourself, as we've curated an exclusive collection of the 20 absolute best Louis Vuitton shoes that are bound to steal your heart!
Louis Vuitton is an absolute sensation at Paris Fashion Week, renowned for their awe-inspiring ready-to-wear collections and breathtaking accessories. We're talking about those iconic LV bags and, of course, their striking shoes as well!
Under the visionary guidance of creative director Nicolas Ghesquière, Louis Vuitton consistently delivers spellbinding collections that are simply irresistible. So why not elevate your wardrobe with some stunning Louis Vuitton shoes? Brace yourself for our handpicked list of the crème de la crème, encompassing everything from summer sandals to winter boots, all adorned with that signature and timeless Louis Vuitton flair.
Whether you're on the lookout for ultra-fashionable sneakers to elevate your weekend ensemble or bold-heeled boots that exude stylish work aesthetically, this list has got you covered. Embrace your personal style and find the perfect pair to make a statement with Louis Vuitton!
Table of Contents
List of the Most Popular Louis Vuitton Shoes
---
1. Monogram Time Out Sneakers
Louis Vuitton offers a remarkable array of striking sneakers, among which you'll find the timeless white Monogram Time Out Sneakers.
These sneakers feature an upper made of pristine white calf leather, meticulously imprinted with the resplendent gold iconic LV monogram. The chunky rubber soles provide a touch of added height for an elevated aesthetic and showcase intricately embossed motifs inspired by the LV monogram.
To further enhance their allure, the white laces are skillfully intertwined with threads of shimmering gold, adorned with the prestigious Louis Vuitton brand name—a flawless finishing touch that exudes perfection.
---
2. Glazed Calfskin Star Trail Ankle Boots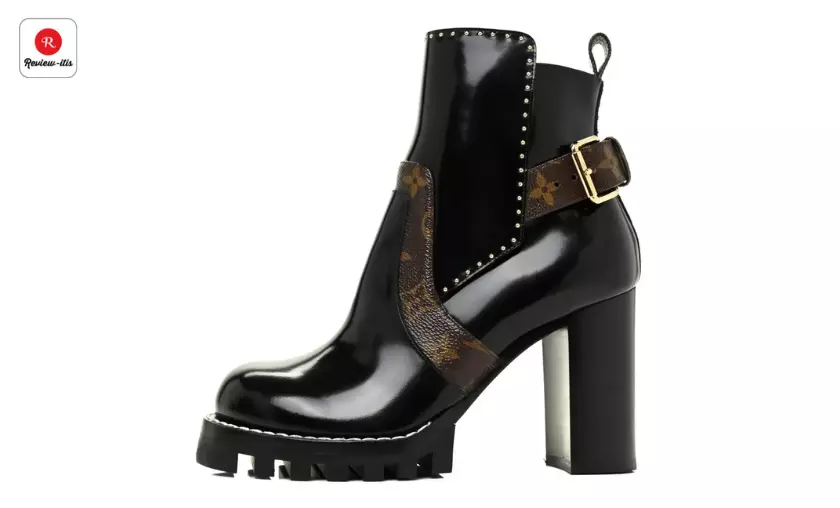 Oh, behold the undeniable allure of the Embellished Star Trail Ankle Boots! Our hearts skip a beat for their sleek and edgy appearance, effortlessly blending polished black leather with the iconic Louis Vuitton monogram-coated canvas—an unmistakable embodiment of LV's timeless aesthetic.
Prepare to be dazzled, for these ankle boots are adorned with a glimmering gold buckle and studded with radiant gold accents, bestowing upon them an irresistible touch of glamour. And let's remember the chunky rubber soles and their impressive 4-inch block heel, ensuring that every step you take is a show-stopping moment that catches everyone's attention.
---
3. Calfskin Call Back Pumps
No wardrobe is complete without a pair of black-heeled pumps, and the Louis Vuitton Calfskin CallBack Pumps are the epitome of perfection!
Crafted from lustrous black calfskin leather, these pumps boast a timeless silhouette, featuring a pointed toe and a slender 4.25-inch heel that exudes elegance.
But wait, there's more! The pièce de résistance lies in the black ankle strap, adorned with glistening silver eyelets and adorned with a charm bearing the iconic L and V insignia—a captivating finishing touch that elevates these pumps to new heights of style. And the best part? These super chic, effortlessly fashionable heels can be yours for just $300!
---
4. Glitter Lv Archlight Sneaker Boots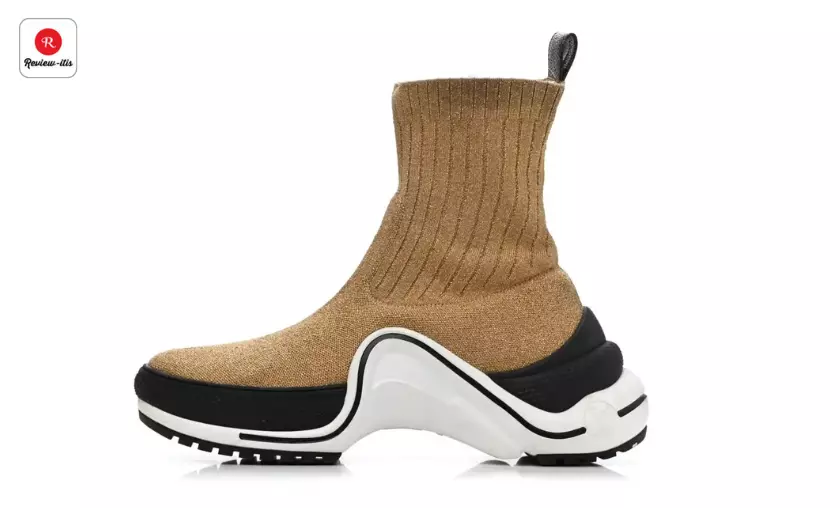 Prepare to be captivated by the sheer allure of the LV Archlight sneakers—the epitome of Louis Vuitton's most sought-after footwear collection. And now, brace yourself for an entire universe of styles, materials, and colors that await you, including the mesmerizing Stretch Textile LV Archlight Sneaker Boots.
These extraordinary sneakers feature a sock-like upper, enveloping your feet in a glimmering embrace of glittery gold stretch knit material. Completing the ensemble is a bold black and white rubber sole boasting an exaggerated arch that is synonymous with the iconic Archlight sneaker, creating an irresistibly attention-grabbing aesthetic.
Be prepared to make a statement, my fashion-forward friends, as these Sneaker Boots command the spotlight with their distinctive design and unmatched allure.
---
5. Monogram Silhouette Ankle Boots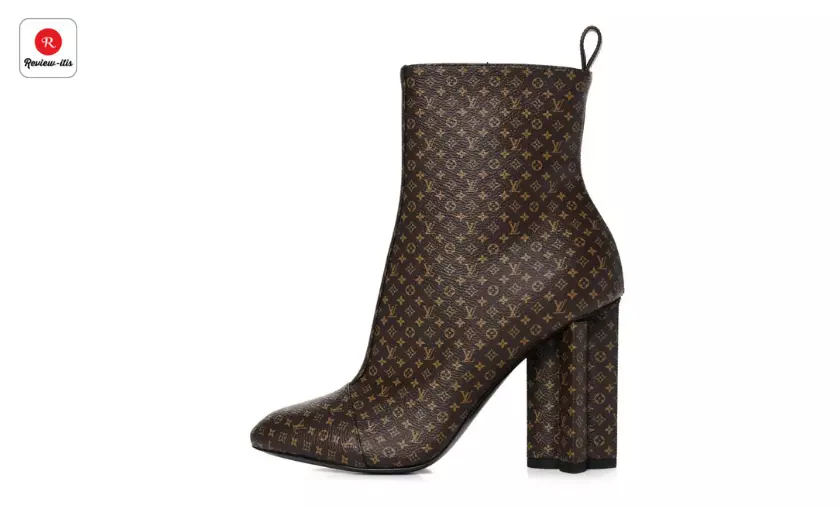 For those searching for heeled boots that effortlessly complement workday ensembles and weekend outfits, behold the exquisite Nano Monogram Silhouette Ankle Boots—a flawless choice destined to captivate your fashion-loving heart!
Exuding timeless sophistication, these boots feature a sleek pointed-toe silhouette that exudes elegance at every step. But what truly sets them apart is the striking 3.5-inch heel, artfully crafted in the shape of the iconic fleur motif from the Louis Vuitton monogram—an exquisite detail that radiates the brand's unmistakable charm.
Immerse yourself in the world of LV with these boots, as they showcase the distinguished LV monogram-coated canvas throughout the entire shoe. This stunning material, commonly associated with Louis Vuitton bags, imbues the boots with a vibrant burst of color and an alluring print, ensuring that every outfit you pair them with exudes an extra touch of flair and style.
---
6. Calfskin Run Away Sneakers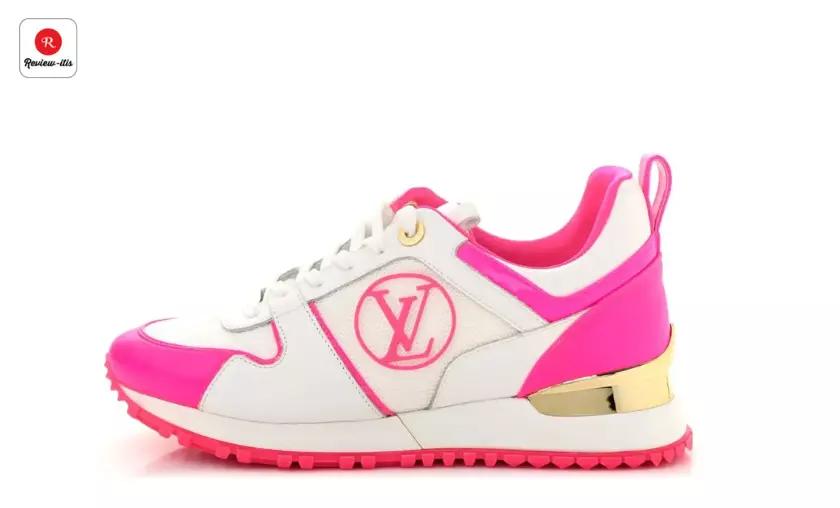 Prepare to indulge in the epitome of luxury with these exceptional LV sneakers. Meticulously crafted from a delightful combination of pink and white calfskin leather and pristine white mesh, these sneakers exude an irresistible allure. A pink LV logo graces the surface to accentuate their opulence, while a shimmering gold panel at the heel adds a glamorous touch that's sure to turn heads.
Not only do these sneakers boast impeccable style, but they also offer a subtle platform effect, courtesy of the pink and white rubber sole. This elevated look adds a touch of sophistication to any ensemble. Slip them on effortlessly with your favorite jeans and a cozy hoodie, and you'll achieve a minimalist yet undeniably stylish appearance that effortlessly stands out from the crowd.
---
7. Suede Monogram Laureate Platform Desert Boots
Amidst the current fashion frenzy for combat and desert boots, allow me to present a winter wardrobe essential: the remarkable Louis Vuitton Platform Desert Boots.
Crafted with utmost precision, these boots blend rich brown suede panels, sleek black calfskin leather, and the iconic LV monogram-coated canvas. The result is a mesmerizing fusion of textures and materials that will undoubtedly elevate your style game.
Adorned with a lace-up front, these boots exude a rugged yet refined charm. But what truly sets them apart is the 1.5-inch platform sole and 2-inch block heel, offering a touch of extra height without compromising on comfort. Rest assured, these boots are designed to be your trusty companions throughout the day, keeping you both stylish and at ease.
Take advantage of the opportunity to embrace the fashion-forward spirit of the moment. Add these Louis Vuitton Platform Desert Boots to your winter wardrobe, and step confidently into the realm of unparalleled style.
---
8. Shearling Paseo Sandals 
Prepare to embark on a journey of playful delight with the coveted Louis Vuitton Shearling Paseo Sandals—a true gem that has attained cult status within the realm of luxury fashion.
As the summer months beckon, these sandals emerge as an absolute must-have, promising both style and comfort. With a blissfully comfortable black leather molded insole and a sturdy black rubber sole, these sandals are designed to keep your feet at ease throughout the day, ensuring you can revel in their allure from morning till night.
Oh, but let's not forget the pièce de résistance—the foot straps. Crafted from soft and fluffy pink shearling, they exude an irresistible charm. Adorned with the distinguished black Louis Vuitton logo proudly printed on top, these straps add a touch of whimsy and personality to your every step.
Embrace the spirit of fun and indulge in the joyous essence of the Louis Vuitton Shearling Paseo Sandals. Elevate your summer ensemble with a touch of playfulness, and bask in the knowledge that you can wear these sandals with effortless ease throughout the day.
---
9. Lambskin Embossed Monogram Revival Mules
No wardrobe is complete without a pair of timeless and stylish mules, which is precisely why the Lambskin Embossed Monogram Revival Mules from Louis Vuitton deserve a coveted spot in your shoe collection.
Immerse yourself in luxury with these exquisite mules, crafted from supple lambskin leather that feels buttery soft against your skin. Adding a touch of subtle sophistication, the foot strap is elegantly embossed with the iconic LV monogram—a discreet yet unmistakable symbol of Louis Vuitton's unrivaled craftsmanship.
Step into these mules, and you'll be greeted by a leather insole that caresses your feet with a gentle touch, ensuring utmost comfort throughout the day. The perfectly proportioned 2-inch heel offers a graceful lift and guarantees a comfortable and effortless stride, allowing you to revel in an elevated look without sacrificing your ease.
Embrace the eternal allure of mules with the Lambskin Embossed Monogram Revival Mules from Louis Vuitton—a pair that effortlessly combines timeless elegance, luxurious comfort, and the unmistakable touch of Louis Vuitton craftsmanship.
---
10. Catogram Stellar Sneaker Boots
Prepare to be enamored by the delightful world of high-top sneakers within the illustrious Louis Vuitton collection. Among the array of choices, our hearts adore the charming Catogram Stellar Sneaker Boots, which exude a playful and painterly allure.
These sneakers were birthed from a delightful collaboration between Louis Vuitton and the renowned Grace Coddington—an artistic endeavor that resulted in an infusion of feline-inspired drawings adorning many of the collaboration's pieces. Prepare to be enchanted by the whimsical world of cats brought to life through this extraordinary collaboration.
In terms of design, these basketball-inspired shoes feature a black coated canvas adorned with a captivating white print—a combination that exudes both versatility and style. The white rubber soles add a touch of contrast while further enhancing the adaptability of these sneakers, making them a perfect match for any ensemble.
Embrace the cuteness and creativity embodied by the Catogram Stellar Sneaker Boots—a testament to the power of collaboration and the seamless fusion of fashion and art within the realm of Louis Vuitton.
---
11. Metallic Calfskin Lock It Flat Mules
Oh, behold the ultimate holiday shoes—the Louis Vuitton Metallic Calfskin Lock It Flat Mules! These beauties have the versatility to effortlessly complement many outfits, ensuring you're impeccably styled for any occasion. But that's not all; these mules boast a luxurious leather insole that guarantees sublime comfort throughout your adventures. And here's the cherry on top—they are compact and slim, making them a breeze to stow away in your suitcase.
Prepare to be mesmerized by the dazzling aesthetics of these stylish mules. A glittering gold calfskin leather foot strap takes center stage, exuding an irresistible charm. Embellished with a brass lock detail and the iconic Louis Vuitton logo, these mules epitomize glamorous finesse—a captivating finish that adds a touch of opulence to your every step.
Indulge in the holiday spirit and grace your feet with the Louis Vuitton Metallic Calfskin Lock It Flat Mules. With their unmatched blend of style, comfort, and travel-friendly design, these mules are your go-to companions for a glamorous getaway.
---
12. Calfskin Snakeskin Embossed Matchmake Pumps
Prepare to elevate your footwear game with the exceptional Louis Vuitton Calfskin Snakeskin Embossed Matchmake Pumps—the epitome of a bold and captivating alternative to your standard black heels.
Renowned for their audacious and attention-grabbing designs, Louis Vuitton strikes gold once again with these pumps. Crafted from sleek black calfskin leather, they exude an irresistible allure. But what truly sets them apart is the black and white snakeskin-embossed heel—a detail that adds a touch of untamed elegance to the overall silhouette.
With a sculpted block heel standing tall at 4 inches, these pumps epitomize the perfect blend of height and style. Designed to complement your little black dress flawlessly, they become the go-to choice for your next special event. Let these pumps become your trusted companion, ensuring you exude confidence and sophistication with every step.
Embrace the unmatched charisma of Louis Vuitton with the Calfskin Snakeskin Embossed Matchmake Pumps—a remarkable fusion of boldness, craftsmanship, and contemporary allure that will make heads turn and hearts skip a beat.
---
13. Calfskin Technical Nylon Lv Archlight Sneakers
Prepare to fall head over heels for the captivating charm of these LV Archlight Sneakers. Dressed in a vibrant pink, yellow, and white colorway, they effortlessly exude an exaggerated, oversized aesthetic that's impossible to resist.
Crafted with meticulous attention to detail, these sneakers boast a dynamic combination of leather and technical nylon panels. The chunky white rubber sole steals the spotlight, featuring a strikingly exaggerated arch detail that adds a touch of architectural allure. But the creativity doesn't stop there—the tongue itself has been magnified and adorned with the iconic Louis Vuitton monogram, making a bold statement with every step.
The harmonious blend of pink, white, yellow, and grey tones and the chunky silhouette culminates in an attention-grabbing masterpiece. Brace yourself for a visual spectacle that commands the admiration of onlookers wherever you go.
Indulge in the avant-garde appeal of the LV Archlight Sneakers. Unleash your inner fashion icon as you sport these remarkable sneakers that effortlessly combine artistry, innovation, and unapologetic boldness.
---
14. Calfskin Citizen Thong Sandals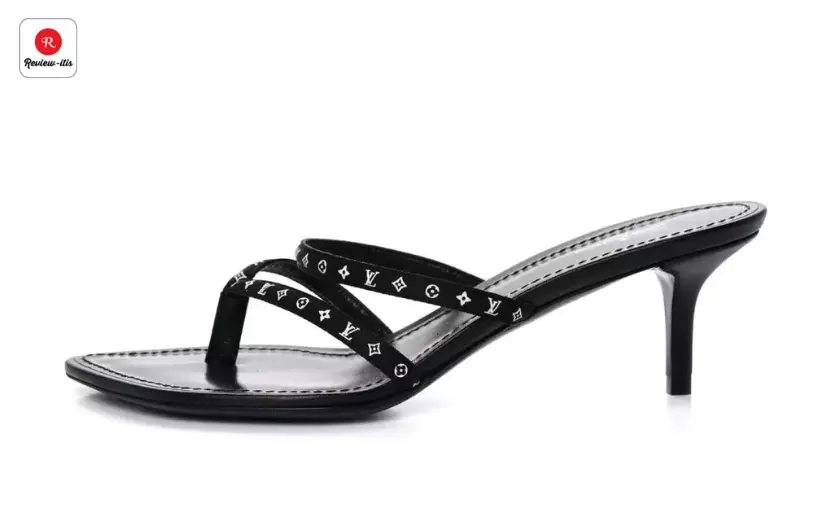 Prepare to dazzle at your summer dinner outings with the exquisite Louis Vuitton Calfskin Citizen Thong Sandals—a perfect blend of sleek refinement and undeniable glamour.
Crafted from supple black calfskin leather, these sandals exude an air of luxury and sophistication. Two elegant black fabric foot straps, tastefully embellished with the iconic Louis Vuitton monogram, add a touch of distinctive charm to the design.
Embrace the attention to detail that sets these sandals apart, featuring a square toe and a 2.25-inch heel. This subtle elevation ensures a graceful stride while prioritizing your comfort—an ideal combination that allows you to revel in both style and ease.
Indulge in the allure of these striking thong sandals, a testament to Louis Vuitton's commitment to exquisite craftsmanship and timeless elegance. Take your summer footwear collection to new heights with the Louis Vuitton Calfskin Citizen Thong Sandals, available at the remarkable price of $725—a small price to pay for an enchanting piece of fashion artistry.
---
15. Monogram Escale Palma Flat Sandals
Prepare to inject a vibrant burst of color and print into your summer ensembles with the captivating Louis Vuitton Monogram Escale Palma Flat Sandals.
These sandals exude a playful charm with their coated canvas strap, expertly crossing over the foot and gracefully wrapping around the heel. A sparkling silver buckle adds a touch of allure, ensuring a secure and personalized fit that leaves no room for compromise.
Feast your eyes on the strap's delightful tie-dye pink and red motif, adorned with the iconic LV monogram in pristine white. The result is a visually arresting masterpiece that effortlessly commands attention.
Indulge in the luxurious feel of the leather soles, providing a soft and comfortable sensation with each step you take. These sandals offer the perfect blend of style and comfort, enabling you to savor the summer season with confidence and panache.
Elevate your summer wardrobe with the captivating Louis Vuitton Monogram Escale Palma Flat Sandals—a statement piece that infuses your look with a playful and vibrant spirit. Unleash your inner fashion icon, embracing the impeccable craftsmanship and attention to detail synonymous with the Louis Vuitton brand.
---
16. Rubber Embossed Monogram Drops Flat Half Boots
When the colder and wetter months roll in, you can't go wrong with the indispensable addition of the Rubber Monogram Flat Half Boots.
Designed with functionality in mind, these boots feature a robust black rubber sole that extends halfway up, ensuring unparalleled practicality and durability. The upper portion is crafted from supple black calfskin leather, adding a touch of luxury to this weather-ready footwear.
A captivating detail awaits at the ankle, where each boot proudly displays a striking white Louis Vuitton logo and brand name. This subtle yet eye-catching embellishment adds a touch of sophistication and serves as a testament to the brand's iconic style.
Embrace the elements with confidence by equipping yourself with these essential Rubber Monogram Flat Half Boots. Their unbeatable combination of practicality and luxurious design makes them a must-have for navigating colder and wetter months in style.
---
17. Metallic Lambskin Jumbo Flatform Mule Sandals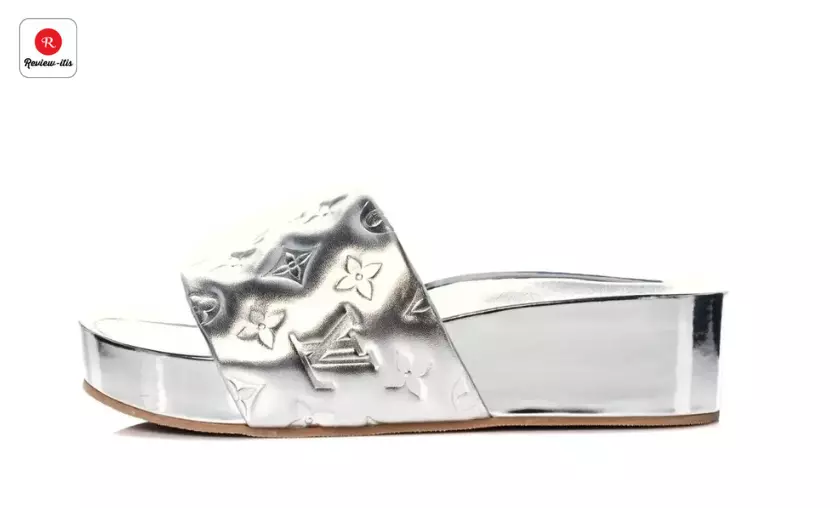 Prepare to make a bold statement with the resurgence of flatforms by introducing the Metallic Lambskin Jumbo Flatform Mule Sandals into your coveted collection.
Dazzle onlookers with the striking silver lambskin foot strap adorned with the distinctive LV monogram embossing. This exquisite detail elevates the sandals to new heights of style and sophistication.
The shimmering silver flatform sole adds an irresistible touch of glamour to your ensemble. Its chunky design ensures an attention-grabbing finish that is both trendy and fashion-forward.
Embrace the resurgent popularity of flatforms by embracing these Metallic Lambskin Jumbo Flatform Mule Sandals. The alluring silver tones and impeccable craftsmanship guarantee that these sandals will become the center of attention, enhancing your unique style effortlessly. Step out with confidence, knowing that you're at the forefront of fashion.
---
18. Calfskin Indiana Mules
Within the realm of Louis Vuitton's diverse offerings lies an assortment of products that showcase quirky and distinctive designs, much like the remarkable Louis Vuitton Calfskin Indiana Mules.
These mules effortlessly embody a timeless mule silhouette characterized by a wide strap gracefully draping over the foot and a captivating backless design. However, a delightful twist awaits as the strap intriguingly terminates at the toes, granting these mules a cut peep toe finish that exudes charm and allure. Elevating their design further, these mules boast a 3.5-inch block heel meticulously crafted in the shape of the renowned fleur motif derived from the illustrious LV monogram.
The black leather strap is adorned with black leather fringing, imparting a touch of sophistication and playful movement to the design. A gleaming gold LV logo graces the strap to enhance their allure, adding a luxurious and captivating element to these mules.
Indulge in the impeccable artistry and allure of the Louis Vuitton Calfskin Indiana Mules. With their classic mule silhouette, captivating details, and striking interplay between black leather, fringing, and gold accents, these mules effortlessly elevate any ensemble, making a resounding statement of style and elegance.
---
19. Suede Clogs
Prepare to embrace the cozy embrace of winter with the remarkable Louis Vuitton Suede Clogs. These luxuriously comfortable clogs are precisely what you need to navigate the chillier months in style. In fact, they're the perfect footwear companions for your upcoming ski trip, particularly for après ski activities!
Crafted with meticulous attention to detail, these clogs boast a rich brown suede exterior, exuding an air of elegance and warmth. Accentuating their design, an LV monogram-coated canvas trim tastefully adorns the clogs, while a thick rubber sole in white and beige guarantees both durability and traction, even on snowy terrains.
At the apex of these clogs, a polished gold LV logo glistens, lending a touch of refinement and luxury to their overall aesthetic. Inside, you'll discover a plush lining of fluffy shearling, enveloping your feet in a cocoon of warmth and comfort.
Embrace the colder months with utmost style and comfort by slipping into the Louis Vuitton Suede Clogs. Designed with a perfect blend of sophistication and coziness, these clogs are destined to become your go-to choice for wintertime excursions, ski trips, and all the après ski delights that follow.
---
20. Monogram Calfskin Academy Loafers Pumps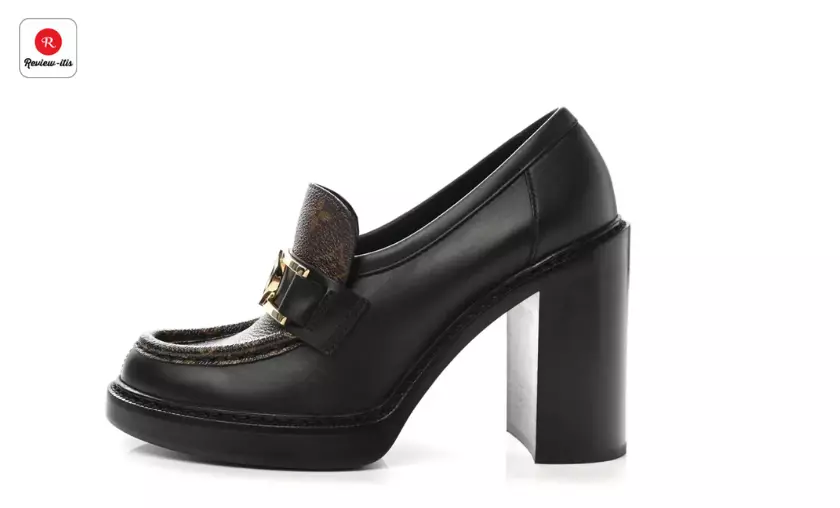 When it comes to superior leather goods in the realm of fashion, Louis Vuitton unquestionably reigns supreme. Step into the realm of luxury with these exquisite Calfskin Academy Loafers Pumps, meticulously crafted from sumptuous black calfskin leather.
If you adore the elegance of classic loafers but crave a touch of elevated refinement, look no further than these remarkable Academy Loafers Pumps. They effortlessly embody timeless sophistication with a contemporary twist.
These extraordinary shoes boast a distinguished LV monogram trim, accentuating their unrivaled craftsmanship. Adorning the front, a gleaming gold Louis Vuitton buckle adds a captivating element of opulence, ensuring that all eyes are drawn to your impeccable taste.
Equipped with a 0.75-inch platform sole and a statuesque 4-inch block heel, these pumps elevate your stature and exude confidence and poise.
Indulge in the unparalleled craftsmanship and timeless allure of the Louis Vuitton Calfskin Academy Loafers Pumps. With their exceptional design and impeccable attention to detail, they are certain to become a coveted staple in your high-end footwear collection.
---
Conclusion
To wrap it up, this comprehensive rundown of the most popular Louis Vuitton shoes provides an intricate glimpse into the brand's iconic footwear designs. With a remarkable history tracing back to its establishment in 1854, Louis Vuitton has consistently demonstrated its dedication to craftsmanship, innovation, and timeless style through its impressive shoe collections.
From enduring classics that have stood the test of time to contemporary marvels that embrace the latest trends, Louis Vuitton presents a diverse selection of shoes that cater to various tastes and preferences. This compilation showcases some of the most sought-after styles, including the renowned LV Archlight sneakers, the sophisticated and adaptable Silhouette ankle boots, and the opulent and refined Archlight ankle boots.
Each shoe on this list epitomizes the brand's unwavering commitment to extraordinary quality, meticulous attention to detail, and the use of premium materials. Louis Vuitton shoes transcend being mere fashion statements; they represent symbols of status and luxury, fervently desired by fashion enthusiasts and esteemed personalities across the globe.
Moreover, this collection acknowledges the brand's exceptional ability to adapt to evolving fashion trends while maintaining its distinctive aesthetic. Louis Vuitton continuously reinvents timeless silhouettes, infusing them with innovative design elements, resulting in shoes that seamlessly blend the past with the present.
It is worth noting that popularity is inherently subjective and subject to change over time. Nevertheless, the shoes featured in this list have consistently garnered attention and adoration from fashion connoisseurs. They have evolved into coveted pieces capable of effortlessly elevating any ensemble and making a striking fashion statement.
Whether you are an ardent Louis Vuitton aficionado or appreciate remarkable footwear, this compilation serves as an invaluable resource for exploring the realm of the most popular Louis Vuitton shoes. It perfectly showcases the brand's steadfast commitment to excellence, boundless creativity, and an unrivaled sense of style, firmly establishing it as an enduring powerhouse in the realm of luxury fashion.
---
To read more similar articles, click here.
Thanks for visiting our Website. If you appreciate our work, kindly show us some support in our comments section 🙂