Attention, fashionistas and style connoisseurs! Today, let's explore knee-high leather boots for women—a fashion staple that combines sophistication and versatility seamlessly. These boots have graced the runways, red carpets, and city streets, becoming synonymous with confidence, elegance, and sartorial excellence. In this comprehensive guide, we've curated a collection of the crème de la crème of knee-high leather boots, carefully selected to meet the demands of even the most discerning fashion enthusiasts. From classic silhouettes to contemporary interpretations, these boots are an example of incredible craftsmanship and style.
Table of Contents
So, get ready to immerse yourself in a world of fashion artistry as we unveil the 10 best knee-high leather boots for women, ensuring that your every step is a testament to your impeccable taste and undeniable fashion prowess.
---
The 10 Best Knee-high Leather Boots for Women
Frye Veronica Leather Tall Combat Boots
Features
Size: 5.5 – 11
Material: Rubber, leather, pigskin
Heel Height: 1″
Frye is not just your average fashion-forward shoe company. With a rich history dating back to 1863, they have been at the forefront of crafting shoes for World War II generals, designing boots that were truly built for combat. However, today, you can enjoy the style and comfort of these combat boots for everyday wear.
These classic combat boots from Frye are a testament to their enduring legacy. They feature a pigskin lining, a leather outsole, and a one-inch rubber heel, combining both durability and style. The lace-up front, a signature element of classic combat boots, adds a touch of authenticity. But here's the best part: Frye has cleverly incorporated a side zip, allowing you to effortlessly slip these boots on and off. No need to worry about the time-consuming task of lacing them up every time.
So, whether you're channeling your inner warrior or simply seeking a stylish and comfortable boot for everyday use, Frye's combat boots are a fantastic choice. Embrace the history and craftsmanship that comes with every pair, and enjoy the convenience of the side zip without sacrificing the classic appeal of the lace-up design.
---
Franco Sarto Women's Meyer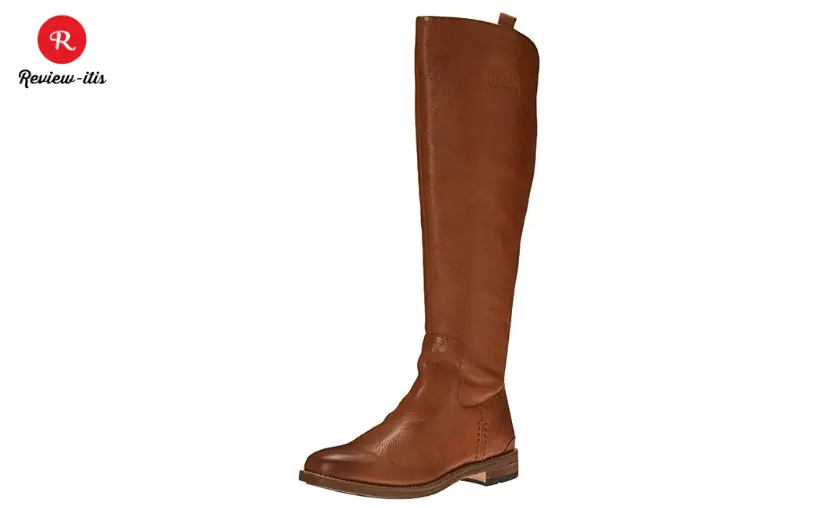 Features
Size: 5 – 11
Material: Leather
Heel Height: 1"
Riding boots are a timeless addition to any shoe collection, whether you're actually saddling up a horse or not. FrancoSarto has truly captured the essence of this category with its exquisite hand-finished leather, thoughtful design details, and exceptional craftsmanship. These boots feature a barely noticeable back zipper and convenient pull tabs, ensuring easy on and off without compromising their sleek and sophisticated look.
When you first put them on, you'll notice the stiffness of the leather but fear not. As you wear these boots more frequently (and we have a feeling you'll want to wear them weekly, if not daily), they will gradually mold to the shape of your feet, providing a custom fit and unbeatable comfort. The only challenge you'll face is choosing which of the four stunning tones to add to your closet. Whether you opt for the light brown, dark brown, black, or Bordeaux options, each one is equally captivating and versatile, capable of elevating any outfit. These boots are not limited to ranch life—they are a stylish and sophisticated choice for various occasions.
---
Aerosoles Roman Knee High Riding Boot
Features
Size: 5-12
Material: Leather
Heel Height: Not listed
When it comes to prioritizing comfort in their designs, Aerosoles has always been at the forefront. With these boots, you can expect nothing less than their unwavering commitment to providing footwear that feels as good as it looks. However, it's important to note that the 100 percent genuine leather used in these boots may require a bit of patience during the break-in period. Once you've given them the time they need to conform to your feet, you'll be rewarded with a pair of boots that make walking a breeze, thanks to the block heel and lug sole.
Not only do these elements exude a cool aesthetic, but they also offer excellent traction and stability on any surface you encounter. Embrace the combination of style and comfort that Aerosoles is renowned for, and step out with confidence, knowing that your feet are well taken care of.
---
Madewell Selina Tall Boot
Features
Size: 5 – 11, including half sizes
Material: Leather
Heel Height: 2.5"
When it comes to walking in style, these boots are a game-changer, especially if you're blessed with long legs. Embrace and celebrate your height because these knee-highs are designed to accentuate it with their impressive two-and-a-half-inch stacked heel. With irresistible color options, including tan, maple, and black, you'll find yourself torn between which one to add to your ever-growing shoe collection.
But it's not just about looks—the comfort factor is also off the charts. Thanks to Madewell's signature cloudlift lite padding, each step feels like walking on a cushiony cloud, allowing you to wear these boots day in and day out without experiencing any foot fatigue. The subtle inside zipper ensures easy on-and-off functionality, and their classic design adds versatility to your wardrobe. Pair them with dresses, jeans, skirts, or even a flowy jumpsuit—they effortlessly elevate any outfit.
---
Schutz Rianne Suede Boot
Features
Size: 5 – 11
Material: Rubber sole, suede, leather
Heel Height: 3.26"
Prepare to be wowed by this boot that slightly resembles cowboy boots but with a touch of uniqueness. The attention to detail is impressive, with a slim buckle adorning the ankle and silver studs outlining the back seam of the block heel. The metal embellishment continues at the tip of the boot, giving it an edgy twist with its box toe design.
Crafted from genuine leather suede, these boots exude a luxurious feel and are built to stand the test of time. However, keep in mind that proper maintenance is crucial to preserve their pristine texture. Before making your purchase, ensure that you absolutely adore this style, as it is only available for exchanges and not eligible for returns. Embrace the flair and individuality these boots bring to your wardrobe, and get ready to turn heads with your fashion-forward choice.
---
Stuart Weitzman City Block Square Toe Knee High Boots
Features
Size: 3.5-12
Material: Rubber sole, suede, leather
Heel Height: 1.8"
Get ready to channel your inner supermodel with these boots from Stuart Weitzman, a brand that caters to long legs and accentuates their beauty. It's no wonder they chose supermodel Kendall Jenner as the face of their campaigns.
Designed with elongated frames in mind, these boots go the extra mile in enhancing your already stunning stature. The split hem at the top adds a stylish touch, allowing the front to extend above the knee for those with average height, while taller individuals will enjoy a knee-high fit that perfectly complements their long legs. With a slim fit, you won't find yourself drowning in these boots.
Slipping into these boots is a breeze, thanks to the stretch construction at the back. Once you're in, you'll appreciate the 1.8-inch block heel and square toe combination that ensures your feet stay comfortable throughout the day. Keep in mind that these boots are final sale, which means they cannot be returned or exchanged.
---
Baretraps Autumn Wide Calf Boot
Features
Size: 6 – 11, including half sizes
Material: Synthetic materials
Heel Height: 1.25"
Unlike many knee-high boots that can feel restrictive, these boots are designed with extra room to accommodate approximately a 14-inch calf circumference. Say goodbye to the struggle of squeezing into boots because these ones zip up easily without suffocating your legs. Their simple yet sophisticated design makes them perfect for everyday wear during the chilly months.
These boots have a certain allure that evokes a witchy aesthetic, making them a great match for pairing with a long prairie dress or creating a head-to-toe black ensemble. Despite being made from synthetic materials, they maintain a realistic appearance, so you can confidently rock them, knowing that only you will know the secret behind their authenticity. Don't let wide calves hold you back from enjoying knee-high boots—step out in style and comfort with these lug-sole boots that were made just for you.
---
The Dallas Knee High Boot
Features
Size: 36 – 41, including half sizes
Material: Suede
Heel Height: 2"
According to Agee Gretta Leinberry, co-founder of Couper, the Dallas boot from Khaite brings a unique New York City twist to cowboy boots. It skillfully incorporates subtle Western and bohemian details while maintaining a chic and fashionable vibe. The best part? These boots are surprisingly effortless to wear, thanks to their buttery suede material and versatile styling options.
Leinberry highlights that the dainty toe design adds an approachable touch, making them feel less clunky compared to traditional Western boots. She suggests tucking them into jeans for a stylish ensemble and completing the look with Couper's exclusive cardigan from Fanm Mon.
---
Vagabond Ansie Tall Boots
Features
Size: 36 – 41
Material: Leather
Heel Height: 2.3"
They effortlessly capture a classic look with a unique twist that sets them apart from the sea of basic black boots out there. But it's not just their appearance that caught our attention; these boots are remarkably comfortable to wear.
You can confidently stride from your early morning meeting to a late-night dinner without even noticing any discomfort. The wide and rounded toe design ensures your toes won't feel cramped, while the flared black heel provides a cushioned landing with every step you take. Keep in mind that these boots are available only in full sizes, so if you usually fall between sizes, we recommend sizing up for the perfect fit.
When it comes to styling possibilities, the options are endless with these versatile boots. While we envision them paired with a mini skirt, tights, turtleneck, and an oversized blazer for a chic ensemble, feel free to let your creativity run wild.
---
Cole Haan Greenwich Boot
Features
Size: 5 – 11, including half sizes
Material: EVA
Heel Height: 1"
When it comes to leather boots and rainy weather, they're like oil and water—they don't mix. That's why treating your leather boots carefully before venturing into the elements is crucial. However, if you find yourself frequently facing questionable weather conditions, especially in rainy climates like the Pacific Northwest, it's wise to invest in a pair of waterproof knee-highs.
Enter these black knee-high boots from Cole Haan. Made from a rubber-like material called EVA, they offer the perfect solution for keeping your feet dry without compromising on style. Unlike typical rain boots, these knee-highs exude a sleek and sophisticated aesthetic. They even come equipped with fully padded sock linings, ensuring extra comfort for your feet. The rubber outsole provides enhanced traction, eliminating the need for awkward penguin-like movements on slippery sidewalks.
---
Conclusion
As we wrap up this exciting exploration of knee-high leather boots, remember that fashion is a reflection of your unique personality and style. The best boots we've showcased in this guide are more than footwear—they symbolize confidence, self-expression, and individuality.
With their exquisite craftsmanship, impeccable design, and unmatched versatility, these knee-high leather boots will become your trusted companions on every step of your fashion journey. So, step into the world with confidence, embrace your inner fashionista, and let these extraordinary boots redefine your style with their undeniable flair.
---
To read more similar articles, click here.
Thanks for visiting our Website. If you appreciate our work, kindly show us some support in our comments section 🙂