Greetings, fellow sports enthusiasts and arch-aficionados! Welcome to an exciting exploration of the best athletic shoes for people with high arches. Whether you're a runner, a basketball player, or a gym enthusiast, having high arches can present unique challenges when it comes to finding the right footwear. But worry not, for we've meticulously curated a list of the ten best athletic shoes that cater to the needs of high-arched individuals.
Table of Contents
With features like enhanced cushioning, arch support systems, and adaptive technologies, these shoes provide the perfect blend of comfort, stability, and performance. So, get ready to step up your game and confidently conquer your athletic pursuits, knowing that your high arches will be well-supported in these exceptional athletic shoes.
---
The 10 Best Athletic Shoes for People With High Arches
Orthofeet Lava Stretch-Knit Athletic Shoe
Features
Material: Foam midsole, rubber sole
Cushioning: Foam
Closure: Lace-up
Level up your comfort and support with Orthofeet's Lava Stretch-Knit Athletic shoes, our top pick for men with high arches. These shoes offer a cozy and non-binding fit that will keep you comfortable all day.
The shoe's upper part, including the collar, upper, and tongue, is padded with a soft foam that provides gentle cushioning with low pressure. Combined with the spacious toe box, these sneakers create a "walking on a cloud" experience while minimizing any discomfort on bunions and hammertoes. The shoe's interior is also seam-free and protective, reducing pressure and friction to offer maximum foot comfort and stability.
What sets the Orthofeet Lava Stretch-Knit Athletic apart is its impressive combination of features, including a cushioned sole, an orthotic insole, and air pockets in the heel. These elements work together to provide exceptional comfort and targeted support in areas where individuals with high arches often experience pain. You can find the perfect fit for your needs in men's sizes ranging from 7 to 14 and in regular, wide, and extra-wide widths.
---
New Balance Men's 577 V1 Lace-up Walking Shoe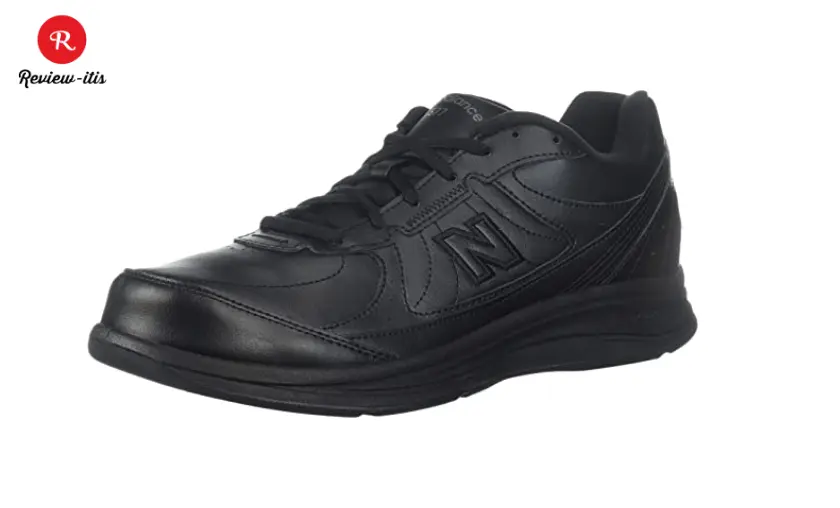 Features
Material: Leather upper, polyurethane midsole, rubber sole
Cushioning: Polyurethane
Closure: Lace-up
These shoes are affordable and deliver exceptional comfort, support, and durability. The shoe's midsole is cushioned with polyurethane, ensuring a cozy, supportive fit that keeps you going all day. What sets this shoe apart is its innovative heel design, combining supple foam and shock-absorbing rubber to provide excellent cushioning and reduce pressure on the heel during wear.
While New Balance's Men's 577 shoes were designed with walking in mind, their sleek all-leather exterior makes them stylish enough for everyday wear. They are available in a wide range of sizes, from 7 to 15, and come in three different widths—standard, wide, and extra-wide—ensuring you find the perfect fit for your feet. Choose between the classic black or white color options and step into a shoe that offers both comfort and style.
---
Vionic Aimmy Active Sneaker
Features
Material: Fabric and synthetic upper, foam and rubber midsole, rubber sole
Cushioning: Not listed
Closure: Slip-on
This sleek and lightweight slip-on sneaker offers more than just a stylish design—it provides a flexible and customizable fit that rivals traditional lace-up sneakers. Don't be fooled by its slip-on nature; this sneaker is packed with features to ensure optimal support and comfort. The cushioned outsole helps to reduce pressure, while the podiatrist-designed orthotic lining offers three layers of cushioned arch support for your feet.
Crafted with a breathable mesh upper, Vionic's Aimmy Active Sneaker keeps your feet feeling fresh and light throughout the day. The adjustable criss-cross straps replace traditional shoelaces, allowing you to tighten the fit to your desired level of comfort and snugness. Available in sizes 5 through 12, and with color options including black, white, and blush, this sneaker offers a range of choices to suit your style.
---
Sketchers Men's Arch Fit Work Jake
Features
Material: Fabric and synthetic upper, foam midsole, rubber sole
Cushioning: Foam
Closure: Slip-on
Not only do they look great, but they also offer the perfect balance of style and functionality. The fabric upper is treated with a stain-repellent finish, making them ideal for everyday wear. What's even better is the stretchable laces in the front, allowing for easy slip-on and slip-off convenience.
When it comes to comfort and support, these sneakers have you covered. The footbed is cushioned with arch support in mind, ensuring that your feet feel comfortable throughout the day. The outsole is designed with slip-resistant rubber, providing excellent grip and traction on various surfaces. While they may feel slightly heavier on the foot, the attention to detail and the level of comfort they provide is well worth it.
---
New Balance Women's 847v4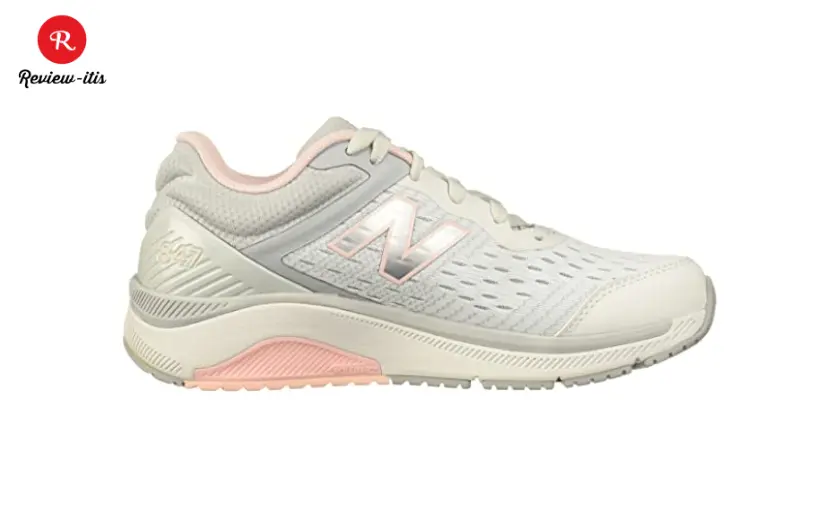 Features
Material: Mesh and synthetic leather upper, foam midsole, rubber sole
Cushioning: Foam
Closure: Lace-up
Designed with your needs in mind, these sneakers offer a responsive midsole that ensures comfort, even during those long days on your feet. The cleverly crafted heel insert moves in harmony with your stride, providing gentle and effective support every step of the way. Plus, with the added stability post, unnecessary rearfoot movement is significantly reduced, giving you the stability you need for a confident walk.
When it comes to outdoor walks, these sneakers have got you covered. The rubber outsole offers excellent traction, ensuring a firm grip on various surfaces. The leather and mesh construction adds a stylish touch and provides a lightweight and breathable experience, allowing for better airflow to keep your feet feeling fresh. With the availability of five different widths, ranging from Narrow to XX-Wide, finding the perfect fit is a breeze. However, it's worth noting that some wearers have mentioned that they may run small, so it's always a good idea to double-check your size to ensure optimal comfort and fit.
---
Brooks Women's Adrenaline GTS 21 Running Shoes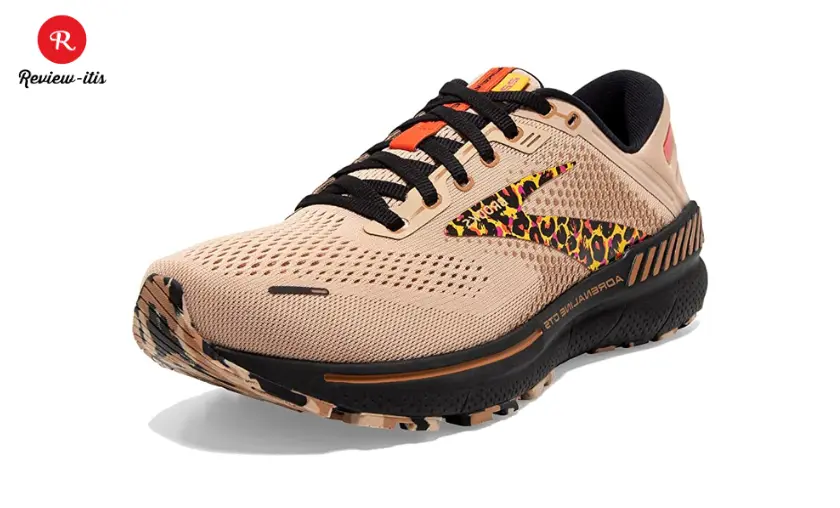 Features
Material: Mesh upper, foam and rubber midsole, rubber sole
Cushioning: Foam, rubber
Closure: Lace-up
Experience the responsive cushioning that adapts to your every stride, effectively reducing pressure and foot pain. The engineered mesh design of the shoe provides the perfect combination of structure and stability without adding unnecessary bulk, allowing you to perform at your best.
Available in a wide range of sizes from 5 through 13, the Brooks Adrenaline GTS 21 caters to different foot shapes with its wide toe box. But that's not all—choose the perfect fit with options for narrow, standard, wide, and extra-wide widths. Show off your personal style with the wide array of color options available, from classic black and white to trendy combinations like Hushed Violet/Alloy/Copper and Wood Violet/Lavender/Blue.
---
Ryka Unisex-Adult Ultimate Running Shoe
Features
Material: Mesh and leather upper, foam midsole, rubber sole
Cushioning: Foam
Closure: Lace-up
Get ready to step into comfort and style with this remarkable unisex pair. From the midsole to the heel crash pad and even the heel collar, these sneakers are packed with padding in all the right places. You'll feel the difference as you walk, with each step cushioned to perfection. The lightweight mesh and leather upper not only add a touch of style, but they also come in a range of fashionable, neutral colors.
Plus, the roomy toe box provides much-needed relief and alleviates pressure on your feet. Whether you're taking a casual stroll or embarking on a hiking adventure, the durable rubber sole offers exceptional traction, ensuring stability even on rough trails.
---
Brooks Ghost 14
Features
Material: Mesh upper, foam midsole, rubber sole
Cushioning: Foam
Closure: Lace-up
This exceptional running shoe has earned the prestigious Seal of Acceptance from the American Podiatric Medical Association (APMA), a testament to its ability to promote good foot health. While designed for running, it possesses the qualities we seek in a top-notch walking shoe, especially for individuals with high arches and a penchant for long distances.
During our testing, we were immediately captivated by the perfect fit provided by the wide toe box. The mesh upper not only contributed to a comfortable and breathable experience but also allowed for easy adjustment with the laces, ensuring a secure and personalized fit. The plush, foam midsole delivered remarkable joint cushioning, instantly elevating the Ghost 14 to the top of our favorites list. Additionally, its neutral support effectively aligns the feet without overwhelming them with excessive rigidity or weight.
Featuring a sturdy rubber outsole, these sneakers offer protection against dirt and debris while delivering reliable traction even in wet conditions. With each size available in four different widths—standard, narrow, wide, and extra-wide—finding the perfect fit is a breeze.
---
Asics Gel-Cumulus 24
Features
Material: Mesh upper, foam and gel midsole, rubber sole
Cushioning: Foam, gel
Closure: Lace-up
This remarkable sneaker strikes a perfect balance between robust support and gentle cushioning, making it an ideal choice for those in need of a comfortable walking experience. With its cozy sock liner that minimizes irritation and prevents the formation of pesky blisters, you can stride confidently and comfortably on your walking adventures.
The Gel-Cumulus 24 from Asics delivers exceptional performance and offers a wide array of colors and sizes to suit your personal style and preference. Its rugged rubber outsole ensures long-lasting durability, capable of enduring miles upon miles of walking. The thick and plush foam midsole provides ample cushioning, propelling you forward with each step you take.
Additionally, the lightweight mesh upper promotes breathability, allowing a constant flow of air to keep your feet cool and dry even during extended walks. The inclusion of reflective details is a thoughtful addition, ensuring visibility and safety when walking outdoors in low-light conditions. However, it's important to note that these shoes are available in only one width, which may not be suitable for individuals with wider or narrower feet.
---
Asics Gel Venture 7 Shoe
Features
Material: Mesh and synthetic upper, foam midsole, rubber sole
Cushioning: Foam
Closure: Lace-up
While this shoe was initially crafted with performance trail running in mind, its capabilities extend far beyond that domain. Whether you're embarking on leisurely walks, engaging in fitness activities, or simply going about your daily routine, the Gel Venture 7 has got you covered.
One standout feature of this shoe is its gel-infused heel, which excels at absorbing shock and relieving pressure. This translates to a more comfortable walking experience, where each step is met with cushioned support. Additionally, the midsole is thoughtfully designed to further reduce pressure and enhance rebound, contributing to a spring in your stride. Durability is also at the forefront, thanks to the high-abrasion rubber outsole that can withstand the demands of varied terrains and activities.
What sets the Gel Venture 7 apart is its internal heel counter, which plays a crucial role in maintaining the foot's natural motion. By gradually guiding the foot to stay in its optimal alignment, this feature specifically addresses underpronation, a common condition characterized by the inward collapse of the feet. Dr. Greenberg emphasizes that underpronation is frequently observed among individuals with high arches.
---
Conclusion
It's time to embrace a new era of athletic footwear that understands and caters to individuals with high arches' unique needs. The exceptional selection of athletic shoes we've delved into throughout this guide represents a significant stride in the athletic shoe industry. These brands have recognized the importance of arch support and have crafted shoes that provide comfort and enhance performance.
From advanced cushioning systems to innovative arch support technologies, these shoes have revolutionized the way high-arched individuals experience athletic activities. So, let's celebrate the journey we've embarked upon, knowing that we now have the power to conquer our athletic pursuits with unmatched support and comfort.
---
To read more similar articles, click here.
Thanks for visiting our Website. If you appreciate our work, kindly show us some support in our comments section 🙂