Hey there, fellow fashion enthusiasts! Are you on the hunt for some seriously cute fall outfits? Well, consider yourself lucky because I've got just what you need. Get ready to dive into the world of fabulous fashion as I unveil not just one or two but a whopping 21 of my all-time favorite go-to outfits specifically curated for the glorious fall season. From cozy sweaters to trendy layers, I've meticulously handpicked each ensemble to ensure you'll be turning heads wherever you go.
So, buckle up and prepare to be amazed as I guide you through a fashion extravaganza that'll leave you inspired and ready to slay this autumn like a true style icon.
Table of Contents
Where To Buy Cute Fall Outfits
When it comes to shopping for cute fall outfits, these retailers have earned a special place in my heart. Here's a rundown of my top go-to stores, each with its own unique offerings to satisfy your fashion cravings:
Nordstrom: This is my ultimate shopping destination, where I find the majority of my clothing. It's a haven for all, boasting a vast selection that spans from essential basics to head-turning statement pieces. Nordstrom caters to every fashion need, ensuring you'll find everything you're looking for.
Revolve: When I'm on the hunt for the trendiest and most up-to-date pieces, Revolve never disappoints. This is my personal go-to for staying ahead of the fashion curve. From cutting-edge styles to the latest trends, Revolve has its finger firmly on the pulse of the fashion world.
ASOS: Looking to add some trendy and unique pieces to your wardrobe without breaking the bank? ASOS is the answer. This online retailer offers a more affordable option, serving up a wide range of stylish items that can effortlessly elevate your basic outfits. It's a go-to for fashion-forward finds without the hefty price tag.
Forever 21: If you're a girl on a budget, look no further than Forever 21. This store is an absolute treasure trove, housing an extensive collection that covers all your fashion desires. From wardrobe essentials to trendy must-haves, Forever 21 has it all at a remarkably reasonable price. Prepare to embark on a budget-friendly shopping spree where every item is within reach.
So, these four retailers have your back, whether you're after a well-rounded shopping experience, the latest fashion obsessions, affordable yet stylish additions, or budget-friendly options. It's time to unleash your inner fashionista and let these stores become your go-to destinations for curating the perfect fall wardrobe. Happy shopping!
---
21 Fall Outfit Ideas To Copy
1. Layer Your Sweaters
Let's talk about outfit #1, my ultimate go-to fall ensemble. Comfort and style are at the core of my fashion philosophy, and this outfit effortlessly captures both. Picture yourself in a combination of comfy and cozy pieces that exude a sense of effortless chicness. This ensemble is all about embracing the beauty of mixing blush pink and grey, a neutral color combo that flatters every individual.
Now, let's discuss the secret sauce of fall fashion: layering. Finding the perfect balance can be challenging as the temperatures fluctuate during this season. Enter the art of layering, your savior in navigating the transitional weather. It's that sweet spot between wearing just a shirt and going full-on with a heavy coat. With this outfit, I adore layering adorable sweaters over snug knitted tops. It's a combination that keeps you cozy and adds a touch of sophistication to your fall look.
So, imagine yourself wrapped in the comfort of soft fabrics and embracing a color palette that suits everyone. Embrace the magic of layering as you effortlessly combine cute sweaters with knitted tops, creating a look perfect for autumn. Get ready to conquer fall with style and ease!
BP Top
Leith Sweater
Good American Jeans
Nadri Necklace
Nadri Earrings
---
2. Flaunt a Fur Vest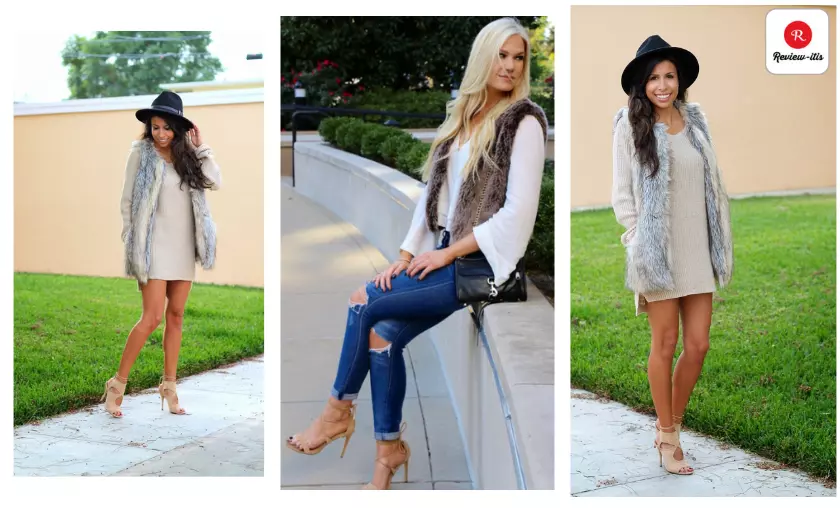 Let me tell you, fur vests are an absolute fall must-have! There's something undeniably captivating about adding a fur vest to even the simplest of outfits, like a white top and jeans. It's an instant game-changer that infuses your look with a touch of flair and sophistication. Whether you opt for faux fur or a real fur vest, the result is the same—a fabulous ensemble that exudes confidence and style.
So, don't hesitate to spice up your basic outfits with the magic of a fur vest. Trust me; you'll turn heads and make a fashion statement that's uniquely you!
---
3. Wear a Chic Leather Jacket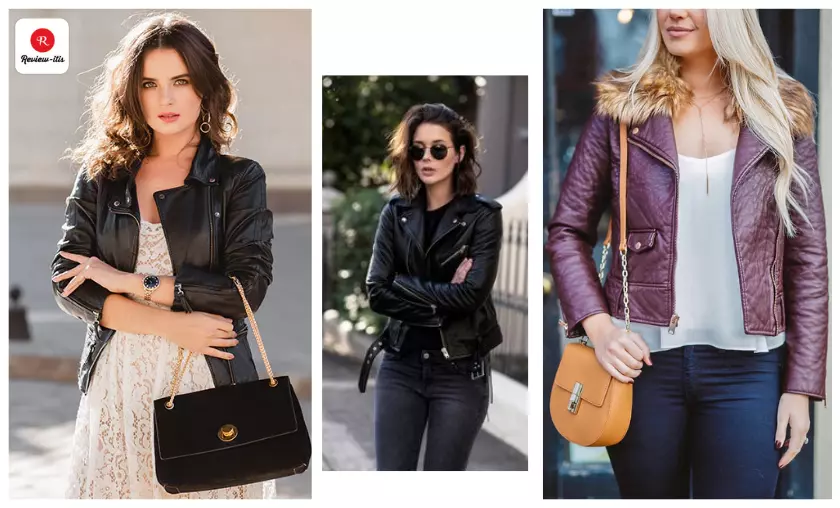 Leather jackets are the epitome of the perfect fall accessory. They serve a dual purpose, keeping you cozy and stylish on those crisp autumn days. There's something undeniably captivating about the sleek and chic aesthetic that a leather jacket brings to any outfit. Whether you opt for a classic black leather jacket or experiment with different colors, the result is always an effortlessly cool and fashion-forward look.
So, don't hesitate to reach for your trusty leather jacket when the temperature drops. It's a timeless piece that adds an extra layer of warmth and a touch of undeniable sophistication to your fall wardrobe. Get ready to rock your autumn style with confidence!
---
4. Always Accessorize from Head-to-Toe
Remember to accessorize from head to toe! One key accessory you can't overlook for your fall wardrobe is a pair of chic black sunglasses. They are the ultimate finishing touch that effortlessly elevates any fall outfit. Whether you're rocking a cozy sweater and jeans or a trendy fall dress, adding those sleek black sunglasses instantly takes your look to the next level. Not only do they bring a touch of sophistication, but they also shield your eyes from those glorious autumn rays.
So, make sure to complete your fall ensembles with a stylish pair of black sunglasses. Trust me, it's the perfect way to add that extra touch of allure and keep your style game on point from head to toe!
---
5. Complete Your Look With a Cute Hat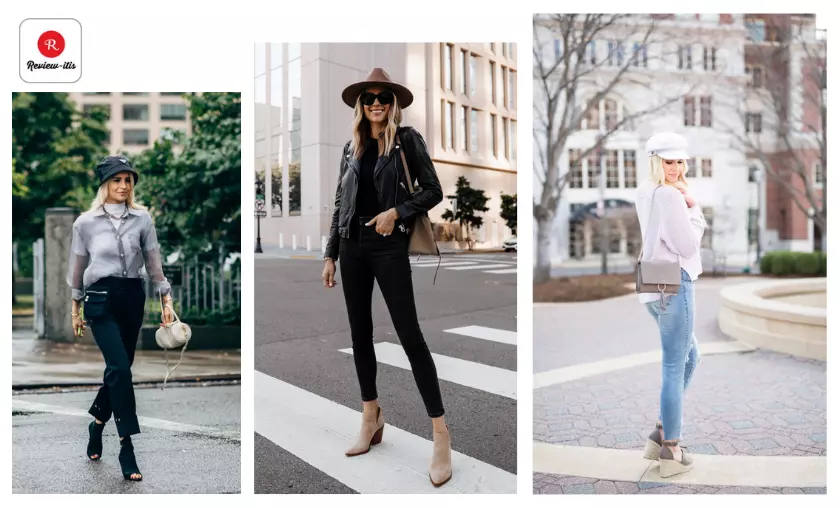 Hats are an absolute wardrobe staple when it comes to fall. Not only do they provide that much-needed warmth as the temperatures start to drop, but they also have the incredible ability to effortlessly complete your outfit. It's like the missing puzzle piece that ties everything together. Whether you opt for a cozy wool hat, a trendy fedora, or a chic beret, adding a hat to your fall ensemble instantly takes it to a whole new level of style and sophistication. Not to mention, it's a fantastic way to showcase your personal flair and elevate your fashion game.
So, take into account the power of a hat this fall. Embrace this timeless accessory and prepare to make a bold fashion statement while staying cozy and on-trend!
---
6. Wear Some Army Green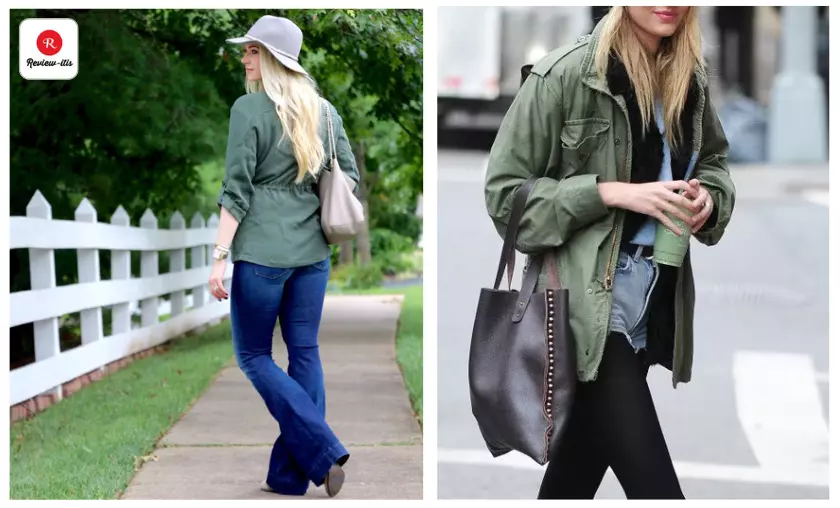 When it comes to dressing for fall, here's a pro tip: keep those gorgeous fall colors in mind. Think of rich army greens and soothing grays—they are absolutely on-trend and can create stunning looks when paired together. These earthy tones perfectly capture the essence of the season and exude a sense of sophistication and versatility. Whether you're rocking an army green sweater with gray jeans or incorporating these hues into accessories like scarves or handbags, you can't go wrong. The beauty of these fall colors lies in their ability to effortlessly complement each other, allowing you to create chic and cohesive outfits that are sure to turn heads.
So, embrace the allure of army greens and grays this fall, and get ready to showcase your impeccable sense of style.
---
7. Pair a Structured Hat with a Chunky Knit Sweater
Structured hats are an absolute must-have this season, and trust me; you want to take advantage of it. There's something undeniably chic and sophisticated about donning a well-structured hat that instantly elevates your entire look. Whether it's a classic fedora, a stylish wide-brimmed hat, or a trendy baker boy cap, these head-turning accessories add allure and completely complete your outfit. And let me tell you, pairing a structured hat with a chunky knit sweater is a match made in fashion heaven. It's the perfect combination of cozy and stylish, creating a look that's effortlessly cool and oh-so-fall.
So, don't hesitate to embrace the structured hat trend this season. Get ready to turn heads and exude confidence as you rock your favorite chunky knit sweater with the perfect hat atop your head. It's a winning combination you can never go wrong with!
---
8. Have Many Plaid Shirts on Tap
Let's dive into an outfit composed of fall essentials that I scored during the Nordstrom Anniversary Sale. There's something truly special about a classic plaid shirt that instantly sets the fall spirit ablaze. The beauty of plaid shirts lies in their remarkable versatility, making them a staple in any fashionista's wardrobe.
I particularly adore using plaid shirts as layering pieces. They add that extra touch of style while providing endless possibilities for creative outfits. I love layering them over a feminine cami, striking the perfect balance between casual and chic. However, you can wear them buttoned up for a more polished look or tie them around your waist to add a trendy twist. The options are truly limitless.
Now, how to incorporate your Nordstrom Anniversary Sale purchases into your summer wardrobe. Let me assure you, my friend, that you can rock your plaid shirt even during the summer months. I've already worn mine numerous times, proving that it's a versatile piece that transcends seasons.
So, embrace the power of the plaid shirt and the incredible finds from the Nordstrom Anniversary Sale. Create stylish outfits that capture the essence of fall, even during the summer. Let your fashion instincts guide you as you explore the various ways to wear this timeless piece. Get ready to make a statement and showcase your impeccable style while rocking those amazing Nordstrom purchases.
Lace Cami
Plaid Shirt
Good American Jeans
Steve Madden OTK Boots
Gucci Bag
Nadri Necklace
Nadri Earrings
---
9. Mix Your Patterns
Pattern mixing is an absolute must-try in the fall. Trust me when I say it's a game-changer. Embracing the art of mixing patterns adds a whole new level of excitement and creativity to your outfits. One of my personal favorite combinations? Stripes and leopard. It's a match made in fashion heaven.
The bold and structured lines of stripes effortlessly blend with the fierce and captivating allure of leopard print, creating an eye-catching and on-trend harmonious balance. Whether you opt for a striped top paired with leopard print shoes or a leopard print skirt paired with a striped blazer, the result is a head-turning ensemble that showcases your fearless sense of style.
So, feel free to experiment with pattern mixing this fall. Let your creativity soar, and get ready to make a bold fashion statement that is uniquely you.
---
10. Don't Fear Denim on Denim
 Denim on denim. It's a fashion-forward approach to wearing your beloved denim pieces this fall. Trust me, it's an effortlessly cool and surprisingly versatile look. The key to nailing this trend is to mix and match different shades of denim. I suggest pairing a lighter-colored denim top with a darker denim bottom for a foolproof combination.
This contrast creates a visually appealing and well-balanced outfit that's sure to turn heads. Whether you choose a chambray shirt with your favorite dark-wash jeans or a denim jacket with a pair of black denim skinny jeans, the possibilities are endless. The key is to play with different washes and textures to add depth and dimension to your ensemble.
So, feel free to experiment with denim on denim this fall. Embrace the double denim trend with confidence and watch as you effortlessly rock a stylish and on-point look that screams fashion-forward.
---
11. Go Leather on Leather
 Leather. It's a timeless material that never goes out of style; let me tell you, it's all the rage this season. There's something undeniably edgy and cool about incorporating leather into your fall wardrobe. One of my go-to combinations? Leather leggings and a leather jacket. It's a match made in fashion heaven. The sleek and rebellious vibe of leather is perfectly balanced when you break it up with a longer tunic, like this stylish plaid shirt. It adds a touch of casual sophistication and creates a well-rounded, chic, and versatile look.
So, you'll exude confidence and make a serious style statement, whether you're rocking leather leggings with a flowing plaid tunic or layering a leather jacket over a longer shirt. Embrace the allure of leather this fall, and get ready to rock that effortlessly cool and on-trend look you've been dreaming of.
---
12. Wear Off the Shoulder Sweaters
Off-the-shoulder tops, also known as OTS tops, were all the rage this spring and summer. And guess what? They're making a comeback this fall, hotter than ever! But here's the twist: OTS sweaters are stealing the show now. Picture this: you still get to indulge in that cozy warmth, but with a tantalizing hint of shoulder peeking through. It's the perfect blend of comfort and style.
Now, let's talk shopping. Nordstrom, oh Nordstrom, they've got an incredible selection of cute OTS sweaters right now. But let me spill the tea on my absolute favorites—the pink one below and the other gem just beneath it. These beauties are so irresistible that they'll be gracing the pages of an upcoming blog post very soon. Stay tuned, my fashion-forward friends!
Oh, and speaking of online orders, I recently treated myself to a pair of jeans that have blown me away. I had heard all the buzz about the Good American brand, so naturally, I had to experience it for myself. Let me tell you, folks, these jeans are pure bliss. They're not only incredibly comfortable but also oh-so-flattering. And the best part? They actually fit me perfectly in length. Long-legged folks like me know the struggle, but Good American has got us covered. Trust me, once you slip into these jeans, you'll be head over heels, just like me.
Sweater
Good American Jeans
Steve Madden OTK Boots
BP Earrings
Bag
As someone who's blessed with height, finding skinny jeans that fit just right can be quite a challenge. But let me tell you, these jeans are an absolute game-changer. If you're tall and on the hunt for a new pair of jeans, you need to try this brand!
Even more impressive is that Good American jeans cater to everyone, regardless of size. I follow a petite blogger who also raves about these jeans, which speaks volumes about their versatility and inclusivity. I've discovered a new favorite brand of jeans and plan to order a few more pairs.
Now, let's talk about the over-the-knee boots I recently added to my collection. They are the epitome of the perfect fall boot! I'm completely obsessed with over-the-knee boots, and if it were up to me, I'd wear them with every fall and winter outfit.
These Steve Madden boots, especially in the stunning taupe color, caught my eye. But what truly stole my heart was the price tag. Can you believe it? These super well-made over-the-knee boots were under $100! That's seriously mind-blowing.
If taupe isn't your style, don't worry—they also come in classic black. So, if you're in the market for a pair of over-the-knee boots, I highly recommend getting your hands (or feet) on these beauties. And if you're not quite ready to indulge in a new pair of boots at the moment, be sure to add them to your Christmas list. Trust me, they'll make a perfect gift!
Whether it's finding the perfect pair of jeans that flatter your tall frame or adding a fabulous pair of over-the-knee boots to your fall wardrobe, these fashion finds are absolute game-changers. It's time to embrace your height and confidently rock these stylish pieces. Get ready to make a fashion statement that will turn heads wherever you go!
---
13. Copy My OOTD
statement belts are the ultimate game-changers when it comes to fashion. Believe me when I say this—those seemingly ordinary outfits can go from drab to fab in an instant with the addition of a mighty belt. Personally, I've fallen head over heels for the half-tuck technique. There's just something about taking a cozy sweater and casually tucking it into a pair of well-fitted jeans that screams effortless style.
But wait, there's more! Slap on a bold, attention-grabbing belt, and boom! You've achieved the pinnacle of fashion excellence. It's the cherry on top, my friends, the finishing touch that takes your look from mere completion to absolute perfection. Trust me, once you experience the transformative power of a statement belt, there's no going back.
Treasure & Bond Sweater
Good American Jeans
Free People Belt
Steve Madden Boots
Rag & Bone Felt Hat
Rebecca Minkoff Bag
BP Earrings
Ah, Dallas was basking in the delightful warmth of October, yet that couldn't deter me from flaunting my beloved autumn ensembles. Donning my cherished fall outfits was pure joy, even in the face of such favorable weather. The slouchy sweater emerged as my ultimate choice, serving as an impeccable companion amidst Dallas' air-conditioned havens.
Its cozy embrace provided respite from the indoor chill, while the alluring off-the-shoulder design bestowed ample coolness as I ventured outdoors. How splendid it was to strike that perfect balance!
---
14. Wear a White Knitted Sweater
A toasty knitted sweater is an absolute must-have for your fall wardrobe. The versatility of sweaters knows no bounds, making them the perfect pairing for any and every ensemble. Ensure you have a stellar collection of these cozy wonders. With a variety of pants, jewelry, scarves, and boots at your disposal, each combination breathes new life into your sweater, transforming it into an entirely distinct outfit with every wear.
Now, let's talk about dark jeans—another essential for the autumn season. Oh, how I adore the dark jeans featured above, and guess what? They come at an incredibly affordable price, under $65! You don't have to break the bank to acquire a superb pair of jeans that will accompany you throughout the season. These dark jeans exude a captivating allure and guarantee an alluring, lasting style.
Express Sweater
Articles of Society Jeans
Free People Hat
OTK Boots
Michele Watch
Louis Vuitton Bag
If you're up for trying out a trendy item this autumn, I can't stress enough how essential it is to invest in a fabulous wool hat. I'm a huge fan of wool floppy hats, and I rock them from September all the way through January. Start off with a neutral-colored hat that can effortlessly complement a wide range of outfits. Trust me, hats are the ultimate finishing touch, adding a warm and cozy vibe to any ensemble.
Now, let's talk about over-the-knee boots. I've been head over heels for them forever, and my obsession isn't fading anytime soon. If you still need to get a pair, drop everything and get yourself one ASAP! Not only do they provide extra warmth for your legs during these chilly months, but they also elevate your overall look with an incredible sense of style.
Last but definitely not least, no fall wardrobe is complete without a timeless leather bag. This is an absolute must-have that will stand the test of time. A classic leather bag effortlessly matches anything in your closet, making it an indispensable accessory you'll cherish for years.
---
15. Elevate Your Style with Burgundy
Fall colors are absolutely delightful, and I'm particularly fond of this gorgeous burgundy hue. It exudes a captivating charm, making it an ideal choice for a Thanksgiving dinner sweater.
---
16. Combine a Dress and OTK Boots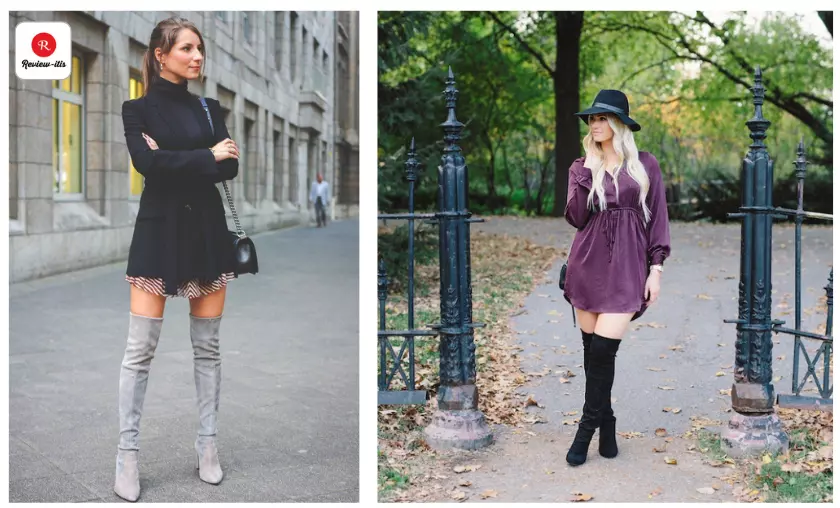 When it comes to creating a stunning fall ensemble, you can't go astray by combining a dress with over-the-knee boots and a hat. This trifecta of fashion elements culminates in the most adorable fall outfit you can imagine. Trust me, it's an absolute winner!
---
17. Pair Black and White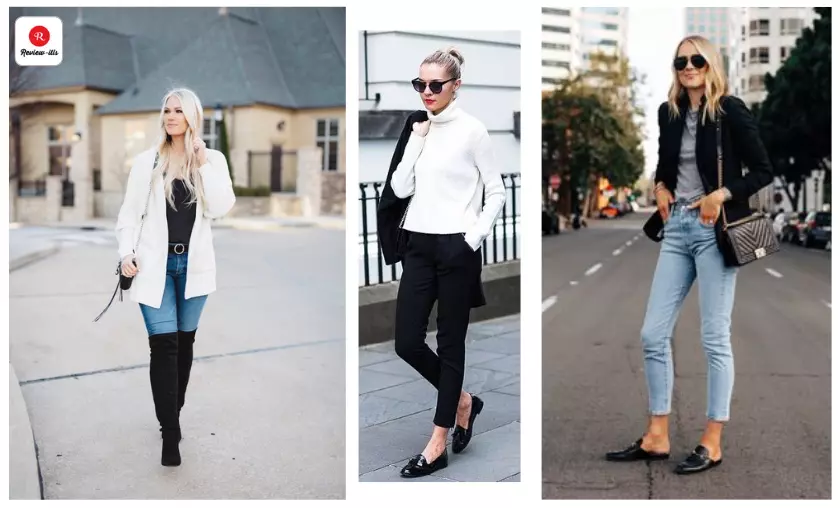 Black and white are classic wardrobe staples that practically everyone possesses. So why not leverage these timeless hues by pairing some black and white items together to craft a sensational neutral fall ensemble? It's a foolproof approach that exudes effortless style and sophistication.
---
18. Don't Forget About Scarfs
When it comes to staying warm and snug this fall, nothing beats the comforting embrace of a scarf. It's one of the simplest yet most effective ways to ward off the chill. Seek out a scarf that complements your outfit flawlessly, and consider wearing it in lieu of a jacket. It's a fashion-forward choice that keeps you cozy while adding a touch of flair to your overall look.
---
19. Wear a Moto Jacket
Let me introduce you to one of my favorite fall essentials—the suede Moto jacket! I cannot contain my enthusiasm for my green moto jacket; it has truly captured my heart. I'm absolutely obsessed with it and can't wait to flaunt it extensively throughout this season. Trust me, this statement piece is bound to become your go-to favorite too.
Plaid Shirt
Moto Jacket
Jeans
OTK Boots
Necklace
Bag
---
20. Pair a Cami & a Long Sweater
Let me tell you about the fabulous ensemble I sported on a memorable date night with my beloved hubby in the vibrant city of Chicago! We indulged in a delightful dinner at our go-to steakhouse, Mastro's, and my outfit choice proved to be absolutely perfect for the occasion.
The star of the show was undoubtedly the lace-trimmed cami, which I adore for its versatile nature. This cami effortlessly transitions between dressy and casual looks, making it a true wardrobe gem. It can be worn alone during the summer months for a breezy and chic vibe.
However, as we transition into fall and winter, it gracefully pairs with sweaters, leather jackets, and a multitude of other layering options. It's a year-round staple that always impresses!
Lace Cami
AG Jeans
Shoes
Clutch
Necklace
Let me rave about these amazing AG jeans for a moment! They have quickly become one of my absolute favorite recent purchases. These jeans are a true transitional gem due to their ankle length and raw hem. I cannot express enough how much I adore the way the raw hem adds an extra touch of flair when paired with sandals or booties.
It's a detail that makes these jeans perfect for year-round wear! I plan to rock these jeans well into the fall and winter seasons, effortlessly styling them with riding boots, over-the-knee boots, and even my trusty winter boots.
Get ready to see me sporting an array of long cardigans this fall! I cannot get enough of styling these cozy essentials, and I managed to snag this particular gem, along with a couple of others, during the NSale. I prefer long, oversized sweaters over shorter cardigans. This specific sweater keeps you warm, and snug during the crisp fall weather, and its neutral shade makes it an impeccable addition to any fall outfit of the day (good).
Just a friendly heads-up, though—the sweater does run on the larger side, so be sure to order down a size or two for the perfect fit.
---
21. Bring Elegance Back with a Long Vest
I'm thrilled to share some of my tried and true tips and tricks to help you perfect your feminine style. If you're eager to discover ways to effortlessly integrate girly pieces into your wardrobe and create stunning feminine outfits, then you've come to the right place. Prepare to dive into the world of feminine fashion as we embark on this style journey together!
---
Wear Girly Fabrics & Patterns.
Let's start our journey to mastering your feminine style with a fantastic tip—incorporate girly fabrics into your wardrobe. Lace, ruffles, and even florals are excellent choices that infuse your closet with a distinctly feminine touch. Personally, I'm head over heels for this delicate lace turtleneck. It exudes a delightful charm and adds a dash of super girly vibes to any outfit.
---
Embrace All Shades of Pink.
When it comes to embracing your feminine side, there's no color quite like pink. It exudes the utmost femininity and adds a delightful touch to your wardrobe. By incorporating more pink pieces into your closet, you'll effortlessly master a more feminine style overall. I have a soft spot for blush tones. They possess an understated elegance while still radiating femininity and prettiness. So go ahead and infuse your outfits with a touch of pink to elevate your feminine fashion game.
Free People Lace Top
Free People White Tank
Leith Pink Vest
Good American Jeans
Steve Madden Heels
Louis Vuitton Bag
Michele Watch
Kate Spade Bracelet
Bp Earrings
---
Always Flatter Your Figure.
One of the most significant factors in achieving a more feminine look and boosting your confidence is wearing clothes that fit you impeccably. Opting for figure-flattering clothing choices can instantly elevate your feminine style. Say goodbye to baggy jeans and hello to high-waisted skinny jeans that accentuate your curves. Remember, regardless of your body shape, wearing clothing that complements your unique physique in the best possible way is crucial. Embrace the power of well-fitted garments and watch your feminine allure soar!
---
Make Sure to Add Heels.
I must confess, there's something magical about slipping into a pair of heels that instantly transforms my mood, making me feel a hundred times more girly and pretty! I can't quite put my finger on it, but heels can boost confidence and effortlessly elevate your overall appearance. The trick is to find a fabulous pair of heels that look stunning and provide you with utmost comfort. Once you discover that perfect pair, don't hesitate to throw them on whenever you're aiming to master your feminine look. Get ready to stride with confidence and embrace the undeniable allure of heels!
---
How To Style Fall Outfits
Fall holds a special place in my heart because it's the season when I truly come alive through styling captivating fall outfits. The layers, textures, colors, and trends that emerge during this time are what make it an absolute blast for me! Now, if you find styling fall outfits less enjoyable, fear not—I'm here to make it a fun and exciting endeavor for you.
Let's start with what brings me immense joy when dressing for fall: the art of layering and accessorizing. There's something utterly delightful about layering sweaters over dresses or tops, donning hats, boots, scarves, and more! The best part is you needn't hide your adorable ensemble under a coat. Instead, you can stay cozy and retain your stylish edge by incorporating pieces like cozy sweaters, chic moto jackets, trendy hats, cozy scarves, and more. Embracing layers doesn't have to be complex; keeping it simple is the key to nailing that effortlessly stylish fall look.
One of my go-to layering techniques during fall is pairing a sweater dress with a long cardigan or leather jacket and completing the ensemble with over-the-knee boots or stylish booties. Consider adding a scarf, a floppy felt hat, or a knitted beanie to keep yourself toasty on chillier days. As the weather shifts throughout the day, you can easily shed or add layers (such as a hat, scarf, or sweater) as needed. The beauty of playing around with layering is that it allows you to create multiple unique outfits using the same basic pieces simply by tweaking a few layering details.
So, let's embark on this exciting fall fashion journey together! I'm here to assist you if you have any questions or need guidance on styling fall outfits. Let's make fall dressing an enjoyable experience filled with endless possibilities!
---
Basic Fall Wardrobe Items
Sweater dress
Long cardigan
Leather jacket
White tee
Black tee
Jeans
Black leggings
Plaid shirt
Scarf
Beanie
Felt hat
Booties
Over-the-knee boots
Fur vest
Trench coat
Let's talk about the versatile basics that will be the foundation for numerous outfits throughout the fall season.
Some may ponder the appropriate timing to kickstart wearing fall outfits, and I'm here to offer my perspective on the matter. By August, I'm more than ready to bid farewell to summer and fully immerse myself in the enchanting realm of fall. Of course, the timing might vary depending on your location and the prevailing weather conditions, but if the weather permits, there's no harm in embracing fall fashion as early as you desire.
If an August day or night brings a chill or a drizzle, I'll reach for a cute chunky knit sweater and pair it with denim shorts to create a chic ensemble.
Remember, with a carefully curated selection of basic pieces, you can effortlessly create an array of unique outfits that will carry you through the entire fall season. So, go ahead and dive into your fall wardrobe whenever it feels right to you. Let's embrace the magic of fall fashion and savor every moment!
Now, let's clear the air—I'm not suggesting that you don your cozy sweaters, boots, and hats when the mercury hits a scorching 100 degrees outside. However, if the weather permits, I enjoy mixing and matching some fall and summer trends. While fall officially commences on September 22, there's no need to hold off on wearing items from your fall wardrobe until that precise date. Fashion is a realm where rules can be bent, if not broken entirely.
So, why not embrace your own sense of style and wear what makes you feel comfortable and confident? Ultimately, the joy of fashion lies in expressing yourself authentically and finding the perfect balance between seasons. Don't be afraid to experiment and create your own unique combinations, regardless of the calendar. Fashion is yours to enjoy, so seize the opportunity and make it truly yours!
---
To read more similar articles, click here.
Thanks for visiting our Website. If you appreciate our work, kindly show us some support in our comments section 🙂