BlackVPN, a VPN service provided by BlackVPN Ltd., operates from its base in Hong Kong.
However, when compared to industry giants like NordVPN, their network consists of only 31 servers across 18 countries, which seems quite limited.
Nevertheless, the number of servers isn't always the sole determining factor.
VPN servers often fail to live up to expectations, as they are frequently rented or even falsified.
Hence, in this review of BlackVPN, we embark on the mission to ascertain whether a restricted network should be a cause for concern.
Can the other aspects of their service compensate for this limitation, or do they fall short in multiple areas?
Let's delve deeper and uncover the truth.
Table of Contents
---
Overview of BlackVPN Review
| | |
| --- | --- |
| OVERALL RANK: | #13 out of 78 VPNs |
| USABILITY: | Easy to use with one-click server switchings |
| LOG FILES: | No Logging Policy |
| LOCATIONS: | 18 countries, 31 servers |
| SUPPORT: | Email, snail mail, Live chat, social media, and FAQs |
| TORRENTING: | Limited Torrenting |
| NETFLIX: | Yes 2/5 |
| ENCRYPTION/PROTOCOL: | AES 256-bit |
| COST: | EUR 49-99/yr |
| OFFICIAL WEBSITE: | www.blackvpn.com |
---
BlackVPN has a user-friendly logging policy. Encryption is locked-down airtight. And customer support was surprisingly fast.BlackVPN's Pros

Now, let's explore the key advantages we encountered while using their service.
1. Does Not Collect Logs

BlackVPN prioritizes your privacy by refraining from collecting any logs of your browsing history or online activities.
Furthermore, they do not retain DNS logs or maintain records of your actual IP address when connecting to their VPN.
While BlackVPN does retain your email address & payment details, it is important to note that these pieces of information are not linked to any online logs that would reveal your browsing activities.
Therefore, in this regard, your exposure is considerably restricted.
2. Supports Three Protocols, with Strong AES-256 Encryption
BlackVPN offers support for multiple tunneling protocols, including OpenVPN, SSTP, and L2TP/IPSec. By default, they utilize OpenVPN, providing convenient pre-configured clients that are ready to use seamlessly.

To ensure robust security, BlackVPN implements 256-bit encryption, a widely accepted standard endorsed by governments worldwide. In most scenarios, this level of encryption should suffice for your needs.
However, we did encounter two minor issues during our assessment. Firstly, connecting to the Western United States was not possible, which seemed peculiar.
Secondly, changing server locations required closing the application, which was somewhat inconvenient.
Thankfully, BlackVPN addresses this inconvenience with an always-on kill switch feature. All BlackVPN clients come equipped with a built-in kill switch that is automatically activated. This ensures that you don't worry about unintentionally exposing your location or browsing data when switching servers.
3. Easy Setup and Use

Setting up and getting started with BlackVPN's OpenVPN clients is remarkably straightforward.
Begin by navigating to the top of the main page and selecting "VPN setup." From there, choose your platform, and you will be provided with the necessary installation files. Proceed to install the main program, which will enable you to download the server files.
In between the installation, you will be guided through the seamless addition of servers, making this step exceptionally effortless.
Finally, sign into the designated box to establish a connection with your account.

To switch server locations, you have the option to drop down the server list. However, the number of available servers will vary rely on the specific plan you have chosen to subscribe to.
With the Global plan, you gain access to all twenty servers, providing a comprehensive selection. On the other hand, the TV plan offers a disappointingly limited choice, with access granted to only four servers.


Upon selecting a server, you will receive a notification indicating that the connection process is underway. In certain instances, you might also be prompted to re-enter your username and password for authentication purposes.

In order to connect to a different server, it is necessary to first disconnect from the current server. Once disconnected, you can select your desired server from the drop-down list to establish a new connection.
4. Works with Tor

BlackVPN seamlessly integrates with the Tor Browser, ensuring complete compatibility between the two.

The Tor Browser is renowned for augmenting the privacy of your browsing activities by incorporating an additional layer of security. It achieves this by utilizing random relay points to redirect and obscure your true location effectively.
However, it is crucial to note that while Tor enhances location concealment, it does not provide any encryption or protection for your data. Your connection remains vulnerable and can potentially be intercepted at any of the relays you traverse.
If safeguarding your location is of paramount importance, it is imperative to ensure that your VPN seamlessly integrates with Tor, thereby providing you with the necessary protection to maintain your privacy.
5. Customer Support Is Fast, Friendly, & Professional
Whenever you encounter any difficulties or have inquiries, BlackVPN's customer support is readily available through email, tweets, or chat.
However, it is essential to keep in mind that, based on my experience reviewing numerous VPNs, one cannot solely rely on the availability of support options to gauge a company's reliability.
Merely offering various support channels does not guarantee flawless functionality at all times. Nevertheless, I was pleasantly surprised by BlackVPN's responsiveness, as they promptly replied within a remarkable 20-second timeframe upon connecting to their live chat.

Not only was their support representative, Damien, friendly and quick in response, but they also exhibited a commendable level of expertise. It was an overall exceptional experience with BlackVPN's customer support.
---
BlackVPN's Cons
BlackVPN offers numerous noteworthy aspects that are highly commendable. Their customer service, in particular, left a lasting positive impression on us.
Regrettably, we did encounter a few obstacles during our journey with them.
Let's delve into some of the significant concerns we experienced.
1. Based in Hong Kong

From a technical standpoint, it's important to note that Hong Kong operates outside of the extended 'Eyes' security agreement. As a result, they do not share collected data with other prominent intelligence agencies worldwide.
At first glance, this may seem favorable, right?
Well, the situation is a bit more nuanced. Hong Kong is currently under the governance of the People's Republic of China, where only "government-sponsored" VPNs are permitted. Perhaps I am skeptical, a conspiracy theorist, or simply a concerned individual, but anything "government-sponsored" under a totalitarian regime raises legitimate questions.
Considering BlackVPN's location in Hong Kong, it does present an interesting choice.
Ultimately, it is up to you to interpret and evaluate this information according to your own perspective and priorities.
2. No Leaks, but Viruses Detected

Let's consider this as a mixed bag of news.
Starting with the positive aspect, we didn't encounter any DNS leaks during our assessment. This implies that if your VPN connection indicates that you're situated in Amsterdam or the Australian Outback, that's precisely how others perceive your location as well.
Rest assured, there's no need to be concerned about your VPN inadvertently revealing your true whereabouts.
BlackVPN performed excellently in all six DNS leak tests, delivering a strong and promising start to their service.
https://ipleak.net/ (none found)
https://www.perfect-privacy.com/check-ip/ (none found)
https://ipx.ac/run (none found)
https://browserleaks.com/webrtc (none found)
https://www.perfect-privacy.com/dns-leaktest/ (none found)
http://dnsleak.com/ (none found!)

To ensure the accuracy of our testing, we utilized BlackVPN's Australian, Netherlands, and UK servers. We are pleased to report that none of these servers exhibited any IP address leaks.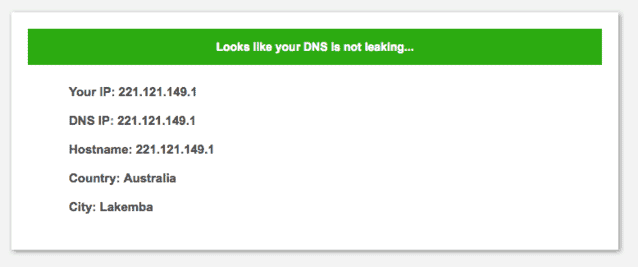 Following the completion of the five DNS leak tests, we proceeded to analyze the VPN installation files using VirusTotal.
Unfortunately, this is where we encountered a significant setback.
Our test revealed two noteworthy issues with the actual files that users are able to download and execute on their machines:

Let's bring this full circle:
It is worth noting that the software being labeled as "government-sponsored" coincides with the presence of two viruses in their installation files.
I leave it to you to draw your own conclusions from these facts.
3. Not Compatible with All Platforms
BlackVPN ensures comprehensive compatibility by supporting a range of operating systems, including Windows, MacOS, Linux, iOS, and Android devices. On their website, you can conveniently access the installation files for each platform through the drop-down menu located at the top right-hand corner of the page.
In addition to its compatibility with routers and the Tor browser, BlackVPN brings further positive news.
However, it is important to note that it is not officially compatible with Smart TVs or gaming consoles. Fortunately, customer support has provided a workaround solution by connecting these devices to a router using BVPN.
Since BlackVPN operates on OpenVPN, including the BlackVPN app itself, there are no dedicated apps to install on smartphones or tablets. Instead, setups need to be done using the OpenVPN app, followed by manual connection to servers through server installations.
On a brighter note, you have the convenience of using the same BlackVPN account on up to seven devices simultaneously.
4. Slow Server Speeds

In reality, testing server speeds is a relatively straightforward process.
Initially, you evaluate your connection speed without any additional encryption. In my case, the default speed recorded 97.00 Mbps download and 53.00 Mbps upload.
Subsequently, you establish connections with various VPN servers and retest the speed.
Typically, you may observe a slight decline in both download and upload speeds. However, ideally, the difference should be negligible.
Unfortunately, our experience in this particular scenario did not align with these expectations. Here are the speed results we encountered on the U.S. servers:

US Server
Ping: 133
Download: 15.23 Mbps (84.3% slower)
Upload: 22.50 Mbps (57.5% slower)
Holy Moly! That is terrible! The download speed is 84% slower?
Let's double-check an EU server to see if this was a one-time thing.

EU Server
Ping: 42
Download: 66.04 Mbps (24% slower)
Upload: 43.01 Mbps (18.8% slower)

The performance falls somewhere between satisfactory and exceptional, without reaching the level of greatness.
One contributing factor to this somewhat skewed performance is the proximity of my actual physical location to the Amsterdam server, rather than the U.S. server.
In general, proximity plays a significant role in determining performance, with closer distances often resulting in better speeds.
However, even considering this factor, there remains a challenge in this case. It is important to recall that BlackVPN's network consists of only 31 servers across 18 countries. Such limited network coverage often presents difficulties in the following areas:
Locating servers that are not burdened by excessive user demands.
Identifying available servers that are relatively close to your initial location.

Hence, it is not merely the subpar results obtained from these one-time speed tests. Rather, considering the limitations of the network, it is reasonable to anticipate consistently sluggish speeds in the future as well.
5. Works with Netflix on the Two Most Expensive Packages

Now let's explore some more news, both positive and negative.
First, the good news.
BlackVPN assured that Netflix would function smoothly on their United States West Coast server. I personally tested and can confirm the veracity of this claim.
This achievement is quite significant, considering Netflix's intensified efforts to restrict VPN usage.
However, the bad news is that the U.S. East Coast server, as well as servers in Canada, the United Kingdom, and the Netherlands, did not provide access to Netflix.
Furthermore, another downside is that the working server is exclusively accessible through the more expensive plan options.
Therefore, if unlocking geo-restricted content is of paramount importance to you, be prepared to invest more financially to avail yourself of this feature.
6. Limited Torrenting

BlackVPN does permit torrenting, but with certain restrictions. Torrenting is only allowed on specific servers that are accessible through selected plans: the Privacy plan (the cheapest option) and the Global plan (the most expensive one).
However, it is worth noting that even with the higher-priced Global plan, users are still prohibited from using the US or UK servers for torrenting purposes.
The reasoning behind this restriction provided by BlackVPN may appear somewhat perplexing:

Isn't the primary purpose of using VPNs to conceal your location?
If your activities can be traced back to the US and UK, it raises concerns about whether this VPN provider is effectively fulfilling its role.
Furthermore, the prominence of the torrenting issue in their terms of service during the sign-up process raises additional questions.

Yes, technically speaking, BlackVPN does permit torrenting. However, the numerous restrictions imposed on this activity make it practically impractical.
7. Features Limited Heavily by Plan

We have indirectly mentioned this aspect in our previous discussions.
However, it is important to emphasize that the features included in your plan are significantly influenced (or rather, restricted) by the amount you are willing to pay.
Here are a few examples to illustrate this point:
Privacy Plan: This plan offers 16 VPN locations, excluding the UK and US. It allows unrestricted P2P/Bittorrent usage, but does not support TV streaming.
TV Plan: With the TV plan, you gain access to 4 VPN locations, including 3 in the US and 1 in the UK. This package enables you to "stream TV from the USA and UK," but it does not support P2P or Bittorrent activities.
Global Plan: The Global plan provides 20 VPN locations, including 3 in the US and 1 in the UK. It allows TV streaming from the USA and UK, as well as unrestricted P2P/Bittorrent usage. However, there is a limitation in this package—US and UK servers cannot be used for P2P and Bittorrent activities.

Unlike most other VPNs we have reviewed, where each plan typically offers full access with differences in signup length and pricing, the same cannot be said for BlackVPN.
Unfortunately, in the case of BlackVPN, this is not the scenario.
---
BlackVPN Cost, Plans & Payment Methods

BlackVPN offers pricing plans starting at EUR 49 (~58 USD) and going up to EUR 99 (~117 USD).
It's worth noting that currently, their pricing plans are only available in annual installments.
When it comes to payment, BlackVPN provides a wide range of options, including:
Credit card, bank transfer, gift cards, and e-wallets, using PaymentWall
Paypal
Bitcoin
FORTY Altcoin cryptocurrencies for anonymous payments

Regrettably, purchasing this app with cash is not an option.
However, they do provide a free three-day trial and a 14-day money-back guarantee, unlike Betternet which has bandwidth limitations. This allows you the freedom to test the service for nearly two and a half weeks before making a commitment to the annual payment.
---
Do You Recommend BlackVPN?

While there are aspects of BlackVPN that I appreciate, such as the pricing options, compatibility with Tor, responsive customer service, robust encryption, and strict no-logging policy, there are some significant drawbacks to consider.
The main concerns revolve around sluggish server speeds and limited access to torrenting or unblocking Netflix, which are only available on specific servers and plans. Additionally, the questionable jurisdiction and the presence of concerning virus warnings raise doubts about the overall reliability of the service.
Considering the availability of other reputable VPN providers like NordVPN, ExpressVPN, or Surfshark, which offer arguably superior features without requiring such sacrifices, it may be wise to explore alternative options.
---
Conclusion
The BlackVPN review provides a comprehensive overview of the service, highlighting its notable features, pricing, and more. According to the review by Review – itis, BlackVPN offers a user-friendly logging policy and robust AES-256 encryption, ensuring a secure browsing experience. The customer support was found to be fast and professional, adding to the overall positive impression.
However, there are certain drawbacks to consider, such as BlackVPN being based in Hong Kong, the detection of viruses, limited platform compatibility, and slow server speeds. Additionally, the availability of certain features is heavily dependent on the chosen plan. While BlackVPN works with Netflix on the higher-priced packages, torrenting is limited. Despite these limitations, the review concludes that BlackVPN is a viable option for those seeking a VPN service.
---
For More amazing articles related to VPN Check out our website Over Here
To Read more similar articles click here
Thanks for visiting our Website. If you appreciate our work, kindly show us some support in our comments section 🙂