Hey there, casual fashion enthusiasts and sneaker aficionados! Today, we embark on a thrilling journey through the realm of men's casual canvas sneakers—the ultimate choice for everyday wear. These sneakers combine style and comfort effortlessly, providing the perfect footwear option for your day-to-day adventures. In this carefully curated guide, we unveil the best casual canvas sneakers that will elevate your fashion game while ensuring unmatched comfort.
Table of Contents
From renowned brands to innovative designs, these sneakers are the key to achieving that coveted blend of effortless style and ease. So, get ready to walk with confidence, embrace the versatility, and let these extraordinary casual canvas sneakers become your trusted companions for everyday wear.
---
The Best Men's Casual Canvas Sneakers
Vans Era Sneakers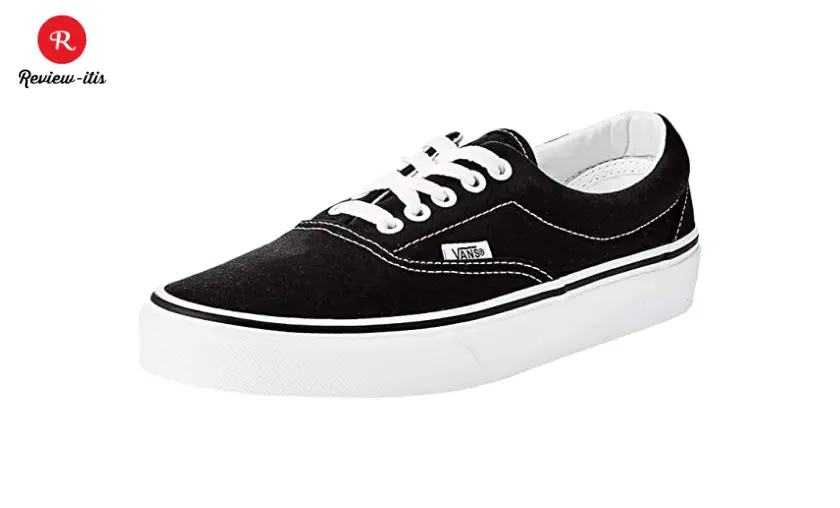 Features
Sizes Available: 6.5-13
Fit: Regular
Colors available: 8
Style: Sneaker
Whether you're strolling along the glamorous beaches of the French Riviera or grooving to the beats in a muddy field, these iconic sneakers have got you covered. Vans has been crafting impeccable footwear since your parents were in diapers, and their sturdy canvas uppers and durable waffle rubber soles have stood the test of time.
When it comes to must-have sneakers for guys, the Vans Era is a true classic. This timeless design first hit the scene in 1976 and gained popularity among the legendary Z-Boys, a group of skateboarders hailing from Santa Monica and Venice, California. The Era's effortless style makes it a versatile option for any occasion. Pair them with a long-sleeved tee and khakis for a laid-back vibe, or dress them up with slim jeans and a button-down shirt to elevate your look.
---
Oliver Cabell Low 1 New York Sneakers
Features
Sizes Available: 5-15
Fit: Regular
Colors available: 1
Style: Sneakers
While I appreciate a fresh pair of white kicks just as much as the next guy, let's not overlook the undeniable allure of black canvas shoes. These versatile darlings offer a do-it-all solution that won't leave you paralyzed with fear every time you encounter a little dirt. Black is the name of the game when it comes to low-maintenance footwear that still packs a punch. Trust me, it's a game-changer for your week-to-weekend wardrobe.
Let me introduce you to the Low 1 New York sneakers from the mastermind Oliver Campbell. These babies are crafted using 3oz full-grain leather and organic cotton canvas, ensuring both durability and style. The distressed aesthetic makes them stand out (and no, those soles aren't actually dirty). The worn-in look adds a touch of effortless cool that pairs perfectly with everything from ripped denim to dark khakis and even cargo pants.
---
Converse Jack Purcell Canvas Sneakers
Features
Sizes Available: 3-16
Fit: Regular
Colors available: 3
Style: Sneaker
These babies are a crowd favorite for a reason! They effortlessly blend style and versatility, making them an absolute wardrobe essential that you can rely on day in and day out. The beauty of white canvas shoes, especially during the warmer months, is unparalleled. And let's not forget the satisfaction of keeping them immaculately clean.
Enter the Jack Purcell from Converse, an iconic silhouette that has stood the test of time. These gems feature a canvas upper and a rubber sole with herringbone details, offering both comfort and durability. Originally crafted and sported by the legendary badminton champ Jack Purcell himself, these kicks have been gracing the feet of fashion-forward men since 1935. Whether you're looking to spruce up some sweatpants or rock them with your trusty jeans and a graphic tee, the Jack Purcell will easily elevate your style game.
---
Sperry Bahama Ii Boat Shoes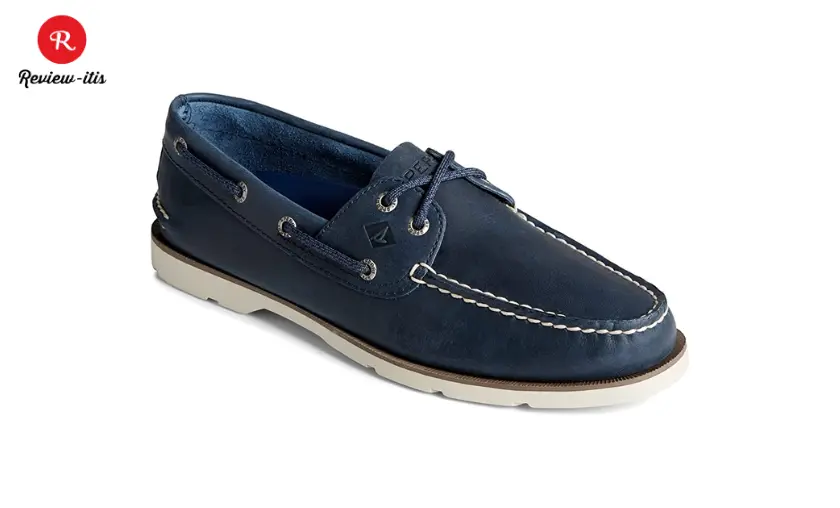 Features
Sizes Available: 7-16
Fit: Regular
Colors available: 11
Style: Boat Shoe
We owe a debt of gratitude to the brilliant mind of Paul A. Sperry, who drew inspiration from his furry friend's paws gripping on ice to create this iconic footwear. Without him, we would have missed out on the summer essential we all adore today.
Fast forward almost a century, and Sperry's timeless creation continues to be the go-to shoe for city escapades, lively garden parties, and everything in between. Enter the Bahama II, a stellar choice when you crave a touch of comfort without sacrificing style. This versatile gem effortlessly pairs with tailored shorts for a sophisticated look or rocks the scene with khakis or jeans for a more relaxed vibe.
---
Converse Chuck 70 Canvas Sneakers
Features
Sizes Available: 6-13
Fit: Regular
Colors available: 2
Style: Sneakers
For some serious style wisdom because no guide on canvas casual sneakers would be complete without mentioning the iconic Chuck Taylors. These legendary shoes have graced the feet of some of the most stylish men in the world, including the legendary Kurt Cobain. Trust me, these kicks are the real deal and are sure to leave a lasting impression.
Enter the Chuck 70, the epitome of coolness. Crafted from durable canvas and equipped with cushioned footbeds, these sneakers will be your faithful companion through every season. Whether you're rocking them with laid-back sweatpants on the weekend or elevating your style game with slim-fitting jeans, the Chuck 70s have got you covered. They exude a timeless appeal that effortlessly merges fashion and comfort, making them a must-have for any discerning sneaker enthusiast.
---
Stepney Workers Club Varden S-strike Canvas Sneakers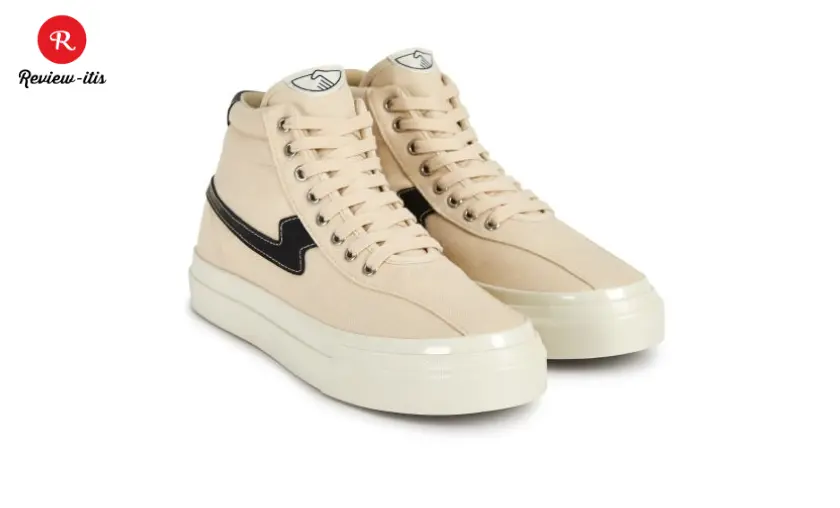 Features
Something about the extra material gives high-tops that rock 'n roll edge and screams, "I'm a cool guy." It's like getting a little extra bang for your buck in terms of style.
Enter Stepney Workers Club's canvas high-tops, a footwear choice that leaves no room for doubt about your serious style game. With their cotton canvas uppers and chunky vulcanized rubber soles, these kicks are designed to turn heads and spark conversations at any occasion, be it a garden party, a casual lunch, or a night out at the bar. Whether you're pairing them with laid-back dad jeans and an oversized tee or rolling up some khakis and rocking a flannel shirt, these high tops bring a level of effortless coolness to your ensemble that's hard to match.
So, if you're ready to make a statement and embrace that undeniable rock 'n roll appeal, Stepney Workers Club's canvas high-tops are here to elevate your style and show that you mean business. These sneakers are perfect for those who want to showcase confidence and individuality.
---
Aurélien Playtime Sneakers
Features
Sizes Available: 7-12
Fit: Regular
Colors available: 1
Style: Sneakers
When it comes to men's canvas shoes, they generally lean more towards the casual side on the formality scale. However, that doesn't mean there aren't options that strike a balance between casual and dressy. These versatile styles are the go-to choice that can complement a range of outfits, from slacks and sweatpants to shorts.
Take, for example, Aurélien's Playtime sneakers. These shoes perfectly exemplify the middle ground with their stylish blue suede paneling and a reliable canvas upper. They possess a level of sophistication that makes them suitable for pairing with a suit, yet they also effortlessly elevate a simple jeans-and-tee ensemble. The beauty of these sneakers lies in their adaptability, allowing you to seamlessly transition from a formal setting to a more relaxed one.
So, if you're looking for that ideal shoe that strikes the right balance between casual and dressy, Aurélien's Playtime sneakers are a fantastic choice.
---
Morjas Canvas Espadrilles
Special Features
Sizes Available: 2.5-12.5
Fit: Regular
Colors available: 3
Style: Espadrilles
When it comes to espadrilles, this pair from Morjas checks off all the right boxes. Meticulously handcrafted in Spain, they showcase exceptional quality and attention to detail. Made from organic canvas, these shoes exude a natural charm, while their jute sole, slightly elevated compared to your typical espadrille, adds a touch of sophistication.
This subtle elevation elevates their overall appearance, making them a versatile option that can be dressed up for more formal occasions or worn casually on the beach. From beachside strolls to enjoying a delightful alfresco dining experience, these espadrilles from Morjas are the perfect stylish companion.
---
Hey Dude Wally Shoes
Features
Sizes Available: 6-15
Fit: Regular
Colors available: 70+
Style: Slip-On
When it comes to men's canvas shoes, comfort is key, and few brands can rival the cushion-like feel of Hey Dude. Established in the early 2000s with a clear vision of delivering comfortable, lightweight, and long-lasting footwear, Hey Dude has quickly become a leading name in stylish slip-ons. Their shoes are an essential addition to any guy's collection.
Among Hey Dude's impressive lineup, the Wally stands out as one of their most beloved styles. Perfect for running daily errands or embarking on weekend adventures, the Wally comes in a staggering array of over 70 different designs, ensuring there's a style to suit every taste. Whether you pair them with cargo shorts, jeans, or khakis, you can count on achieving a smart-casual look that not only looks great but also feels incredibly comfortable.
You don't have to compromise on style or comfort with Hey Dude. Their commitment to delivering lightweight, durable shoes that prioritize your well-being is evident in every step. So, if you're in search of the perfect blend of style and comfort in men's canvas shoes, look no further than Hey Dude's Wally.
---
Mulo Canvas Loafers
Special Features
Sizes Available: 7-13
Fit: Regular
Colors available: 1
Style: Loafers
If you're in search of a shoe that strikes the perfect balance between casual comfort and an elevated look suitable for beach bars and leisurely afternoon lunches, look no further than Mulo's loafers. These loafers feature natural rubber soles that provide surprising durability and add a touch of sophistication to the overall design. With elasticated sides and cushioned footbeds, these loafers offer superior arch support and ensure all-day comfort that will keep you going from morning till night.
Mulo's loafers are a prime example of how canvas shoes can combine style and practicality. Their versatile design effortlessly bridges the gap between relaxed summer footwear and a more refined look suitable for various occasions. So, if you're on the hunt for canvas shoes that offer both comfort and a touch of sophistication, Mulo's loafers are the perfect ticket to elevate your summer style while keeping your feet cool and comfortable.
---
Conclusion
As we wrap up this exciting exploration of casual canvas sneakers, remember that fashion and comfort go hand in hand. The best sneakers we've unveiled in this guide are more than just stylish footwear—they're a symbol of effortless fashion and everyday practicality.
With their comfort, versatility, and timeless appeal, these sneakers will become your trusted companions on every step of your daily adventures. So, step into confidence, embrace the laid-back vibes, and let these extraordinary casual canvas sneakers be your go-to choice for everyday wear.
---
To read more similar articles, click here.
Thanks for visiting our Website. If you appreciate our work, kindly show us some support in our comments section 🙂