In the realm of cars, tools, or even chocolate, the label "Made in Germany" has long been synonymous with exceptional quality. G DATA, a German software producer, seems eager to embrace this reputation by incorporating the Germanglish phrase "Trust in German Sicherheit [Security]" into its latest logo. However, one must question the necessity of this marketing ploy.
It's worth noting that back in 1987, G DATA achieved a significant milestone that none of its competitors in our sample can boast: the development of the first antivirus software. Yet, as malware has evolved over the decades, undergoing countless sophisticated mutations, the question remains: has G DATA managed to stay ahead of the curve? In this review, we'll delve into whether or not G DATA has effectively kept pace with the ever-changing landscape of cybersecurity.
Table of Contents
---
What Is G DATA Antivirus?
G DATA*, a prominent German cybersecurity company based in Bochum, specializes in delivering top-notch antivirus software for a diverse range of operating systems, including Windows, macOS, Android, and iOS.
Catering to both individual users and corporate clients, G DATA offers a comprehensive suite of solutions. Like many providers in our sample, G DATA offers multiple software packages with varying features and price points. In this review, we primarily tested Total Security 2020 for Windows but will also draw upon other packages to provide a comprehensive evaluation.
---
G Data Antivirus Review
Pros
Provides a diverse range of features and configuration options to choose from.
Displays a comprehensive overview of security levels in the menu bar/dashboard for easy reference.
Delivers exceptional support services to cater to all user needs.
Cons
Fairly complicated desktop app
"Only" solid scores from the testing labs
Slightly outdated user interface
---
Installation & Usage
G DATA may not be the quickest off the mark when it comes to installation. From the moment we launched the program's installer, it took a total of eight minutes before we could fully utilize the service on our laptop.
However, once the installation process is complete, you have two options: entering a registration code to unlock the full version or starting a free trial subscription. Unlike other antivirus programs, if you choose the latter option, there's no need to provide payment information, eliminating the risk of getting caught in an unwanted subscription. Once the installation is wrapped up, a simple computer restart is all that's left before you can start using the program.
While red typically represents danger, G DATA takes a different approach with its dashboard design. By default, the upper menu bar of the dashboard is adorned in a bold crimson hue. However, upon clicking any of the icons, they transform into a subdued grey color. Admittedly, the color choice was initially striking to our eyes and took a few seconds to adjust to. Nevertheless, this is more a matter of personal taste than any substantive issue.
The bulk of G DATA's dashboard is positioned below the eye-catching red menu bar, encompassing a comprehensive array of the software's features categorized for easy navigation. Following industry norms, G DATA adopts the familiar color code: green signifies a healthy status, while red flags areas that require attention.
Ideally, your dashboard will be adorned with plenty of green indicators, as G DATA sets itself apart from other providers in our sample by presenting a holistic view of your security levels and the up-to-dateness of your virus definitions. This transparent approach eschews the random display of individual components that demand immediate attention. Although this results in a slightly busier main screen compared to its competitors, we appreciate the clarity it provides.
To fine-tune settings or toggle specific elements, simply click on the desired security level. Accessing the settings themselves is a breeze – just click on the gear symbol located in the upper right corner.
Within the main menu of G DATA's Total Security package, you'll come across ten modules: "Security Center," "AntiVirus," "Firewall," "Backup," "Password Manager," "Tuner," "Parental Controls," "Encryption," "Autostart Manager," and "Device Control." While the names of these modules only become visible when you hover over their corresponding symbols or click on them in the red bar, they are relatively self-explanatory, aided by intuitive icons.
Regrettably, the program does experience some lag: Menu titles take a moment to appear, and navigating between submenus is not as seamless as it ideally should be.

Unlike some competitors, such as ESET, G DATA Total Security doesn't shy away from showcasing its power. Rather than burying its complexity within obscure submenus that only tech-savvy users would venture into, G DATA lays its cards on the table. For those less experienced in technical matters and seeking a straightforward security boost, G DATA's interface might come across as overwhelming. However, if you value the ability to fine-tune your computer's security settings, you'll appreciate the intuitiveness G DATA has achieved.
Nevertheless, we must address some drawbacks. G DATA's user interface is disappointingly slow and lacks a modern appearance, in our opinion. In terms of usability, we found ourselves more inclined towards how other programs handled their interfaces, which led us to deduct some points from G DATA in our evaluation.
---
Features

When it comes to G DATA packages, you can expect a solid foundation of security features, including basic security, real-time protection, and the ability to conduct manual scans. One notable aspect of G DATA's offering is its utilization of a dual-engine system, harnessing both its own engine and the reputable Bitdefender engine. This additional firepower instills confidence, particularly considering Bitdefender's impressive ratings from independent testing labs. Rest assured, G DATA comes pre-installed with both engines, but if you prefer, you have the flexibility to make changes to this configuration.
Manual scans with plenty of room for customization
To access manual scans in G DATA's interface, navigate to the second option from the left in the upper menu bar of the dashboard, labeled "AntiVirus," within the "Manual virus check" category. Here, you'll discover six scan options at your disposal. The "Computer check" is particularly noteworthy as it thoroughly examines all local hard drives. Additionally, G DATA offers scans for specific folders, files, removable media, rootkits and storage, as well as the autostart feature.
What sets G DATA apart is its robust automation and scheduling capabilities. You have extensive control over customization in these areas. For instance, you can schedule scans to occur on a one-off, hourly, daily, weekly, or even monthly basis. Furthermore, you can configure scans to initiate when your system starts up. In terms of analysis, you can add exceptions and specify how the program should handle infected files, granting you flexibility and control over the scanning process.
Real-time protection for a comprehensive defense
G DATA offers comprehensive real-time protection features that can be individually enabled or disabled according to your preferences. These include "BEAST" (behavior-based malware identification), "Exploit Protection" (safeguards against security vulnerabilities in your installed software), "Deep Ray" (protects against unauthorized access), and "Ransomware Protection" (defends against crypto-Trojans that hold your files hostage for ransom).
Across all three of its paid packages, G DATA ensures Internet and Phishing protection. To enhance browser security, dedicated extensions are available for popular browsers such as Google Chrome, Mozilla Firefox, and Microsoft Edge. Additionally, G DATA actively scans incoming and outgoing emails, further bolstering your protection against potential threats.

G DATA's "BankGuard" feature offers robust protection for your online banking activities and digital transactions. This component works automatically, swiftly detecting and replacing any storage areas affected by Trojans. In addition to this, G DATA provides safeguarding against keylogging, ensuring the security of your sensitive information. You also have the flexibility to choose specific programs for which this protection should be activated, adding an extra layer of control.
When it comes to data shredding, or completely erasing files to eliminate any traces on your device, G DATA makes it simple. By right-clicking on the file or folder in question, you can easily access the appropriate option to perform the data shredding process, granting you peace of mind regarding data security.
G DATA Internet Security Features

For users of G DATA's Internet Security package and above, an added layer of protection comes in the form of a firewall. This valuable feature empowers you to prevent unauthorized access to your network, effectively keeping unwanted guests at bay. The firewall comes preconfigured with five levels of security, ensuring a strong defense right out of the box. However, G DATA also offers the flexibility for users to customize these settings according to their specific needs and preferences, granting you full control over your network's security.

G DATA understands the importance of protecting children online, which is why their software includes robust parental controls. Administrators can easily create new user profiles and establish specific rules to govern the type of content children can access while browsing the Internet. Whether it's blocking broad categories like explicit or violent content or setting daily time limits for web browsing, G DATA's parental controls provide a reliable solution. During our testing, we found that sites we had designated to be blocked were indeed inaccessible, confirming the effectiveness of these controls.
In addition to parental controls, Internet Security customers can benefit from cloud backups. This feature enables users to create encrypted backups of their files stored on popular platforms such as Dropbox, Google Drive, or DriveOnWeb. Total Security users enjoy even more extensive backup capabilities, allowing them to leverage advanced features for enhanced data protection. G DATA caters to the diverse needs of its customers, providing comprehensive solutions to safeguard both families and valuable data.
Total Security Features

With the Total Security package, G DATA offers its customers the ability to create comprehensive backups of entire drives. These backups can be stored either in the cloud or locally, giving users flexibility and peace of mind regarding their data protection.
In addition, the Total Security package includes a password manager that seamlessly integrates with popular browsers such as Chrome, Firefox, or Edge/Internet Explorer through a convenient browser extension. This password manager allows you to securely store login credentials, contact information, and notes, while also generating strong passwords automatically. While G DATA's password manager is a valuable feature, it's important to note that dedicated password managers offer more robust functionality. If you're specifically seeking a password manager solution, I recommend checking out our detailed reviews on the best stand-alone options available.

G DATA offers a useful data encryption feature that allows you to add an additional layer of protection by applying passwords to sensitive information and files. This means you can safeguard entire storage devices like USB sticks, ensuring that your confidential data remains secure.
Additionally, G DATA provides performance tuning and device control functionalities. With device control, you have the ability to manage and regulate the connections of USB sticks, hard drives, and other devices to your PC or laptop. This feature empowers you to control who can access and connect external storage devices, effectively preventing the potential infiltration of malware onto your system.
However, it's important to note that G DATA does not currently include a VPN (Virtual Private Network) in any of its packages. If VPN functionality is a priority for you, I recommend exploring alternative options that offer this feature.
Mobile Features

G DATA extends its antivirus protection to mobile devices through G DATA Mobile Security, available for both Android and iOS. Starting with the Internet Security package, each package includes a Mobile Security license, while Antivirus customers can opt for Mobile Security at an additional cost. For those seeking a free option, Mobile Security Light is offered, though it solely provides definition-based antivirus protection without the inclusion of additional features like real-time protection, web protection, or anti-theft protection.
The mobile app's design, although basic, offers a user-friendly experience with easy navigation. By tapping the hamburger icon in the upper left, users can access the main menu, where all features are conveniently listed. Virus scans can be configured in settings, allowing users to set the frequency (in days) and choose between scanning the entire system or just installed apps.
One notable feature is the web protection capability, which effectively prevents phishing attacks in popular browsers like Chrome and Firefox. Additionally, under the settings, users can find Wi-Fi protection, a valuable feature that safeguards against ARP-spoofing and addresses security vulnerabilities in their network. G DATA Mobile Security provides an essential layer of protection for your mobile devices, ensuring your peace of mind while using them.

G DATA Mobile Security features an app lock for securing specific apps with an extra password, but does not include a 'camera trap' feature.
Anti-theft protection and parental controls

G DATA Mobile Security goes beyond antivirus protection and offers valuable features such as anti-theft protection. With this feature, users can lock or track their phone in case of a SIM card change. The software also allows users to activate automatic location pinging when the phone's battery is low and triggers a warning signal when headphones are removed, aiding in the quick identification of theft attempts. Through the Action Center, users can efficiently manage their devices, locate them, or remotely delete files if necessary.
The mobile version of G DATA also includes robust parental controls, providing options to block specific apps or set usage limits for children and teenagers. Among these features, the Panic Button stands out as a nifty addition. Placed as a widget on the home screen, it instantly alerts designated contacts about the user's location in case of emergencies, ensuring swift assistance when needed. G DATA Mobile Security offers comprehensive protection and convenience for users, empowering them to safeguard their devices and their loved ones.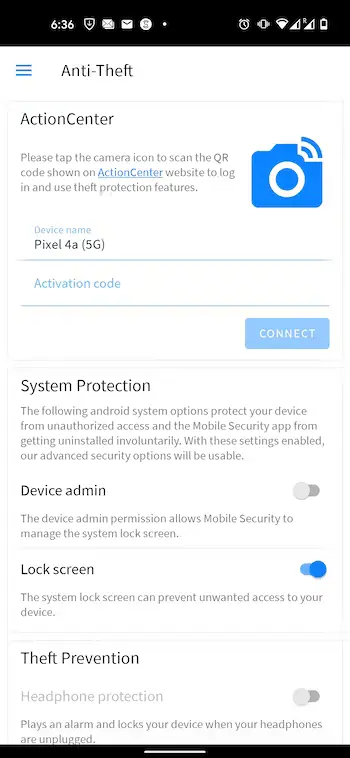 G DATA's desktop app left a lasting impression on us with its robust functionality and user-friendly interface. We were pleased to find a wide range of features and customization options readily accessible without any attempt to obscure their complexity. Similarly, the mobile app also received our seal of approval, boasting an equally impressive array of features. G DATA has effectively delivered powerful and intuitive solutions for both desktop and mobile platforms, earning our admiration for their comprehensive offerings.
---
Security & Performance
To evaluate the effectiveness of G DATA's antivirus software, we turned to industry-leading testing labs such as AV-Test and AV-Comparatives. These reputable organizations provide comprehensive assessments of antivirus programs, assigning scores for performance and security. G DATA undergoes regular evaluations by these labs, allowing for meaningful comparisons against other software in our sample. By leveraging the insights from these trusted testing authorities, we can gain valuable insights into G DATA's performance and its standing in the antivirus market.

The evaluations conducted by AV-Test and AV-Comparatives yielded slightly divergent results for G DATA. AV-Test consistently showcased strong performance, with G DATA achieving impressive scores. In the most recent assessment conducted by AV-Test in June 2021, G DATA received 5.5 points out of 6 for security and maximum points for performance. However, AV-Comparatives' Real-World Protection Test, spanning from February to May 2021, deducted points due to a 0.7% false positive rate during analysis. In the performance test, G DATA ranked lower compared to other solutions.
During our own evaluation, we didn't encounter any significant performance issues. A complete system scan took approximately 40 minutes and didn't noticeably impact basic tasks like launching programs or copying data.
Overall, our impression of G DATA was positive, although the assessment by AV-Comparatives may raise some concerns.
---
Support

G DATA's support center offers a wealth of resources including comprehensive guides, helpful tips, and an extensive FAQ section. With the aid of the full-text search feature, users can swiftly locate the precise information they need without any unnecessary hassle. The help page is thoughtfully organized and features user-friendly tutorials that guide you through various processes step by step.
When it comes to live support, G DATA promises round-the-clock assistance via hotline and email. We experienced wait times ranging from one to ten minutes when contacting their hotline, but once connected, the support staff was exceptionally friendly and knowledgeable, providing valuable assistance. Additionally, our email inquiry received a prompt response within eight hours.
Overall, our encounters with G DATA's support were positive, with prompt and competent responses to our inquiries. While a live chat option would be a valuable addition, we were satisfied with the assistance received.
---
Pricing

G Data offers competitive pricing options for its antivirus software. For a single license, customers can save $10, as it is priced at $29.95. If you're looking to protect multiple devices, the three-license package is available at $39.95, providing a cost-effective solution. And for just an additional $10, you can extend the coverage to five devices, making it a great value for those with multiple devices to safeguard. G Data's pricing structure offers flexibility and affordability, catering to the diverse needs of users seeking reliable antivirus protection.
---
Conclusion
G DATA offers a feature-rich antivirus software that combines a high level of customization with strong security performance according to independent testing labs. The support provided is also commendable. However, those seeking a simpler solution or a more minimalist dashboard may prefer other antivirus programs. While AV-Comparatives had a less favourable assessment, our own evaluation didn't align with their findings. Overall, users who appreciate the ability to finely manage their system's security will find G DATA to be a reliable choice.
---
or more amazing articles related to antivirus Check out our website Over Here
To read more similar articles click here
---
Thanks for visiting our Website. If you appreciate our work, kindly show us some support in our comments section 🙂