When it comes to purchasing clothes, trying them on beforehand is an absolute must. Not only does it guarantee a perfect fit, but it also ensures you exude confidence and feel fantastic in your chosen garments. Unfortunately, a surprising number of folks lack the know-how when it comes to proper clothing try-on, leading to regrettable purchase choices.
Fret not, for in this enlightening piece, we shall impart valuable wisdom on the art of trying on clothes before committing to a purchase. By following these expert tips, you'll be equipped with the certainty that your decision is spot-on.
Table of Contents
How to Try on Clothing Properly Before You Buy
---
Know Your Measurements
Before diving into the wonderful world of trying on clothes, it's crucial to acquaint yourself with your measurements. We're talking about getting to know your waist, hips, bust, and inseam like the back of your hand. Why? These magical numbers will be your trusty companions in selecting the perfect size and steering clear of those pesky, too-tight, or way-too-loose outfits.
Now, you've got a couple of options: you can grab a tape measure and conquer the measuring mission in the comfort of your own home, or if you're feeling extra fancy, let a seasoned pro handle it at a tailor's shop.
---
Try on the Right Size
Now that you've got your measurements down pat, it's time to crack the code and select the perfect size to give a whirl. Keep in mind, though, that not all brands play by the same sizing rules. So brace yourself for a bit of trial and error, my friend. Trying on a few different sizes is the name of the game to unveil that flawless fit.
And here's a pro tip: when slipping into those fabulous garments, don't be tempted to go for the size you wish you were. Nope, no mind games here. Stick to the size that matches your trusty measurements, like two peas in a pod. Stay true to yourself, and your clothing will follow suit!
---
Dress Appropriately
"When you embark on your trying-on adventure, dressing the part is key, my friend. Opt for attire that's a breeze to slip in and out of, like a comfy tee and jeans or a trusty pair of leggings. Steer clear of those bulky garments that might cloud your judgment and make it tricky to assess the fit.
Oh, and remember the footwear! Rock a pair of shoes that effortlessly slide on and off because you never know when you might want to test-drive a few different kicks with your ensemble. Remember, the right clothes and shoes will set the stage for your style exploration!
---
Check the Fit
When you step into the realm of trying on clothes, my discerning friend, pay heed to the crucial factor: fit. Give those garments a thorough once-over, ensuring they're not squeezing your life out or hanging like a loose sack. No bunching or pulling allowed! It's time to unleash your investigative skills, so station yourself in front of a trusty full-length mirror and inspect the fit from every possible angle.
Get proactive and put those clothes through their paces—sit down, move around, and see how they fare when you're in action mode. And if pants or jeans are on your radar, take a moment to verify that the length is just right. If dresses have caught your eye, make sure they're playing games with length either—neither too short nor too long. Your keen eye and savvy judgment will guide you to fashion victory!
---
Consider the Fabric
When venturing into the realm of trying on clothes, take a moment to ponder the magical threads that weave them together. Keep in mind that some fabrics, like trusty cotton or breezy linen, have a tendency to shrink after a good wash, so sizing up might be the savvy move. On the other hand, fabrics like versatile polyester or stretchy spandex may gracefully expand over time, nudging you to consider sizing down.
And let's remember the sensory experience. Listen to your skin's preferences, my friend. If you've sensitive skin demanding extra TLC, it's wise to steer clear of scratchy or itchy fabrics. Embrace the fabric whispers and choose your next outfit with care.
---
Ask for a Second Opinion
When embarking on the exhilarating journey of trying on clothes, my style-savvy comrade, an extra set of discerning eyes, can work wonders. Enlist the assistance of a trusted friend or family member to provide that much-needed objective perspective on how the clothes truly look and fit. Their insights can be invaluable in your quest for sartorial perfection.
And if you find yourself at a crossroads, wondering about a particular ensemble, here's a pro tip: snap a picture of yourself wearing it and seek feedback from the fashion aficionados in your life. Let their collective wisdom guide you toward your most fabulous fashion decisions. Remember, two heads—or even a whole squad of fashion enthusiasts—are better than one!
---
Shop for Clothes at the Right Time
When it comes to trying on clothing like a pro. Let's unlock this secret together. Picture this: you're on a mission to find your next killer outfit. Here's the key: avoid embarking on this adventure when you're hungry or tired. Why, you ask? Well, because these conditions can cast a gloomy shadow on your mood and zap away your patience.
And we both know that patience is a virtue in the world of fitting rooms. Oh, and another pro tip—steer clear of those peak hours. Trust me, you don't want to find yourself surrounded by a bustling crowd in the fitting rooms, transforming the experience into a stress-inducing affair. Choose your shopping time wisely, my friend, and embrace the journey with a clear mind and a joyful spirit.
---
Wear Undergarments that Fit Well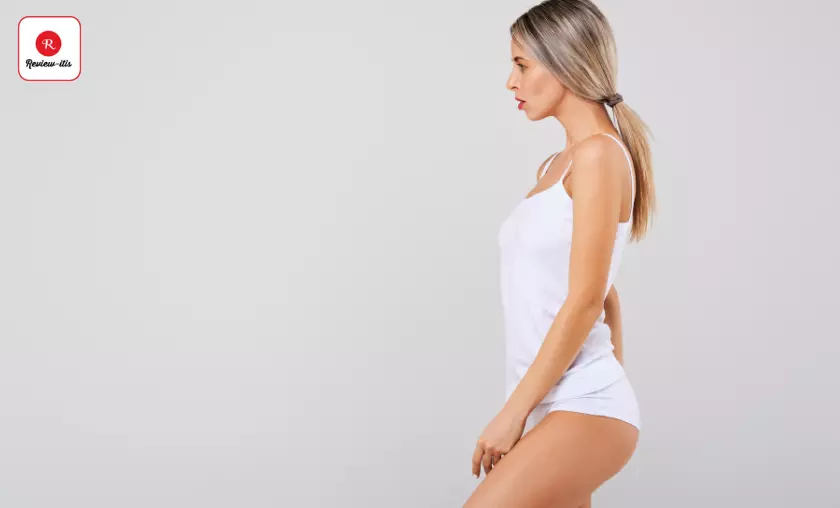 When embarking on the glorious adventure of trying on clothes, never underestimate the power of well-fitting undergarments. You see, they hold the key to unlocking the perfect fit and ensuring your clothes look absolutely flattering on you. On the other hand, ill-fitting undergarments can throw off the entire ensemble, making it less than ideal.
Oh, and let's remember the color coordination game. Choosing undergarments that harmonize with the clothes you're trying on is essential. Opt for nude shades when in doubt—they tend to be your best bet, gracefully concealing themselves under light-colored garments. Remember, my friend, the right undergarments are the unsung heroes that will elevate your fashion game to new heights.
---
Experiment with Accessories
Brace yourself for the exciting revelation that trying on clothes isn't just about the garments themselves—it's an invitation to embark on a transformative journey with the right accessories. Picture this: you're standing in front of that mirror, ready to unleash your styling prowess. It's time to experiment! Grab a belt and witness its marvelous cinching power as it accentuates your waist, creating a jaw-dropping silhouette with that dress or shirt.
But wait, there's more! Reach for that eye-catching statement necklace or those stunning earrings, and watch as they effortlessly elevate your casual ensemble to new heights of formality and elegance. The right accessories are the secret ingredients that can shape-shift your outfit, allowing you to express your unique style and leave a lasting impression. Embrace the power of experimentation, my friend, and let your accessories work their magic.
---
Move Around in the Clothes
When you embark on the thrilling adventure of trying on clothes, remember to put them to the test. Yes, that's right—get your groove on and move around to truly gauge their feelings. Take a stroll, have a seat, and even give yourself a good stretch. The goal? Ensuring that these clothes are your ultimate partners in crime, never restricting your movement in any way.
My fitness-minded friend, this becomes especially crucial when you're trying on activewear or workout clothes. After all, you deserve clothing that empowers you to conquer any challenge, allowing you to bend, stretch, and reach for greatness. So, embrace the freedom of movement, put those clothes through their paces, and let your fashion choices align seamlessly with your active lifestyle.
---
Check the Seams and Buttons
When you embark on the grand adventure of trying on clothes, don't forget to pay homage to the often-overlooked heroes—seams and buttons. Take a moment to inspect these tiny details, for they hold the key to long-lasting garments. Run your keen eyes along the seams, searching for any loose threads or signs of fraying. A well-made garment will proudly display sturdy craftsmanship, promising durability and resilience even after numerous wears. Now, let's talk buttons.
Give them a gentle tug to ensure they're securely attached, steadfastly resisting any attempts to detach. After all, you deserve clothing that withstands the test of time, accompanying you on countless fashionable escapades. With your meticulous inspection, my friend, you'll confidently stride forward in clothes that are as dependable as they are stylish.
---
Consider Alterations
The sweet allure of a cherished garment that captures your heart, even if it doesn't fit like a glove. Fear not, my style-savvy friend, for alterations hold power to transform and elevate that piece of clothing to perfection. Picture this: a simple tweak like shortening the hemline or nipping in the waist can work wonders, sculpting the garment to your unique shape and bringing out its full potential.
Embrace the art of tailoring, for it can make a monumental difference in how a piece of clothing embraces your body and showcases your personal style. However, do keep in mind that alterations come at a cost, so it's wise to factor that into your decision-making process. With the right alterations, my fashion-forward comrade, you'll forge a bond with your beloved garments, ensuring they align flawlessly with your vision of sartorial excellence.
---
Don't Be Afraid to Walk Away
As you try on clothes, remember this golden rule: never fear walking away from a piece that doesn't embrace you like a long-lost friend or fails to ignite that irresistible spark of confidence. Trust your instincts, for they are your most faithful guides in the quest for sartorial excellence. It's far better to leave the store with empty hands, preserving your impeccable taste, than to settle for something that will collect dust in your wardrobe, never seeing the light of day.
Remember, trying on clothing is a sacred process, a voyage of self-expression. It may take time, my friend, to uncover that perfect outfit that truly speaks to your soul. So, be patient, trust the process, and revel in the anticipation of discovering the fashion gems that are waiting to be unearthed.
---
Don't Rush
In the wondrous realm of trying on clothes, remember this cardinal rule: haste is the enemy of sartorial success. So, slow your stride, take a deep breath, and immerse yourself in the journey of making the right decision. Yes, trying on clothes may demand an investment of time, but trust me when I say it is an investment well worth making.
For what awaits you on the other side is a treasure trove of garments that will embrace you with a perfect fit, infusing you with an unwavering sense of confidence. So, release the pressure of time, my friend, and savor every moment of this process. For in the realm of fashion, patience is the key that unlocks the door to style triumph.
---
Conclusion
In the grand finale of our fashion expedition, we unveil the profound significance of trying on clothing properly. It is the cornerstone, the compass that guides us towards garments that are not merely fabric and thread but gateways to self-assurance and impeccable style. By embracing the wisdom of these additional tips, you will embark on a journey of informed choices, shunning the specter of buyer's remorse.
Engrave them in your fashion manifesto: Shop at the opportune moment, shrouding yourself in well-fitting undergarments as a canvas for sartorial brilliance. Dare to explore the transformative power of accessories, for they are the enchanting notes that compose your fashion symphony. Immerse yourself in motion, for true liberation comes from clothes that seamlessly accompany your every step. Engage your discerning eye, seeking the hallmarks of exquisite craftsmanship within the subtle seams and steadfast buttons. Contemplate the possibility of alterations, where threads intertwine to shape a bespoke fit that transcends expectation.
And in the face of uncertainty, find the courage to gracefully walk away, knowing that the perfect garment awaits your discovery.
Embrace these guiding principles, my fellow fashion voyager, and unlock the realm of garments that caress your form with divine harmony. Let the fusion of comfort and style become your signature anthem. With these timeless tips etched upon your heart, you will confidently embark upon each sartorial pursuit, knowing that you will discover clothes that embrace you perfectly, instilling an aura of radiance. The art of trying on clothing properly is your passport to a world where fit, aesthetics, and self-assurance intertwine—a realm where you embody the epitome of beauty and your garments mirror the brilliance within
---
To read more similar articles, click here.
Thanks for visiting our Website. If you appreciate our work, kindly show us some support in our comments section 🙂