Ladies and gentlemen, eco-conscious fashion enthusiasts and sustainability advocates, get ready to dive into the world of the best Sustainable & Eco-friendly Shoes! In a world where the fashion industry's environmental impact is under scrutiny, it's crucial to make conscious choices that minimize harm to the planet without compromising style and comfort.
In this carefully curated guide, we unveil a collection of footwear options that exemplify the marriage of sustainability and fashion-forward design. From innovative materials made from recycled plastic bottles and organic cotton to brands committed to fair trade and ethical production, these sustainable and eco-friendly shoes are a testament to the power of conscious consumerism.
Table of Contents
So, slip into the realm of eco-conscious fashion, take a stand for a greener future, and let these extraordinary shoes redefine your style with their sustainable charm.
---
The Best Sustainable and Eco-friendly Shoes
Teva ReEmber Dinoster
Materials
Recycled ripstop
recycled polyester microfiber lining and heel
EVA sock liner
recycled rubber
Got a little dinosaur enthusiast on your hands? These eco-friendly slip-on booties are perfect for your Jurassic tot. Not only are they ferocious in design, but they're also made with a long list of sustainable materials. From the 100 percent recycled ripstop upper to the 30 percent recycled rubber outsole, these booties are all about promoting environmental responsibility.
The Regrind soles, made from a granular form of recycled plastic resin, provide a cozy and cushioned experience for your little one's feet. Whether it's for school, the playground, or simply exploring the outdoors, these shoes offer durability, comfort, and waterproof protection — three essential qualities when it comes to dressing miniature humans.
While the company has made efforts to reduce water usage, minimize excess packaging, and recycle shoes through its TevaForever program, there is still room for improvement in terms of ethical initiatives, particularly addressing the use of animal fibers. However, the ReEmber Dinoster remains a fun and sustainable footwear choice for children (and their environmentally-conscious parents) who have a passion for planet Earth.
---
Adidas Terrex Free Hiker 2 Gore-tex Hiking Shoe
Materials
Parley Ocean Plastic
EVA
Gore-Tex membrane
rubber outsole
These high-performance hiking shoes from Adidas are designed to deliver top-notch performance and carry an environmentally-friendly touch. Created in collaboration with Parley for the Oceans, the shoes feature an upper made from plastic that was prevented from ending up in the ocean.
This partnership showcases Adidas' commitment to sustainability and combating marine pollution. The Terrex Free Hiker 2 combines the best of both worlds by offering the lightweight feel of a sneaker and the stability of a mid-height hiking boot. With features like water-resistant Gore-Tex and all-condition rubber grip, these shoes are well-equipped for wet trail explorations and stream crossings.
The ample cushioning and supportive feel make them incredibly comfortable, as highlighted by T+L commerce editor Lydia Price, who praised their cushioned sole and roomy toe box. Additionally, the shoes are fully waterproof, providing convenience and keeping feet dry even in heavy downpours. This makes them versatile for any outing, not limited to hiking alone.
---
Dr. Scholl's Rumors Block Heel Pump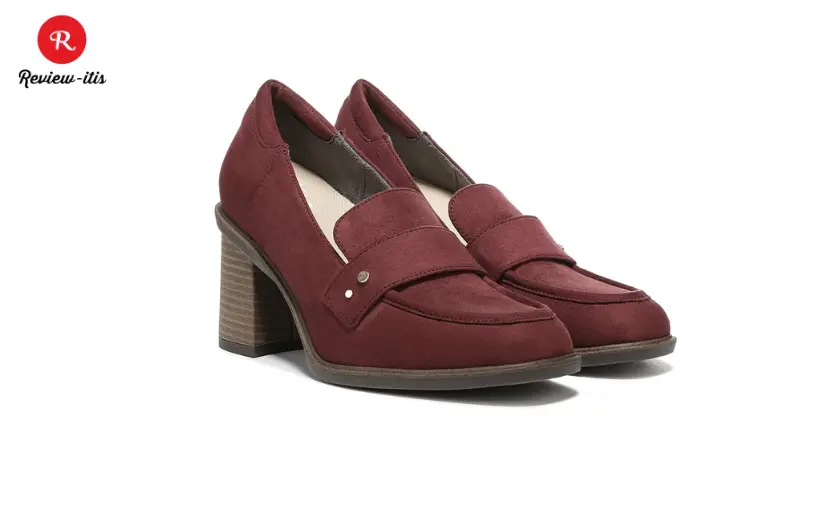 Materials
ReFiber (recycled plastic bottles)
Dr. Scholl's has long been known for prioritizing foot health and comfort, and now they are also making strides in sustainability. Seeing this "old school" brand taking steps towards eco-consciousness is exciting. The slip-on Rumors loafer is a must-have for its versatility. Whether you dress it up or dress it down, this trendy loafer with a square toe, metallic-studded accent strap, and the arch-supportive block heel is perfect for transitioning from day to night.
The Susterra foam insole is both anti-microbial and anti-odor, is made of 11 percent bio-based materials, and provides built-in arch support. Not only is this shoe designed with foot comfort in mind, but it also comes with the added bonus of being shipped in a recyclable box made with biodegradable, soy-based ink. With three attractive and office-appropriate color options—black, dark brown, and burgundy—the Rumors loafer combines style, sustainability, and functionality in one package.
---
Allbirds Women's Wool Runner Mizzles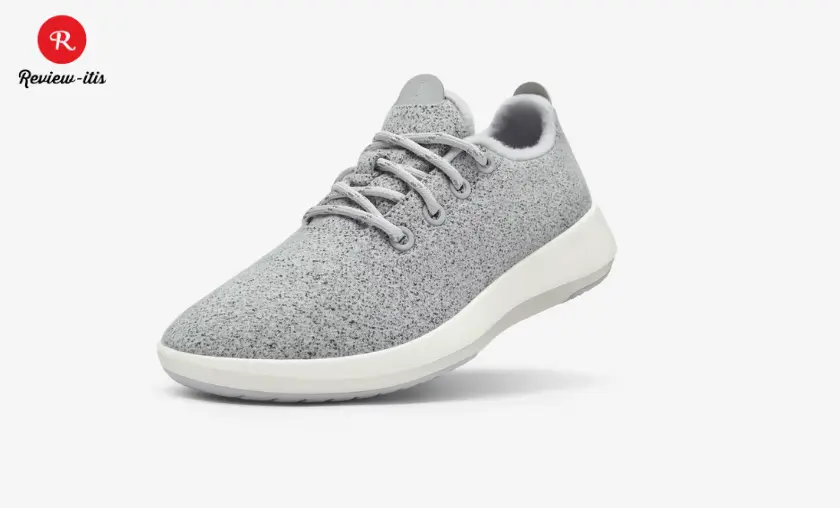 Materials
ZQ-certified merino wool
sugarcane-based green EVA
FSC-certified natural rubber outsole
What sets this shoe apart is its water-repellent Puddle Guard technology, a bio-based solution that keeps your feet dry even in wet weather conditions. You can confidently navigate slippery streets and surfaces with the added traction grips. The reflective details on the shoe also enhance visibility, promoting safety during low-light conditions.
Allbirds goes the extra mile by ensuring the Dasher Mizzle is durable, flexible, and carbon neutral. The shoe is crafted using the world's first carbon-negative green EVA, a recyclable plastic. Allbirds is committed to sustainability, employing natural fibers and supporting high-impact carbon projects. The company is dedicated to minimizing its impact with plans to halve its environmental footprint by 2025 and ultimately reduce it to near zero by 2030.
Even the shoe's sole is made from sugarcane-based materials, the outsole is FSC-certified natural rubber, and the insole foam is derived from castor bean oil. Available in five colors (and six for men's designs), the Dasher Mizzle exemplifies Allbirds' commitment to eco-friendly footwear. It's worth noting that this beloved and cozy sneaker company has recently expanded its range to include sustainable sandals as well.
---
Cariuma Catiba Pro
Materials
LWG-certified leather
cotton canvas
rubber
cork
Cariuma, a sustainable footwear company based in Brazil, has earned high praise from Good on You for its commitment to environmentally friendly designs and practices. While Cariuma utilizes leather in its shoes, the company ensures that its tanneries adhere to the standards set by the Leather Working Group (LWG) through regular audits. Furthermore, Cariuma goes beyond traditional materials and incorporates more eco-friendly alternatives such as organic cotton canvas, ethically sourced rubber, bamboo, sugarcane, and other sustainable materials.
The company also prioritizes the use of recycled plastics, with 65 percent of its products being completely vegan. Aside from their eco-consciousness, Cariuma shoes stand out as our top choice for long walks, jogging, dog walking, and travel adventures requiring prolonged standing or walking periods. The Catiba Pro sneaker quickly molds to your feet, providing excellent daily support and a comfortable, roomy fit. Its versatile design allows for pairing with a variety of outfits, including jeans, leggings, skirts, and maxi dresses.
---
Chaco Bodhi Sandals
Materials
Recycled polyester jacquard
Repreve
nylon
rubber
Imagine a sandal that thrives in water and champions environmental consciousness. Well, that's exactly what you get with this Chaco sandal. Crafted with recycled polyester jacquard, a moisture-resistant and quick-drying synthetic fiber, this sandal proudly embraces eco-friendliness. Taking it a step further, Chaco introduced Repreve fiber into their shoes in spring 2022—a remarkable innovation that involves cleaning, breaking down, reprocessing, and recycling plastic bottles.
Alongside its sustainable materials, the Bodhi sandal boasts a fresh Z-strap design, distinguishing it from the brand's more traditional hiking sandals. With the added convenience of an adjustable toe loop and a lightweight, sleek outsole secured by a molded ladder-lock buckle, this sandal effortlessly accompanies you on any vacation adventure. Not only does it offer incredible arch support, but it also effortlessly blends fashion and functionality.
---
Nike Air Max 90 SE
Materials
Recycled canvas upper
Recycled EVA foam insole
When established companies embrace sustainability, it's a win for everyone involved. Nike, a leading athletic gear brand, has made significant strides in recent years by incorporating eco-friendly materials, such as recycled fibers, into its product line. With a focus on reducing water usage and setting science-based targets to decrease greenhouse gas emissions and eliminate hazardous chemicals by 2025, Nike is committed to making a positive impact.
That's why we recommend the Nike Air Max 90 SE, a timeless and innovative running shoe that combines comfort, sustainability, and style. With its durable construction, extra cushioning, and recycled canvas upper, EVA foam insoles, and laces, this shoe exemplifies Nike's dedication to eco-conscious practices. Moreover, Nike's commitment to diversity, inclusion, and fair wages ensures that you can confidently take each step forward in a shoe that aligns with your values.
---
Veja Condor 2 Road-running Shoes
Materials
Recycled plastic bottles
Amazonian rubber
Rice waste
EVA
What sets Veja apart is their commitment to using natural materials like organic cotton and establishing direct contracts with farmers to ensure stability in the production process. People also praise Veja for their economically equitable practices throughout the entire supply chain, while we appreciate how these stylish sneakers give new life to common waste materials.
Veja's dedication to sustainability extends beyond recycled plastic bottles, as they also incorporate rice waste and Amazonian rubber into their shoes. Despite these eco-conscious materials, Veja doesn't compromise on essential features such as breathability, flexibility, and lightness. Veja stands out in the industry as a sneaker brand that primarily utilizes natural materials or is crafted entirely from recycled polyester and plastic bottles.
Designed in Paris and made in Brazil, these sneakers are fashionable and ideal for globe-trotting adventures. You might find it hard to leave the house without your Veja shoes once you experience their quality and eco-friendly ethos.
---
Naot Okahu Shoe
Materials
They offer vegan styles and ship their shoes in boxes made from recycled materials. It's truly remarkable! Naot, a brand recognized by the American Podiatric Medical Association (APMA) for promoting foot health, has introduced the anatomic Okahu as a fantastic choice for everyday wear or even for dashing through airports, thanks to its removable footbed. The long-lasting polyurethane sole sets it apart from thermoplastic alternatives, as it is durable and more environmentally friendly without contributing to toxic soil or water.
During our testing, we found Naot's Okahu stylish, high-quality, flexible, and incredibly comfortable. It's a shoe that exceeds expectations in both aesthetics and functionality, making it a standout choice. With Naot's commitment to sustainability and their focus on foot health, you can feel confident knowing you're supporting a brand that values the environment and your overall well-being.
---
Merry People Darcy Mid-calf Rainboot
Materials
100 percent natural rubber and neoprene
These boots are designed to be effortlessly sleek and visually appealing and environmentally conscious. Made from natural rubber and lined with neoprene, they offer vibrant colors and warmth. The company behind these boots is female-founded, combining fashion and function to create a natural fiber product perfect for all-day wear in the city or the countryside. With a commitment to traceability and a great animal rating, Merry People ensures that their boots meet ethical standards. When we tried them on, we were impressed by their snug yet flexible fit, providing both comfort and style.
Merry People goes the extra mile to minimize waste and reduce its environmental impact. By closely monitoring sales and sizes, the company can make accurate production forecasts, resulting in fewer shoes ending up in landfills. Though they may occasionally sell out or offer pre-orders, this approach ensures a more sustainable and efficient production process.
---
Conclusion
And there you have it, eco-conscious fashion aficionados and sustainability enthusiasts! Our journey through the realm of the best sustainable and eco-friendly shoes comes to a close, but the impact of our choices continues to resonate. We've delved into a world where fashion meets responsibility, where style and sustainability intertwine to create a harmonious balance.
This curated list of exceptional footwear options has showcased brands that go above and beyond to prioritize eco-friendly materials, ethical production practices, and a commitment to preserving our planet. So, as we bid farewell to this remarkable journey, let us remember that every step we take can make a difference.
By choosing sustainable and eco-friendly shoes, we enhance our personal style and actively contribute to a greener future.
---
To read more similar articles, click here.
Thanks for visiting our Website. If you appreciate our work, kindly show us some support in our comments section 🙂