Welcome, fellow explorers and nature enthusiasts! Today, we dive into the world of the best sandals for trekking the great outdoors—a journey that promises to redefine your outdoor adventures. When it comes to exploring nature's untamed beauty, your footwear choice is crucial, and these exceptional sandals are designed to exceed your expectations. In this carefully curated guide, we present the pinnacle of outdoor footwear craftsmanship, showcasing sandals that are not only durable and reliable but also stylish and comfortable.
Table of Contents
So, pack your backpack, prepare for the unknown, and let these remarkable sandals accompany you on a journey of discovery amidst the great outdoors.
---
The 10 Best Sandals for Trekking the Great Outdoors
Chaco Z/1 Classic
Features
WEIGHT (PAIR): 1 lb. 13.8 oz.
SIZING: True to size
PROS: Durable, comfortable, adjustable, supportive, excellent traction, lots of colors & patterns to choose from, sweet tan lines
When it comes to hiking sandals, the Chaco Z/1 Classic and Z/Cloud are game-changer. These sandals offer the perfect blend of adjustability, support, and durability, making them the ultimate choice for outdoor enthusiasts. Whether you have narrow feet, wide feet, or anything in between, the adjustable straps ensure a personalized fit for everyone.
Even better is the wide range of stock colors and patterns available, allowing you to showcase your style while hitting the trails. It's no surprise that hikers of all types, from day hikers to minimalist, fast packers, have sworn by Chacos. In fact, I personally relied on the Chaco Z/1 Classics to conquer the entire 2,190-mile stretch of the Appalachian Trail. Their reliability and performance were truly unmatched.
---
Bedrock Cairn 3D Pro II
Features
WEIGHT (PAIR): 1 lb. 1.4 oz.
SIZING: Runs a little small
PROS: Lightweight, comfortable, excellent traction, highly adjustable, durable
When it comes to transitioning to minimalist footwear, the Bedrock Cairn 3D Pros are a game-changer. One of the main challenges of minimalist shoes is getting the right fit, but Bedrock has solved this problem with their highly adjustable strap system. With the Cairn 3D Pros, you have full control over where your heel sits, how the toe strap crosses the top of your foot, and even the volume adjustment to accommodate different foot shapes.
Not only do these sandals offer excellent adjustability, but they also prioritize comfort and performance. The ergonomic shape of the footbed provides optimal support, while the flexible yet durable sole allows for a natural and unrestricted range of motion. Whether you're planning to hike for miles or embark on adventurous journeys, the Bedrock Cairn 3D Pros are a reliable option that will keep you comfortable and protected every step of the way.
---
KEEN Newport H2
Features
WEIGHT (PAIR): 1 lb. 12.3 oz.
SIZING: Runs small; we recommend sizing up ½ size
PROS: Protective, durable, comfortable, excellent traction
These sandals boast a rugged rubber toe cap and a substantial upper, giving them the feel of a sturdy hiking shoe while embodying the spirit of a sandal made for the outdoors. While the Newport H2 may be a bit bulkier and heavier compared to other options on our list, they make up for it with their exceptional performance on the trail.
Although they may not be as suitable for water activities as they are for hiking, the Newport H2s offer an ideal choice for first-time sandal hikers or those seeking additional foot protection. Their durable construction and reliable design make them hard to beat when it comes to combining the freedom and breathability of a sandal with the necessary safeguards for rugged terrains.
---
ECCO Yucatan
Features
WEIGHT (PAIR): 1 lb. 12.6 oz.
SIZING: True to size
PROS: Supportive, comfortable straps, adjustable, durable, casual look
Like a trusty M&M candy, these sandals boast a solid and durable exterior while offering a soft and comfortable interior. Crafted from high-quality materials, these sandals are built to withstand hundreds of miles of adventure, providing long-lasting performance. The straps and footbed of the Yucatans feel plush and gentle against your skin, ensuring a cozy fit for your feet. With their stretchy material and multiple points of adjustment, achieving the perfect fit is a breeze.
While the lug pattern adds traction and stability, giving them a casual appeal, the ECCO Yucatans are better suited for travel and everyday wear rather than intense hiking activities. Whether you're exploring new destinations or simply going about your daily activities, these sandals are designed to keep you comfortable and stylish on your feet.
---
Xero Shoes Z-Trail EV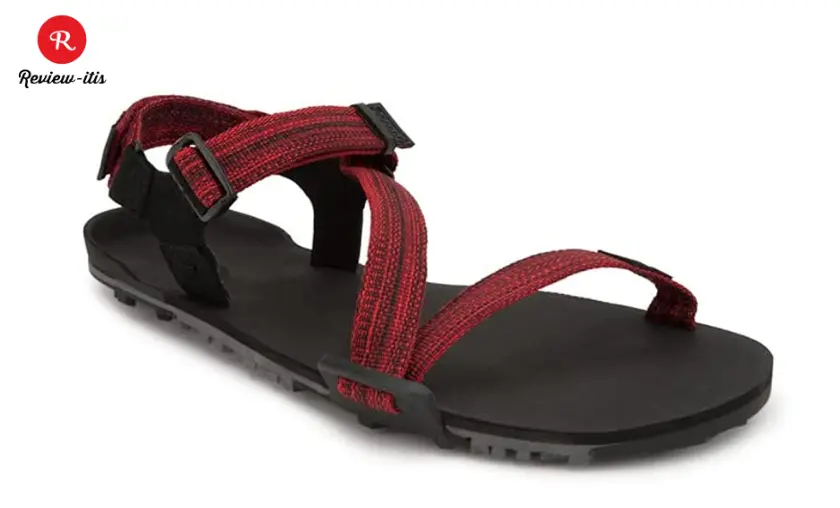 Features
WEIGHT (PAIR): 10.8 oz.
SIZING: True to size
PROS: Ultralight, affordable, comfortable, adjustable
When it comes to minimal footwear, the Xero Shoes Z-Trail EV Sandals take the concept to the next level. These sandals prove that minimalism doesn't mean sacrificing comfort or performance. With convenient velcro adjustments, you can easily customize the fit to your liking, ensuring a secure and personalized experience. Despite their remarkable flexibility, the soles of the Z-Trail sandals surprised us with their impressive sturdiness, providing a reliable foundation for your every step.
However, it's important to note that the Z-Trail sandals may require some adjustment for first-time sandal hikers. They prioritize minimalism over support and protection, so they may not be suitable for those seeking extensive foot support or rugged terrains. We recommend the Z-Trail sandals for enthusiasts of minimal footwear or as a comfortable shoe option to slip into during your camping adventures.
---
Teva Terra Fi 5 Universal
Features
WEIGHT (PAIR): 1 lb. 10 oz.
SIZING: True to size
PROS: Cushy footbed, secure fit, adjustable, excellent traction, comfy straps
If you're all about that cushioned comfort, the Teva Terra Fi 5 Universal sandals are about to become your new best friends. Walking in these feels like strolling on fluffy clouds, and the straps are exceptionally gentle against your skin, providing a luxurious experience. But don't be fooled by their squishy footbed; these sandals have an impressive grip that can rival the stickiness of glue when navigating over rocks and roots. With three points of adjustment at the heel, toe, and ankle, you can easily achieve a secure and personalized fit that will keep you feeling confident on your adventures.
For those who have been yearning for a sandal that combines plush comfort with rugged durability, it's time to wake up and take notice of the Teva Terra Fi 5 Universal. These sandals offer the best of both worlds, making them an ideal choice for those who appreciate both style and performance.
---
Teva Hurricane XLT2
Features
WEIGHT (PAIR): 1 lb. 4 oz.
SIZING: True to size
PROS: Affordable, lightweight, cushy soles, adjustable
The Teva Hurricane XLT2 is a prime example of this, as these sandals deliver outstanding quality and performance at an amazingly reasonable price. Whether you're traversing through water or exploring on land, the Hurricane XLT2 excels in both environments. The adjustable straps ensure a comfortable and personalized fit, further enhancing the overall experience. While pricier sandals may boast enhanced durability and support, we believe that the Hurricane XLT2 offers one of the best values on the market.
If you're drawn to the aesthetics of the Hurricane XLT2 but are seeking an even more budget-friendly and less rugged option, look no further than the Teva Original Universal. These sandals provide a perfect solution for those searching for a versatile sandal that can handle casual strolls around town, river trips, and leisurely day hikes.
---
KEEN Clearwater CNX
Features
WEIGHT (PAIR): 1 lb. 7 oz.
SIZING: True to size
PROS: Lightweight, quick-drying, protective, comfortable
When summer rolls around, it's all about embracing the sun-soaked adventures like river floatin', beach bummin', and lake divin'. However, if you've ever experienced the frustration of cheap flip-flop straps busting during your summer vacay, fear not, because there's a better option. Enter the KEEN Clearwater CNX, a lightweight and amphibious sandal designed to protect your precious tootsies from pointy river rocks while you leisurely bob around in a tube.
What's more, these sandals excel on the trail too, making them a versatile choice for all your summer escapades. Among the KEEN closed-toe sandals, the Clearwaters are our favorites, as they offer a sleek and less clunky design compared to others in the lineup. The KEEN Clearwater CNX sandals are highly recommended if you're searching for a reliable summer companion for your feet.
---
Chaco Z/Cloud
Features
WEIGHT (PAIR): 1 lb. 14 oz.
SIZING: True to size
PROS: Durable, comfortable, adjustable, supportive, excellent traction, lots of colors & patterns to choose from, sweet tan lines
When it comes to the Chaco Z/Cloud sandals, think of them as the sibling to the Chaco Z/1 Classic mentioned earlier, but with a twist. These sandals offer the same unbeatable durability and support as their Classic counterparts but with a squishier sole for added comfort. Moreover, the Z/Clouds come in a wide range of vibrant colors and styles, allowing you to showcase your flair. If you prefer a softer and springier landing while hiking, the Z/Clouds are the way to go.
For those seeking a more secure fit, the Z/Cloud 2s feature an additional loop that goes over the toe, providing an extra level of stability. While our preference leans towards the Clouds without the toe loop, both options are fantastic. So, whether you opt for the Z/Clouds or the Z/Cloud 2s, you can rest assured knowing that you'll be stepping into a pair of Chaco sandals that offer exceptional performance and style
---
Atika Maya 2 Outdoor
Features
Materials: Rubber, plastic
Adjustability: Velcro across all straps
Pros: ProPadding under buckles, Pro Easy adjustments, Pro Multiple colors
The Atika Outdoor Hiking Sandal doesn't shy away from its resemblance to the popular Teva Hurricane. In fact, it seems to be a clear copy or, at the very least, heavily inspired by it. However, the big selling point here is that it comes with a much smaller price tag.
This budget-friendly alternative manages to keep costs down by utilizing non-recycled materials and omitting additional features like repair programs or warranties. But here's an interesting twist: the Atika sandal brings something new to the table that you won't find in Tevas. It incorporates padded lining under the adjustment areas, ensuring a comfortable fit without the risk of potential rubbing from the buckles and Velcro material. It's worth noting that these pads have a tendency to absorb a bit of water, which means they might not dry as quickly as some other sandals on our list.
---
Conclusion
From rugged terrains to challenging trails, these exceptional sandals have proven their mettle, offering unparalleled performance and reliability in the face of nature's obstacles. With their sturdy construction, advanced traction systems, and ergonomic designs, these sandals will keep your feet comfortable and protected, allowing you to focus on the awe-inspiring landscapes that surround you.
As we bid farewell to this exciting journey, remember that the great outdoors will always beckon, and the right pair of sandals will be your loyal companions on every step of your path. The sandals we've uncovered in this guide are more than just footwear—they represent the perfect balance of comfort, durability, and style, designed to elevate your outdoor adventures to new heights.
So, whether you're conquering mountains, crossing rivers, or simply embracing the serenity of nature, let these extraordinary sandals be your trusted allies, propelling you forward on your quest for thrilling experiences. So, gear up, venture into the unknown, and let these exceptional sandals guide you on a remarkable journey through the great outdoors.
---
To read more similar articles, click here.
Thanks for visiting our Website. If you appreciate our work, kindly show us some support in our comments section 🙂